Thanks in no small part to the Ever-FABULOUS Mike Rogers the Republicans are reeling like a closeted congressman on a TINA binge at a Palm Springs Circuit Party. Still recovering from tearoom travails of Larry "Wide Stance" Craig, the RNC is bracing itself for the scandal tsunami set to erupt over Patrick McHenry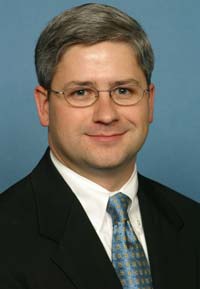 (If you want a leg up on that one Pam's House Blend has all the TRULY ghastly details)
And now here comes a simply scrumptious hors d'oeuvre!Everybody's favorite I-HOP Hostess, Condoleezza Rice,
has suddenly found herself in Beltway Babylon thanks to a new biography that in the course of reviewing her career in suitably decorous non-"attack" style vouchsafes the not-traditionally-seen-as-decorous fact that for the past eight years the Secretary of State has been (Gasp! And clutch those pearls like you life depended on it !) living with another woman !
As the ever-intrepid Michelangelo Signorile relates —
"Rice's "closest female friend" is a woman named Randy Bean, who is unmarried and whose sexual orientation is not stated. She is described as a "liberal progressive;" she's a documentary filmmaker who works at Standford University and once worked for Bill Moyers. She and Rice and (Coit D. ) Blacker (again, who has a partner) are discussed as a "second family," a term Bean uses, also saying that, "on friends, [Rice] goes narrow and deep."

According to newly revealed information in the book (which Kessler found through real estate records), the two women, Rice and Bean (yes, hilarious), own a home together and have a line of credit together. Bean explains this to Kessler by saying that she had some medical bills that drained her financially years ago, and Rice and Blacker helped her out by buying the house with Bean. But over time Blacker sold his share of the house to Rice and Bean, and then Rice would later get the line of credit with Bean to do some renovations on the home. Kessler, when pressed, said he did not know if this meant there was something more to the relationship between the women beyond a friendship."
Yeah, we get the picture. We've seen it many times before.
And leave us not forget the picture Condi has tried so cleverly to create.
"Paris, France: Rice once famously referred to President Bush as "my husband." (She's never been married.) What do you read into that?

Michael Hirsh: She didn't actually say that. In a roundtable discussion with New York Times reporters and editors she made a reference to "my hus–" or something half-uttered like that, before catching herself, and it sounded to those present like she was referring to him as "my husband." Innocent slip of the tongue or Freudian slip? You decide. She clearly adores Bush, and he apparently feels the same way about her. When he nominated her, he comically said at the news conference, "We love her." And then added, "Are you supposed to say that about the Secretary of State?"
Well isn't that special? Cue the supermarket tabs who ever since have confected a full-bore Dubbya/Condi affair with Laura threatening divorce. (Run out and buy a quart of milk or something and read it as you wait in the checkout line. I don't have the stomach to link.)
Meanwhile, back in the real world, what of Condi's actual snugglebunny, Randy Bean?
"Randy Bean is executive producer for documentaries and special television projects at Stanford University. She serves as a consultant on media and communications for the SCL, and oversees the creation, production and distribution of Center content, in video and other formats. Bean is an award-winning documentary filmmaker and experienced broadcast journalist. She worked as a producer with Bill Moyers at WNET in New York, and covered major news stories for both ABC News and NBC News in their Washington bureaus. She came to Stanford as a Knight Professional Journalism Fellow, and moved to California to be a staff producer, director and writer of current affairs programs and investigative documentaries at KQED in San Francisco. She founded the Stanford Channel in 1995 and managed its operations until 2001. She has worked as writer and executive producer on a number of broadcast-quality Stanford productions, including Becoming Stanford: The Making of an American University, Seizing Power: The Steel Seizure Case Re-visited, The Stanford Presidency and A World of Change: The International Initiative at Stanford University. Her latest Stanford production, "What Were They Thinking?" Originalism, Music and the Constitution, will air on public television in Spring 2007."
How erudite.
But wait — there's more ! (Mike again):
"In the book and on the show, Kessler described how Rice's "closest male friend" is openly gay, a man by the name of Coit D. Blacker , a Stanford professor when Rice was provost at Stanford in the late 1990s for six years, and a Democrat who served in the Clinton administration. Blacker, whose partner is also mentioned, advised Al Gore's campaign in 2000, while his close friend Rice became a chief confidante to a president who has tried to make gays into second class citizens in the U.S. Constitution."
How cozy.
See why we need a second political party?
Rice of course didn't just stand idly by while BushCo did its best to make life for glbt Americans a living hell. Being first a National Securtiy Advisor and then Secretary of State her cool, composed complete indifference to the plight of glbt people the world over — particularly in nation's numbered among our "allies" (especially the Middle East) deserves far more notice than its recieved.
Or to put it another way Condi Rice is nothing more than Roy Cohn in a dress.
But let's go back to that Lesbian Hag:
"During the first Clinton administration, Professor Blacker served as special assistant to
the president for National Security Affairs and Senior Director for Russian, Ukrainian and Eurasian Affairs at the National Security Council (NSC). At the NSC, he oversaw the implementation of U.S. policy toward Russia and the New Independent States, while also serving as principal staff assistant to the president and the National Security Advisor on matters relating to the former Soviet Union.

From 1998 to 2003, he served as co-director of the Aspen Institute's U.S.-Russia Dialogue, which twice each year brings together prominent U.S. and Russian specialists on foreign and defense policy for discussion and review of critical issues in U.S.-Russian relations. He was a study group member of the U.S. Commission on National Security in the 21st Century (The Hart-Rudman Commission) throughout the Commission's tenure.

Together with Elizabeth Paté-Cornell of the School of Engineering, he co-chairs the University's International Initiative, a campus-wide effort to enhance Stanford's capacity to address complex international challenges and to prepare the next generation of leaders to cope with a world in flux and at risk."
And among the most important of those "complex international challenges" is the rampant homopobia that (thanks to the Church) rules post-Soviet Russia where, stripped of his academic and diplomatic bona fides a same-sex loving gentleman like Professor Blacker would find it very rough going.
But what does Coit care? Hell, what does Condi care? Not a jot or tiddle. Like everyone else in power their attitude is simple: "I've got mine. Fuck You!"
And no that note — take it away Touche!
"Rent overdue
My sister has measles
Hole in my shoe
My belt's drawn tight
My income is nil
My in-laws are weasels
My present is dark
My future's a fright
But as long as you are there
What in the world do I care?
Though hope is low,
I'm aglow when you smile at me
Life is simple as A B C
Not a thought in my head
Not a care in the world
Though skies are grey
I'm as gay as a Disney cow
Not a wrinkle upon my brow
Not a cent in the red
Not a care in the world
I view the scene
Like that old queen of Russia
As Kate the Great
Used to say long sgo
"Nichevo!"
And so if I move
In a groove with a giddy trot
I'm a trottin' because I've got
Not a bean in my pot
Not a care in the world
Though I can't jive
I revive when I see your face
Not a limp in my merry pace
Not a crimp in my style
Not a care in the world
Though I'm a wreck
I can peck if you take a chance
Not a shine on my blue serge pants
Not a crack in my smile
Not a care in the world
Why should I fret
When I bet on a sure thing?
Like Nick the Greek
Used to say ev'ry day
"Yip-i-ay!"
And so if I'm struttin'
With nuttin' ahead in store
There's a reason I said before
I'll repeat it once more
Not a care in the world!"
UPDATE:
Ann Althouse Hates Me.
My Day is Made!