I read the news today, oh boy.:
"The House on Wednesday approved a bill granting broad protections against discrimination in the workplace for gay men, lesbians and bisexuals, a measure that supporters praised as the most important civil rights legislation since the Americans with Disabilities Act of 1990 but that opponents said would result in unnecessary lawsuits.
The bill, the Employment Nondiscrimination Act, is the latest version of legislation that Democrats have pursued since 1974. Representatives Edward I. Koch and Bella Abzug of New York then sought to protect gay men and lesbians with a measure they introduced on the fifth anniversary of the Stonewall Rebellion, the brawl between gay men and police officers at a bar in Greenwich Village that is widely viewed as the start of the American gay rights movement."
Well isn't that special. Note: "gay men." No lesbians, no bisexuals and no transgenders merit the notice of the August NYT. So forget the LBGT — we're "American with Disabilites!" At least some of us are (about which more shortly.) And it's taken a mere 33 years — first introduced by a very butch woman, and a still closeted queen.
"On this proud day of the 110th Congress, we will chart a new direction for civil rights," said Representative Kathy Castor, a Florida Democrat and a gay rights advocate, in a speech before the vote. "On this proud day, the Congress will act to ensure that all Americans are granted equal rights in the work place."
Senator Edward M. Kennedy ,a Massachusetts Democrat and a longtime supporter of gay rights legislation, said he would move swiftly to introduce a similar measure in the Senate. Some Senate Republicans said that, if worded carefully, it would have a good chance of passing, perhaps early next year.
Senator Susan Collins, Republican of Maine, has said that she would be the lead co-sponsor of the Senate bill. Ms. Collins, in a statement, said that the House vote "provides important momentum" and that "there is growing support in the Senate for strengthening federal laws to protect American workers from discrimination based on sexual orientation."
The Truth, of course, is that this bill will die in the Senate. And even if it should survive —
"President Bush threatened to veto an earlier version of the bill, but a White House spokesman, Tony Fratto, said the administration would need to review recent changes before making a final decision. Few Democrats expect Mr. Bush to change his mind."
In other words President Low Normal will veto and there aren't the votes to override.
THANKS FOR NOTHING!
The House bill would make it illegal for an employer "to fail or refuse to hire or to discharge any individual, or otherwise discriminate against any individual with respect to the compensation, terms, conditions or privileges of employment of the individual, because of such individual's actual or perceived sexual orientation."
It's the "perceived" part that's so darkly hilarious.
Does he look gay?
Does she look like a lesbian?
How's about this dude?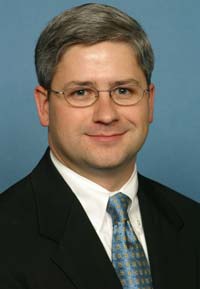 Or this one?
Or him?

Or him?
Or them?
Or them?
And then there's —
Nah, Bella would never have made the cut.
"While 19 states and Washington, D.C., have laws barring discrimination based on sexual orientation, and many cities offer similar protections, federal law offers no such shield, though it does bar discrimination based on race, religion, ethnicity, sex, age, disability and pregnancy.
In the House on Wednesday, 35 Republicans joined 200 Democrats voting for the bill, which was approved 235 to 184, perhaps reflecting polls showing that a plurality of Americans believe homosexuality should be accepted as an alternative lifestyle, though a majority still oppose same-sex marriage. Voting against the bill were 25 Democrats and 159 Republicans.
Among the Democrats opposed, many said the bill should have also outlawed discrimination based on gender identity."
Thus leaving a mountain of ill will, no end of future difficulties for those left out, and no guarantee that any sort of bill will be passed sometime over the next 33 years.
And while the Democrats fell far short of the 280 votes that would be needed to override a presidential veto, many of them, including the majority leader, Representative Steny H. Hoyer of Maryland, spoke about the vote in exuberant tones, calling it "historic" and "momentous."
Gee, never knew that Steny was a member of the HRC.
"For more than 30 years, outlawing discrimination based on sexual orientation has been a cause of liberal Democrats, who have fought many partisan battles with Republicans but have always come up short. In 1996, the Senate came within one vote of passing a bill; the House did not vote on the bill that year.
The twist this year is that the measure has emerged as an example of Speaker Nancy Pelosi's pragmatism in trying to make headway on leading issues by granting concessions, even at the risk of angering her party's base.
To ensure passage of the bill, Ms. Pelosi and other Democrats, including Representative Barney Frank of Massachusetts, who is openly gay, removed language granting protections to transsexual and transgender individuals by barring discrimination based on sexual identity, a move that infuriated gay rights groups."
It infuriated LBFT Americans. "Gay Rights groups" were too busy celebrating this "victory."
"The Democrats also carved out a blanket exemption for religious groups, drawing the ire of civil liberties advocates who argued that church-run hospitals, for instance, should not be permitted to discriminate against gay employees. The civil liberties groups wanted a narrow exemption for religious employers."
Not to mention gay patients that they can gleefully toss into the street with impunity.
"On the House floor, Ms. Pelosi acknowledged challenges. "History teaches us that progress on civil rights is never easy," she said. "It is often marked by small and difficult steps."
Ms. Pelosi did maintain the support of the Human Rights Campaign, the largest gay rights group in the country, even though it was disappointed that gender identity protections were not included in the bill. "
Nancy Pelosi doesn't know shit about history.
"Today's vote in the House sends a powerful message about equality to the country, and it's a significant step forward for our community," said Joe Solmonese, the group's president.
Others were not so upbeat. "What should have been one of the most triumphant days in our movement's history is not," said Matt Foreman, the executive director of the National Gay and Lesbian Task Force. "It's one of very mixed reactions."
Ya think?
"But many longtime supporters of the legislation cheered its passage. "It's wonderful," said Mr. Koch, a former mayor of New York City. "Even though it is a vote that was delayed too long."
Much of the debate Wednesday was taken up by Republicans complaining, somewhat oddly, that they could not hold a vote on a Democratic amendment to restore gender identity language.
Democrats suggested that these Republicans were not hoping to protect transsexuals from discrimination but to restore provisions to the bill that would have made it easier to rally opposition."
(Insert Ed Koch scenes from Shortbus here.)
Representative Doc Hastings of Washington, who led the Republican effort to get a vote on the amendment, said he opposed the overall bill in part because many states already had similar laws and because he viewed it as intrusive. "I do not think it is the place of the federal government to legislate how each and every place of business operates," Mr. Hastings said.
Other opponents said the law would result in spurious lawsuits.
"It would be impossible for employers to operate a business without having to worry about being accused of discriminating against someone based on their 'perceived' sexual orientation," said Representative Ginny Brown-Waite, Republican of Florida, who raised two fingers on each hand to flash quotation marks over her head as she said "perceived."
Isn't she cute? She also believes God sends us messages in the blood of executed criminals.
"Mr. Kennedy, who is chairman of the Health, Education, Labor and Pensions Committee, issued a statement praising the House vote. He could introduce a measure identical to the House bill or a new version, which might restore language about gender identity."
And the Bluebird of Happiness might fly out of the testosterone-engorged neck of Patient Less Than Zero
Yes we all know what Politics is like, don't we folks? And right about now Barney is feeling just a tad closer to Cora Hoover Hooper:
"MAYORESS CORA HOOVER HOOPER:
Everyone hates me-yes, yes-
Being the Mayoress, yes.
All of the peasants
Throw rocks in my presence,
Which causes me nervous distress, yes.
OOOH, OOOOOOOOOH, OOOH, OOH, OOOOOOOOOH.
Me and my town, battered about,
Everyone in it would like to get out.
But me and my town,
We just wanna be loved!
Stores are for rent, theatres are dark,
Grass on the sidewalks, but not in the park,
Me and my town,
We just wanna be loved!
The people are starving,
So they sleep the day through.
My poor little people,
What can they do?
TOWNSPEOPLE:
Boo!
CORA:
Who asked you?
Come on the train, come on the bus,
Somebody please buy a ticket to us.
Hurry on down-
We need a little renown.
Love me,
Love my
Town!
OOOHHHH OOOOOHHHHH OOOOOOOOOOOHHHHHHHHHH!
BOYS:
Hi there, Cora. What's new?
CORA:
The bank went bust and I'm feeling blue.
BOYS:
And who took over the bankruptcy?
CORA:
Me, boys, me!
BOYS:
Si, si!
CORA:
Me, boys, me!
BOYS:
Tell us, Cora, how you are.
CORA:
I just got back from the reservoir.
BOYS:
And what's the state of the water supply?
CORA:
Dry, boys, dry!
BOYS:
My, my!
CORA:
Dry, boys, dry!
BOYS:
Ay, ay!
CORA:
A lady has responsibilities…
BOYS:
Responsibilities…
CORA:
And civic pride!
BOYS:
Civic pride!
CORA:
Well, I look around and what do I see? I see no crops.
BOYS:
No crops.
CORA:
I see no business.
BOYS:
No business
CORA:
To the North, to the South,
Only hoof-and-mouth!
BOYS:
To the East, to the West,
No community chest
CORA:
I see a terrible depression all over the town-
BOYS:
Oh, a terrible depression,
Yes, a terrible depression.
CORA:
What a terrible depression
And I'm so depressed
I can hardly talk on the phone.
I feel all alone.
CORA AND BOYS:
But a lady has responsibilities-
BOYS:
Responsibilities-
CORA:
To all my poor! Starving! Cold! Miserable!
Dirty! Dreary! Depressing! Peasants!
ALL:
Peasants! Ick!
CORA:
A lady has responsibilities-
BOYS:
Responsibilities-
CORA:
To try to be
Popular with the populace.
BOYS:
She's unpopular with the populace!
ALL:
Unpopular with the populace,
Unpopular with the populace,
Unpopular with the populace…
CORA:
Everyone here hates me at length,
Probably lynch me if they had the strength.
But me and my town,
Me and my town,
We just wanna be loved!
BOYS:
We just want to be loved!
We just want to be loved!
CORA:
Just loved!
BOYS:
A friendship is lovely
And a courtship sublime,
But give her a township-
CORA:
Township!
Every time!
ALL:
What'll we do, me and my town?
Gotta do something or we're gonna drown!
Give me my coat,
Give me my crown,
Gimme, gimme your vote
And hurry on down!
CORA:
Show how much you think
BOYS:
Yeah!
CORA:
Of me!
ALL:
Love me,
Love my
Town!"