Gianfranco Corsi thinks it's time Pope Ratzi got a make-over.
"ROME — Franco Zeffirelli would like to make over what he called Pope Benedict XVI's "cold" image and his "showy" clothes, an Italian newspaper reported Saturday, saying the film, stage and opera director offered his services in an interview."
"Cold"? "Showy"? Ya Think?
"Coming after the media-savvy Pope John Paul II, "Benedict XVI still has a cold way of communicating, little suited to what is happening around him," Zeffirelli was quoted as telling the Turin daily La Stampa.
"Even his wardrobe needs to be revised," the 84-year-old Zeffirelli was quoted as saying. "These are not times of high-tailored church wear." Instead, his vestments should reflect "sobriety," the director said. "The papal vestments have been done over to be too sumptuous and showy."
John Paul II, often spontaneous and sometimes outdoorsy, had little use for fancy papal attire. But Benedict has taken to wearing some eye-stopping outfits in his public appearances, including a red velvet cape trimmed with ermine, a fur-trimmed stocking cap that some first mistook for a Santa Claus hat, and bright red Prada loafers."
They're slippers, queen! Prada doesn't make loafers.
"Zeffirelli, who has directed ceremonies at the Vatican, sounded eager in the interview to be an image consultant for Benedict.
"If they give me an official supervisory role, I would dedicate myself to it full time," Zeffirelli was quoted by La Stampa as saying. "There is a great need for it."
"I know (Joseph) Ratzinger personally," the director said, using the German-born pope's name before he became pontiff. "He's very attentive to the importance of how the sacred is represented."
Well we all know what this glitz-crazed fomer Visconti boytoy thinks is important. But somehow I don't see Ratzi as Leonard Whiting.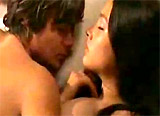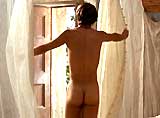 Maybe he's thinking of giving Ratzi's boytoy Georg (see pic top) the Karl Lagerfeld/ Bruce Weber treatment (Corsi cribbers to the manner born!)
These days Ratzi's a lot closer to Cher in Tea with Mussolini.
But without the charm.
So I say what Ratzi needs are singing lessons. And here's the very number he should do — which is of course by Rufus. Delivered with a soupcon of Cher it should knock 'em dead at the next encyclical.
"Do I disappoint you, in just being human?
And not one of the elements, that you can light your cigar on
Why does it always have to be fire?
Why does it always have to be brimstone?
Desire
Cool this body down
Do I disappoint you, in just being lonely?
And not one of the elements that you can call your one and only
Why does it always have to be water?
Why does it always have to be holy wine?
Destruction
Of all mankind
And do I disappoint you?
Do I disappoint you in just being like you?
Tired of being the reason the road has a shoulder
And it could be argued, why they all return to the order
Why does it always have to be chaos?
Why does it always have to be wanderlust?
Sensational
I'm gonna smash your bloody skull.
'Cause, baby, no, you can't see inside
No, baby, no, you can't see my soul
Do I disappoint you?
Do I disappoint you?"