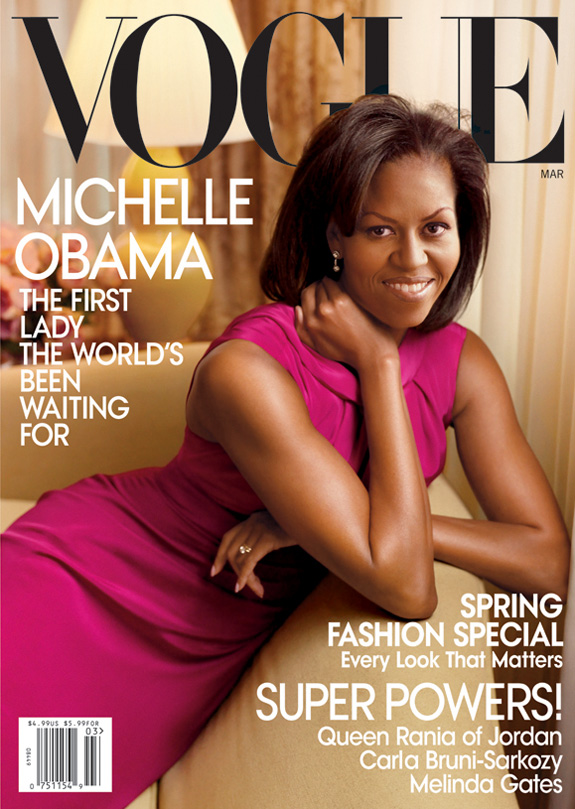 Mr. Sheri Annis finds himself with an Atomic Wedgie over the latest Vogue cover story.
Coziness Is in Vogue
The Vogue cover story on Michelle Obama, by editor at large André Leon Talley, is nothing if not laudatory: "With her long, lean, athletic frame, she moves as if she could have danced with Alvin Ailey in another life. Curled up in the corner of a huge taupe velvet sofa, wearing knee-high boots as she nestles into the cushions, she almost seems like any other mom recently relocated to a city because of her husband's new job."
The Talley article mentions briefly that Obama showed up "at a fundraiser I co-hosted last year." That would be a $1,000-a-head fundraiser — "An Evening With Michelle Obama" — also hosted by Vogue editor Anna Wintour and designer Calvin Klein.
Wouldn't the story have had more credibility if written by someone who hadn't helped the Obama campaign raise money? Vogue Managing Editor Laurie Jones says Talley "has enjoyed a personal relationship with Mrs. Obama" since meeting her at an Oprah Winfrey party in 2005 and acknowledged working as a campaign volunteer. "André wrote a uniquely personal piece," she says, that "was possible only because of his access to the family."
Now let's get this straight, dear. This is an article in Vogue magazine. Not Foreign Affairs. Not The New Republic. Not your own homebase, Pravda. It's a fashion magazine.
And as you may have noticed the entire — much economically beleagured — fashion industry has for months been looking to Michelle Obama, regarding her as the New Jackie.
Admittedly this is rather odd. Michelle Obama is a reasonably attractive, nicely dressed middle-class woman. But becoming a "Fashion Icon" has never been one of her life goals, and while many women her age — white as well as black — look on her sartorial sense approvingly, this isn't going to automatically translate into a Fashion Bonanza.
Especially at a time when most people are trying to scrape enough money together to buy groceries.
But Mr. Sheri's real concern — he would have us believe — is journalistic. Why should a Diana Vreeland-trained fashionista like Tally — a personal friend of the First Lady — write the story? Shouldn't a more "objective" reporter have been assigned?
Oh Prunella!
Obviously Mr. Sheri thinks we're stupid. In fact, as I have pointed out in the past, the enire "Mainstream" press thinks we're stupid.
We know what you want Mr. Sheri. Something "hard-hitting" like THIS
or THIS
Not to mention THIS
Mr. Sheri isn't fooled. He knows who Michelle Obama REALLY is.
Isn't that right Dorothy?