Here are all the ghastly details.
Whenever anything Ghey happens these days I think of Lenny Baker. I love you Lenny. I always will.
President Obama's Justice Department filed legal papers late Thursday to dismiss the first same sex marriage case filed in federal court.
The Justice Department defended the Defense Of Marriage Act, or DOMA, which as a candidate then-Sen. Obama opposed, saying that the plaintiffs Arthur Smelt and Christopher Hammer are seeking a ruling on "whether by virtue of their marital status they are constitutionally entitled to acknowledgment of their union by states that do not recognize same-sex marriage, and whether they are similarly entitled to certain federal benefits. Under the law binding on this Court, the answer to these questions must be no."
"The plaintiffs in this case, a same-sex couple married under the laws of California, make a number of claims against DOMA," the Obama Justice Department lawyers argued. "Specifically, they allege that Section 2 violates the Full Faith and Credit Clause and their 'right to travel,' that both sections of DOMA violate the Due Process Clause of the Fifth Amendment (including its equal protection component) and their 'right to privacy, and that Section 3 violates their 'right of free speech' and their 'rights' under the Ninth Amendment. Plaintiffs initially filed this action in State court, and the defendant United States removed it to this Court. Rather than reaching the merits of these claims, the Court should dismiss this action for lack of subject matter jurisdiction."
IOW, "GET TO THE BACK OF THE BUS — AND STEP ON IT!!!!!!!"
Justice spokeswoman Tracy Schmaler said that President Obama "has said he wants to see a legislative repeal of the Defense of Marriage Act because it prevents LGBT (lesbian, gay, bisexual, transgender) couples from being granted equal rights and benefits," she said. "However, until Congress passes legislation repealing the law, the administration will continue to defend the statute when it is challenged in the justice system."
IOW, WHEN PIGS FLY!!!!!
"But many arguments being made by the Obama administration are meeting with some outrage by supporters of same sex marriage – and not just because of the administration's arguments in the brief in support of a law the president said he opposed while seeking gay and lesbian votes."
Ya don't say. Gee, wasn't he supposed to be The Most Liberal POTUS EVAH?
Guess not.
Writing at Americablog John Aravosis cited a passage saying that "the First and Second Restatements of Conflict of Laws recognize that State courts may refuse to give effect to a marriage, or to certain incidents of a marriage, that contravene the forum State's policy…And the courts have widely held that certain marriages performed elsewhere need not be given effect, because they conflicted with the public policy of the forum."
Some Call it Loving Vs. Virginia.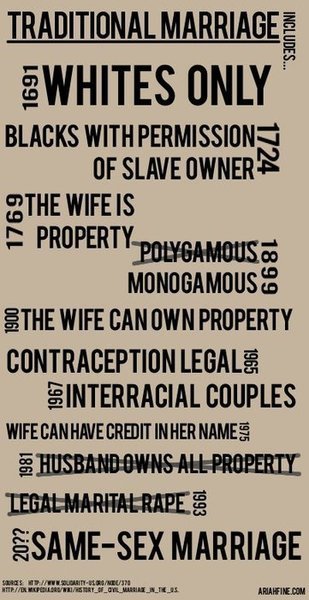 The Obama administration cited Catalano v. Catalano (marriage of uncle to niece, "though valid in Italy under its laws, was not valid in Connecticut because it contravened the public policy of th[at] state"); Wilkins v. Zelichowski (marriage of 16-year-old female held invalid in New Jersey, regardless of validity in Indiana where performed, in light of N.J. policy reflected in statute permitting adult female to secure annulment of her underage marriage), and re Mortenson's Estate, (marriage of first cousins held invalid in Arizona, though lawfully performed in New Mexico, given Arizona policy reflected in statute declaring such marriages "prohibited and void").
"Holy cow," wrote Aravosis. "Obama invoked incest and people marrying children."
DIDN'T I WARNED YOU PEOPLE BACK IN 2007???!!!!!!
Appearing at a presidential candidates forum in August 2007 sponsored by the gay and lesbian rights group the Human Rights Campaign, then-Sen. Obama said it "is my strong belief that the government has to treat all citizens equally. I come from that, in part, out of personal experience. When you're a black guy named Barack Obama, you know what it's like to be on the outside. And so my concern is continually to make sure that the rights that are conferred by the state are equal for all people. That's why I opposed DOMA in 2006 when I ran for the United States Senate."
You have NO IDEA how enraged I am. I am now devoted to Barry's complete political destruction and prolonged public humiliation.
But in order to do that I've got to get shape by kicking back just a tad. But not without the necessary anger.
Sing us out Christine