"Joseph Biedermann fatally stabbed his Hoffman Estates neighbor 61 times last year.
On Friday, a Cook County jury acquitted him of first-degree murder, buying his claim that he was defending himself against an unwanted sexual advance, his mother confirmed Saturday.
Biedermann, 30, killed Terrance Michael Hauser, 38, early on March 5, 2008, in the Barrington Lakes apartment complex on Hassell Road, where they lived in separate units.
Police recovered a 7-inch dagger from the scene, Hoffman Estates police said after Biedermann's arrest.
During last week's trial in the Rolling Meadows branch of Cook County Circuit Court, Biedermann's attorney, Sam Adam Jr., claimed that Hauser threatened Biedermann, which forced Biedermann to use the dagger to defend himself, according to a published report. Both men were drunk.
Adam successfully represented R&B singer R. Kelly in his 2008 trial on child pornography charges. He is ex-Gov. Rod Blagojevich's defense attorney. "
It all has a terribly familiar ring doesn't it?
Here we are in 2009 with gay rights presumably on the rise — the Big Brass Ring of Marriage rapidly coming into graspable view, and yet it's possible to stab somone 61 time and pull a "Gay Panic" defense.
One can only wonder why Biederman didn't consider himself safe after the first few stabs. Was Terence Michael Hauser possessed of Jason Voorhees-like powers of resuscitation? Sure looks like it. After all he ran into the knife 61 times.
Can you imagine Hauser after the 38th or so stab rising up to grab Beiderman's crotch? Apparently the court could.
Hey, maybe Rod Blagojevich can make a "Gay Panic" claim. Hmmm let's see. Some sleazy gay dude in his office started coming onto him and a dstraight Rod decided the only way to reassert his manliness was to commit mail and wire fraud and bibery.
Sound perfeclty plausible.
And I'm sure Rod's hair will make a great defense witness.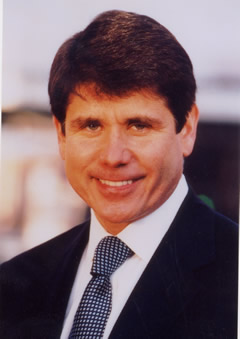 As for us wicked, wicked gays, what is there to say after all? Hey, it can't get any worse, can it?
Don't answer that.
Sing us out Babs.