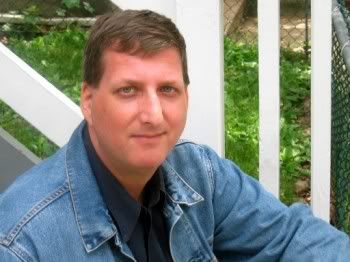 I read the blogs today — oh boy!
Her's Al's mother:
"I don't know how else to tell you all who love this blog. I am Jon Swift's Mom and I guess I'm going to OUT him. He was Al Weisel, my beloved son. Al was on his way to his father's funeral in VA when he suffered 2 aortic aneurysms, a leaky aortic valve and an aortic artery dissection from his heart to his pelvis. He had 3 major surgeries within 24 hours and sometime during those surgeries also suffered a severe stroke. We, his 2 sisters, his brother, his partner and his best friend since he was 9 years old were with him as he took his last breath. We have all lost a shining start who warmed our hearts, tormented us and made us laugh as he giggled at our pulling something over on us. He passed away on February 27, 2010. My beloved child will live on in so many hearts. I miss him more than I can say. If you are on Facebook, go to organizations and join "Friends of Al Weisel, Unite!" It will give you just a taste of how special he was. Farewell, Jon (Al)"
The outpouring of tributes form Greater Blogistan has been generous and heartfelt. My own experience with Al goes back many years ago when I was writign fro The Avocado and he was writing for one of the many marvelous gay mags that dotted the landscape in the 80's and 90's (that have since been swallowed by the 'net.) I had excoriated David cronenberg for hsi cinematic de-gaying of Burroughs' Naked Lunch, and Al took all of my talking points and threw them into Cronenberg's face in an interview.
Cronenberg and I have since buried the hatchet as he went on to overcome his homo-shyness quite spectaculaerly in his great film of J.G. Ballard's Crash.
Al, meanwhile, with Lawrence Frascella, went on to write Live Fast, Die Young: The Wild Ride of The Making of 'Rebel Without A Cause'
And "Wild" is the operative word when it comes to James Dean
Easily the best book ever written on that legendary film, it's also the best book ever written about its star. For among other things it makes clear that Dean was gay. With no "ifs," "ands," or "buts" about it.
Notice the guy who kicks the knife over to Dean? That's Jack Simmons. Dean's boyfriend-cum-personal-slave. He was a perpetual presence in the young actor's life in ways that only Al's book acknowledges. Dean wanted him to play "Plato" — the gay teenager who falls in love with Dean's "JIm Stark." While he;d appeared alongside his love on several pre-East of Eden television dramas, Simmons wasn't really an actor> After Dean' pasing he left the business entirely and got into real estate> He was rather successful at it, owning several prime Holywood properties including "The Castile" — the old Errol Flynn estate. He rented it to Andy and the gangwhen they visited L.A., and both Imitation of Christ and Heat were shot there. (It was also where Nico was staying when she famously romanced Jim Morrison. )
On page 179. .
"According to actor Jack Larson, years afrer Dean's death when someone casually mentioned Dean's name in conversation, Simmons was "reduced to absolute tears and had to leave." Larson once had an unusual encounter with Dean and Simmons that suggests they were more than just good friends: 'One night when I left Googie's, I had to go into a market at Sunset and Fairfax. Much to my surprise, Jack Simmons and Jimmy Dean had also left Googie's and come down. Jack Simmons was in the market and wanted to talk to me. There was a pad in Laurel Canyon and they wanted me to go with them. It may have been Jack Simmons's pad. I don't know whose it was, but it was obviously going to be the two of them and me. It was very clear. Jimmy was out waiting in the car. I just didn't want to." When Larson told his friend Frank O'Hara, who worshipped Dean and eventually wrote several elegiac poems in his memory, that he had refused Simmons's and Dean's offer, O'Hara "was shocked and it almost ruined our friendship."
Ah the three-way that might have been!
But as you can see this is the kind of Hollywood historicism that really counts.
Most of you, of course, know Al for the way he ragged "Conservatives" on his blog. He wasn't just having fun and games, as this fait diver from 2000 reveals
Al Weisel, 37, a writer and editor in Manhattan, said he received a call from the Republican State Committee last night asking if he knew that "Hillary Clinton supported a Palestinian state and Palestinians." Mr. Weisel, who said he planned to vote for Mrs. Clinton, called the call "disgusting" and "sleazy."
The Republicans haven't changed a bit. a fortiori they've gotten infinitely worse. So it's a shame Al won't be around to give them what-for.
But it's a shame Al won't be around period.
Carrie Fisher's ex-husband will sing us out.