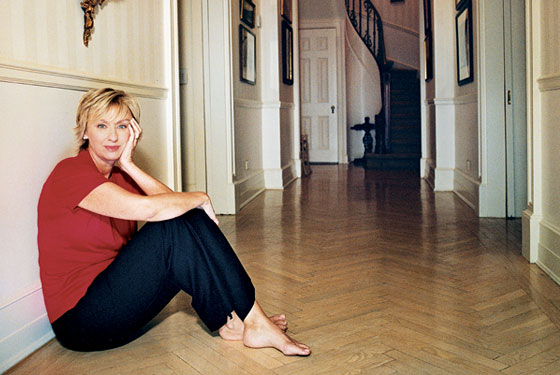 Surely Tina Brown is the one who should apologize.
"So is Keith Olbermann now the Worst Person in the World?"
No that would be Dick Cheney.
"No, but he made a really dumb mistake."
Oh really Howie?
"By donating to three Democratic candidates while covering the midterms on MSNBC, Olbermann crossed a bright journalistic line—even for a commentator whose partisan sympathies are no secret."
Translation: "His real crime is that he's a Liberal."
"The network had no choice but to suspend him, even though he's the biggest draw on NBC's cable channel. "Mindful of NBC News policy and standards," MSNBC President Phil Griffin said in a statement, "I have suspended him indefinitely without pay."
The real forehead-slapper here is that Olbermann donated the legal maximum, $2,400, to Arizona Rep. Raul Grijalva on Oct. 28—the same day he interviewed the congressman for Countdown. Viewers, of course, had no way of knowing."
Viewers have no way of knowing about a ton of things. Like, for example, the fact that Olberman's (now former?) bosses are right-wing hacks.
"As first reported by Politico, Olbermann also donated the maximum to Arizona Rep. Gabriella Giffords and to Jack Conway, the Kentucky Republican who lost his Senate race to Rand Paul.
It's hard to fathom what Olbermann was thinking, because he must have realized that the donations would show up in federal election records and eventually be made public.
What's more, Olbermann has used the issue of political donations to rip his arch-enemies at Fox News. He pounced on Rupert Murdoch when News Corp., Fox's parent, gave $1 million to the Republican Governors Association and another million bucks to the GOP-backing Chamber of Commerce."
Actually it's easy to fathom what Olbermann was thinking. He's neither FOX News nor The Chamber of Commerce. Just one guy — therefore of little consequence in the Grand Scheme of Things.
Sort of.
"Now Olbermann, who's not shy about caustic criticism, faces the inevitable charge of hypocrisy.
His mistake is not in the same league as what some Fox contributors have done."
YA THINK?
"Karl Rove raised about $50 million in recent months for an independent group supporting Republican candidates. Dick Morris has raised money, spoken on behalf of candidates and refers to Republicans as "we." Sarah Palin barnstormed the country on behalf of her favored candidates, often of the Tea Party variety.
And one full-time Fox News host, Sean Hannity, has attended GOP fundraisers. Fox allows such activity for talk-show hosts and contributors, whom the network doesn't consider journalists. I've written about this from time to time; few people seem to care.
At CNN, where I host a weekly media program, James Carville and Paul Begala are contributors who also sign fundraising letters for the Democratic Party. If it were up to me, I wouldn't allow any of that."
Well if it were up to me I wouldn't allow a Stealth Republican Operative like you to claim he's a "Media Critic."
"On MSNBC Friday night, Rachel Maddow noted that Hannity had interviewed Rep. Michele Bachmann after donating money to her campaign—without disclosing this on the air, despite a statement by Fox that he would do so. Maddow, an Olbermann protégé, did not quarrel with the MSNBC rule barring political contributions but said "the point has been made" and "we should have Keith back hosting Countdown." "
"But Olbermann delivers nightly lectures on how he and MSNBC uphold journalistic standards and Fox does not. Now he's handed his critics a very sharp sword."
More like a soggy eraser.
"It's hard to overestimate Olbermann's importance to MSNBC since his second stint with the network began in 2003. He is the network's most highly rated host and has led its march to the left, which has enabled MSNBC to repeatedly beat CNN in prime time, even though both networks trail Fox by a wide margin. That's why Olbermann got a four-year, $30 million contract back in 2008."
It's hard to overestimate the value of a genuine liberal in a sea of fascists. That's why Keith's bosses have put up with him so long.
"On Election Night, Olbermann anchored the channel's coverage, along with Rachel Maddow, Chris Matthews, and Lawrence O'Donnell. There was no attempt to add a conservative pundit for balance."
Gee Howie, who should they have put on the panel — Andrew Breitbart? ABC thought of doing that, but as we all know it didn't work out too well.
"Vermont Sen. Bernie Sanders, the only avowed socialist in Congress, rushed out the following statement: "It is outrageous that General Electric/MSNBC would suspend Keith Olbermann for exercising his constitutional rights to contribute to a candidate of his choice. This is a real threat to political discourse in America and will have a chilling impact on every commentator for MSNBC."
Sanders has it exactly wrong. When you become a journalist, you give up certain rights. You can't write speeches on the side for politicians. You can't march in political demonstrations. And you shouldn't be able to donate money to politicians, unless you're hosting a cooking show."
I didn't know "Reliable Sources" was a cooking show.
Maybe it should be.
What does Sheri say, Howie?
"So if Olbermann were on the air tonight, would he have to name himself the Worst Person in the World?
Actually not. He suspended the segment this week after Jon Stewart called him out, along with the likes of Glenn Beck and Bill O'Reilly, in his skewering of cable news at that Washington rally. So in the spirit of civility, I'll just say I hope Keith recognizes that he screwed up and apologizes."
What "spirit of civility"? You're as blimkered as Jon Stewart if you imagine that there is such a thing, Howie.
And we know you don't.
"Howard Kurtz is The Daily Beast's Washington bureau chief. He also hosts CNN's weekly media program "Reliable Sources," Sundays at 11 am ET. The longtime media reporter and columnist for The Washington Post, Kurtz is the author of five books."
He is also married to THIS creature.
"Sheri Annis is a media consultant and political commentator whose clients range from California to Washington DC. She was the spokeswoman for Arnold Schwarzenegger during his first political campaign. She was chief spokeswoman for California's Proposition 227, the successful measure to eliminate California's failed bilingual education programs. In addition, she played a major role in California's Proposition 209 campaign, which eliminated race and gender-based preferences in government hiring, contracting and education. Her early career began in the California think tank world.
As president of Fourth Estate Strategies, she provides media training and communications strategy for high-level executives, academics and prominent think tanks. Her professional interests also include free market advocacy, race and gender issues, and political analysis.
Ms. Annis has written for National Review and has been quoted by news outlets such as the Los Angeles Times, Wall Street Journal, New York Times and Washington Post. Her television appearances include The Today Show, Hardball with Chris Matthews, The O'Reilly Factor, Fox & Friends, Countdown with Keith Olbermann and the former long-running ABC show Politically Incorrect, among others.
Sheri Annis received her B.A. in Law and Society from the University of California at Santa Barbara. She is a native of Los Angeles, California and now resides in Chevy Chase, Maryland with her family."
The picture couldn't be clearer. While claiming to have no political affiliations, and a devotion to the myth of "objectivity," Howie works at the behest of his wife, neutralizing the left by false equivalences with everything done by the right. Occasionally his fealty to the Mrs. gets noticed but only in the most glancing way.
What should be noticed is the fact that if Sheri appeared on Countdown and Keith declined to commnet on who she is, what she does and who she's married to then he DOES have something to apologize for.
But not those political contributions.
Howie's "Daily Beast" piece has a familiar ring to it, don't you think? Very Stalin-era "Show Trial."
What hoops will Rachel be forced to jump through to keep her job?
Stay tuned.
Sing us out, Derek