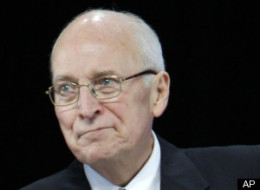 Gee Dick, you ain't lookin' so well. Could it be that your new heart stint has begun to uh . . .chafe ? I sincerely hope so. I sincerely hope any and all forms of excruciating and prolonged pain are currently coursing through your wortheless carcass.
And that's not to mention that tad of legal trouble you're currently facing.
"LAGOS, Nigeria (Reuters) — Nigeria's anticorruption police said Thursday that they planned to file charges against former Vice President Dick Cheney in a $180 million bribery case involving a former unit of the oil services firm Halliburton.
The Economic and Financial Crimes Commission summoned the country chief of Halliburton on Tuesday and last week raided its Lagos office and detained 10 staff members.
"We are filing charges against Cheney," said Femi Babafemi, a commission spokesman. But he declined to give further details on what the charges were, or where they would be filed.
The Houston-based engineering firm KBR, a former unit of Halliburton, pleaded guilty last year to charges in the United States that it paid $180 million in bribes between 1994 and 2004 to Nigerian officials to secure $6 billion in contracts for the Bonny Island liquefied natural gas project in the Niger Delta"
IOW, you're a grifter Dick!
Well obviously not so sympathetic. More like —
"Mr. Cheney was the chief executive of Halliburton from 1995 to 2000, when he resigned to run for vice president.
KBR and Halliburton reached a $579 million settlement in the United States. But Nigeria, France and Switzerland have conducted their own investigations into the case.
Halliburton split from KBR in 2007 and has said that its current operations in Nigeria are unrelated. It has described the raid last week as "an affront against justice," said its offices were ransacked, and pledged to defend its staff against what it said were "completely false and outrageous actions." "
Shocking — isn't it Dick?
"The company said in a statement last week that "one of the participants" in the Bonny Island project "was a subsidiary of Halliburton Company for part of that period of time," but that Halliburton's oil field services "have never in any way been any part" of that project. "
Looks like there's only one thing left to say —
As for me and mine — sing us out Peg