That's what's going on. Here's what's reported in the land of "All The News That's Fit To Obfuscate"
"MADISON, Wis. — Debate in the State Senate over Wisconsin's controversial bill to cut collective bargaining rights for public workers ended, at least temporarily, on Thursday morning before it began. As the session was due to begin, Democrats failed to appear in the chamber, leaving the body without a quorum and leading the Republicans to send capitol officials in search of the Democrats.
By noon, Ted Blazel, the sergeant-at-arms, began making his way through the Capitol building, packed with chanting protesters (elated at the development), in search of a Democrat — in offices, under desks, in corridors. "Nothing yet," he said, his forehead drenched in sweat.
If none of the lawmakers were found in the building, the Wisconsin State Patrol would be assigned to begin searching for them elsewhere, said a Senate official.
The presumed reason for the disappearance is that Democrats — and thousands of teachers, state workers and students — vigorously oppose the Republican-backed bill that would sharply curtail the collective bargaining rights and slash benefits for most public sector workers, including teachers, in the state. Republicans control the Senate by a 19-to-14 margin, but 20 senators — and thus, at least one Democrat — are needed to vote on a bill.
"This is the ultimate shutdown," Scott Fitzgerald, the Republicans' leader in the senate, said angrily after it became clear that no Democrats were present. "I guess what they decided to do was just not show up today."
THIS is who showed up today.
The Democrats are beside the point. The people have taken charge.
"All morning, as thousands of protesters gathered here as they have all week, tensions mounted outside the Senate chamber. Some pounded on windows and said they intended to prevent members from entering. At least one Senator had to call the Capitol police for help to get through the crowd and inside. "Shut it down! Shut it down!" protesters chanted. And even as the Senate convened, several in the audience inside the chamber began loudly chanting "Freedom, democracy, unions." At least one person was removed by security.
Madison public schools were closed for a second day on Thursday, as teachers called in sick to lobby at the Capitol against the sweeping proposal. More than a dozen other public school districts announced they were closed for the day as well."
Frightening — isn't it kids?
"Late into Wednesday evening, a legislative committee approved the measure on a 12-to-4 vote that split along partisan lines, Republicans in favor and Democrats opposed. After an emotional debate, the committee made only minor changes to the proposal put forth last week by Gov. Scott Walker, a Republican, clearing the way for what Mr. Walker had hoped would be swift approval by both chambers by Friday.
The battle in Wisconsin, which some view as a precursor to similar fights in other states, was drawing attention around the country, including from Education Secretary Arne Duncan, who said he planned to talk to Mr. Walker by telephone on Thursday. "Where we're fighting each other, where we're divisive, where we're demonizing or vilifying any group, including unions, I don't think that helps us get where we need to go as a country," Mr. Duncan told CNN on Thursday morning."
You don't say.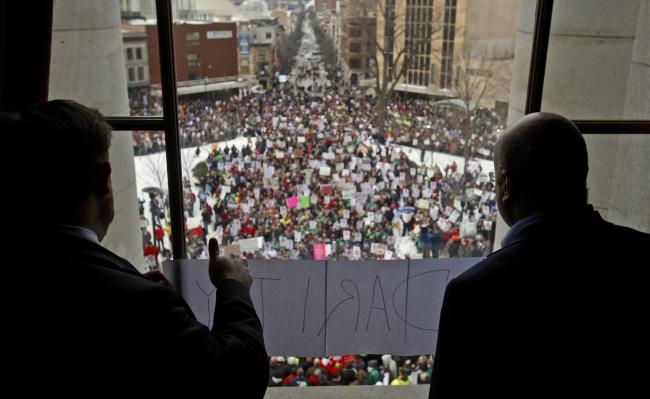 "President Obama also weighed in during an interview Wednesday with a Wisconsin TV station, "I think it's very important for us to understand that public employees, they're our neighbors, they're our friends. These are folks who are teachers and they're firefighters and they're social workers and they're police officers."
But Mr. Walker has insisted that he is not singling out any group, merely searching for solutions to close a deficit of $137 million in the current state budget and the prospect of a $3.6 billion hole in the coming two-year budget. "It's not about the unions," Mr. Walker said in an interview. "It's about balancing the budget."
No, it's about destroying unions and blocking collective bargaining.
"But why would permanently limiting collective bargaining be necessary to solve an immediate budget problem? Mr. Walker said it would bring "certainty" to the process of contract negotiations, which now often last 15 months or more.
"I don't have 15 months to balance a budget, and I certainly am not going to pass a budget on a hope and a prayer that that might happen," he said.
For months, state and local officials around the country have tackled their budget problems by finding trims here and there, apologetically resorting to layoffs, and searching for accounting moves to limp through one more year.
Events in Wisconsin this week, though, are a sign of something new: No more apologies, no half-measures. Given the dire straits of budgets around the country, other state leaders may take similarly drastic steps with state workers, pensions and unions.
"I'm sure we're going to hear more from other states where Republican governors are trying to heap the entire burden of the financial crisis on public employees and public employees' unions," said William B. Gould IV, a labor law professor at Stanford University and a former chairman of the National Labor Relations Board.
"I think it's quite possible that if they're successful in doing this, a lot of other Republican governors will emulate this," Mr. Gould added.
Here, in a state with a long history of powerful unions, Mr. Walker's plan was upending life in the capital city.
Madison schools were closed on Wednesday after many employees called in sick to help lobby. Thousands of teachers, state workers and students filled a square around the Capitol, chanting "kill the bill" and waving signs (some likening Mr. Walker to a dictator and demanding his recall)."
Why you'd swear Walker was Mubarak and Madison was downtown Cairo, no?
Of course you would.
Sing us out ladies!