Or to put it another way —
shortly followed by —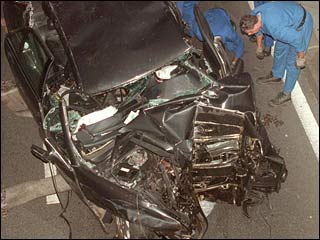 As for Teh Gheys, marriage wasn't anywhere on the horizon back in the Stonewall era. We wanted to get laid instead. And Boy Howdy did we ever. But as the LGBT movement succeeded far beyond our wildest dreams, and in the face that certain death known as AIDS thing s changed.
And now they've changed even more.
"The Obama administration announced Wednesday that it will no longer defend the constitutionality of the federal government's ban on recognizing same-sex marriages, a rare legal reversal and the latest in a series of political victories for gay rights activists.
The Justice Department had appealed the decision of a federal judge in Massachusetts who struck down the Defense of Marriage Act in July, saying it was obligated to defend federal statutes. The 1996 law defines marriage from the federal perspective as between a man and a woman, which means same-sex married couples are denied access to marriage-based federal benefits.
In an extraordinary change, Attorney General Eric H. Holder Jr. said Wednesday that he and President Obama had determined – after an extensive review – that the law's key section is unconstitutional. "Given that conclusion, the President has instructed the Department not to defend the statute" in court, Holder said in a statement.
Administration officials said the review was triggered by a court-imposed filing deadline in two new legal challenges to the Defense of Marriage Act, filed in federal courts in New York and Connecticut.
The change in position came after intense lobbying of Justice Department and White House officials by gay rights groups and the American Civil Liberties Union, according to activists familiar with the White House's thinking. The conversations included meetings with White House counsel Robert Bauer and one of Obama's closest advisors, Valerie Jarrett. "There has been an all-out effort to get them to do the right thing," said one activist, who spoke on condition of anonymity to describe internal deliberations.
Obama's relationship with the gay community, a key part of his political base, has been complicated, and activists had strongly opposed the administration's earlier defense of the federal same-sex marriage law. The president has said in the past that he does not support the right of gay couples to marry, though he said in December that his views are "evolving."
White House press secretary Jay Carney said Wednesday that Obama's "position on the Defense of Marriage Act has been consistent: He has long opposed it as unnecessary and unfair." He said that that the president has been "grappling" with the broader issue of same-sex marriage.
"Again, I want to make the distinction between his personal views, which he has discussed, and the legal issue, the legal decision that was made today," Carney said.
Gay rights groups argue Obama's stances are purely political, noting he filled out a questionnaire in 1996 as a state senate candidate indicating he supported same-sex marriage."
Translation: He wants a seecond term and he desperately need gay money in order to get it.
"The administration's decision on the federal law comes as gay rights advocates have won a series of recent changes in how the federal government treats gay men and lesbians, including Obama's signing in December of legislation to end the military's "don't ask, don't tell" policy banning gays from openly serving in uniform."
Indeed. As Pravda's Ed O'Keefe notes
"The Obama administration's decision to no longer defend the constitutionality of the Defense of Marriage Act adds to a growing list of victories for gay rights groups that have sought changes to how the federal government treats gay men and lesbians through a series of executive actions and legislation.
We've reviewed this growing list of changes before, but it's worth a refresher:
• May 24, 2009: Secretary of State Hillary Rodham Clinton announces plans to extend a series of benefits to the same-sex partners of U.S. diplomats working abroad, including diplomatic passports, relocation assistance, use of embassy medical facilities, and inclusion in emergency evacuations from posts abroad.
• June 17, 2009: President Obama signs a memo extending fringe benefits to the same-sex partners of gay federal employees and announces his support for legislation that would extend all benefits to them. The legislation has yet to pass.
• Aug. 3, 2009: The U.S. Census Bureau announces it plans to count same-sex marriages as part of the 2020 Census and will also provide partial data from the 2010 Census.
• March 17, 2010: The Department of Housing and Urban Development announces it plans to probe allegations of housing discrimination against same-sex couples. In January, it announced a series of proposed rule changes meant to accommodate gay and lesbian home buyers.
• June 3, 2010: As part of his previous push to extend more benefits to the same-sex partners of federal employees, Obama signs a memo offering a wider range of them, including access to medical treatment, relocation assistance, credit unions and fitness centers.
• Dec. 22, 2010: Obama signs legislation authorizing the end of the military's "don't ask, don't tell" policy that bans gays and lesbians from openly serving in uniform. The Pentagon later announces plans to quickly train commanders, chaplains and the rank and file in order to end the ban this year.
• Jan. 7, 2011: The State Department decides to make passport applications for children more gender neutral by adding "Parent 1″ and "Parent 2″ next to any reference of "Mother" and "Father."
Gay rights advocates are also pushing the Federal Emergency Management Agency to ensure appropriate protections to gay and lesbian people and their children during disaster relief efforts, and are calling on the Transportation Security Administration to draft nondiscriminatory policies addressing the treatment of transgender air passengers."
"Liberal groups hailed the reversal. "The President has chosen to defend the Constitution of the United States over a discriminatory and clearly unconstitutional law," said Michael Keegan, president of People for the American Way. "That decision should be commended. A discriminatory law like DOMA has no place in a country grounded in the values of freedom and equality."
Richard Socarides, a longtime gay rights activists and director of Equality Matters, said Wednesday's announcement was as significant as Obama's push to end the ban on gays serving openly in the military.
"This is the position he took on the campaign trail, but now the government's policy will match up with the political rhetoric," he said.
Conservative groups vehemently objected, saying the administration's earlier position of defending the law in court was the right one. Holder acknowledged in his statement that the legal reversal was "rare." The Justice Department customarily defends federal laws in court.
"It's a dereliction of duty," said Tom McClusky, senior vice president of Family Research Council Action. "Whether they agree with the law or not is irrelevant. . . . The Obama administration has purposely dropped the ball here."
Cue the Cows!
Wouldn't Megyn Kelly's head look ever-so-much-better on the end of a pole? Can't say the same for Monica Crowley. Pole or no pole she's one ugly cunt.
"Same-sex marriage is legal in five states, including Massachusetts, and the District. The Maryland Senate on Wednesday advanced a bill to legalize it, and is expected to give the measure final approval Thursday. But same-sex couples are disqualified from receiving marriage-based federal benefits under the Defense of Marriage Act. Those who oppose the federal law say it requires states to discriminate against their citizens.
One of several reasons why the decision to end the government's defense of the marriage law came this week is that the March 11 filing deadline is two days after the one-year anniversary of the District's same-sex marriage law. The White House was aware that gay rights groups would have used the anniversary to contrast the administration's defense of the law against the District's embrace of marriage equality, according to activists.
Groups opposed to same-sex marriage say they will lobby House Speaker John Boehner (R-Ohio) to hire counsel to defend the law. His office has not said what he will do, but his spokesman Michael Steel criticized the Obama administration for its stand.
"While Americans want Washington to focus on creating jobs and cutting spending, the President will have to explain why he thinks now is the appropriate time to stir up a controversial issue that sharply divides the nation," he said.
A poll by the Pew Research Center for the People and the Press in September found 43 percent of those surveyed favored allowing gays and lesbians to marry legally and 47 percent opposed. This is a high point for favorability of same-sex marriage in the center's polling back to 1996. The poll showed wide partisan divisions: 55 percent of Democrats and 46 percent of independents favored same-sex marriage, but only 21 percent of Republicans. The Washington Post's polls show a similar division and trend. "
It sure does. In fact, in darkest Maryland. . .
"Maryland's Senate voted 25-22 in favor of allowing same-sex couples to marry after a fairly short and focused debate.
The bill has not yet cleared the body, but the vote is a positive sign for supporters of the legislation. It could go to final passage as early as Thursday. (See vote tally after the jump.)
The supporters beat back a series of unfriendly amendments during the morning debate. Most were offered by Republican members who wanted to make technical changes to the bill that would allow more people or businesses to opt-out of providing services at same-sex wedding ceremonies.
The bill was amended so that religious organizations – like the Knights of Columbus – would not have to provide insurance to same-sex couples. Bill sponsors supported the change.
The only unfriendly change adopted was Sen. Anthony Muse's suggestion to name the bill the "Civil Marriage Protection Act." It was introduced as the "Religious Freedom and Civil Marriage Protection Act.
The tone of the debate was fairly restrained, through after a several amendments were withdrawn, Senate President Thomas V. Mike Miller sounded slightly irritated with his members.
"I think we are going way too far with these amendments," Miller said. "It is going a little too far. I think they are well intended, but I think we are going too far."
Vote tally
For
Sen. James Brochin, Baltimore County Democrat
Sen. Joan Carter Conway, Baltimore Democrat
Sen. Bill Ferguson, Baltimore Democrat (sponsor)
Sen. Jennie Forehand, Montgomery County Democrat (sponsor)
Sen. Brian Frosh, Montgomery County Democrat (sponsor)
Sen. Rob Garagiola, Montgomery County Democrat (sponsor)
Sen. Lisa Gladden, Baltimore Democrat (sponsor)
Sen. Verna Jones, Baltimore Democrat (sponsor)
Sen. Edward Kasemeyer, Baltimore and Howard counties Democrat
Sen. Delores Kelley, Baltimore County Democrat (sponsor)
Sen. Nancy King, Montgomery County Democrat (sponsor)
Sen. Allan H. Kittleman, Howard County Republican
Sen. Katherine Klausmeier, Baltimore County Democrat
Sen. Richard Madaleno, Montgomery County Democrat (sponsor)
Sen. Roger Manno, Montgomery County Democrat (sponsor)
Sen. Nathaniel McFadden, Baltimore Democrat (sponsor)
Sen. Karen Montgomery, Montgomery County Democrat (sponsor)
Sen. Paul Pinsky, Prince George's County Democrat (sponsor)
Sen. Catherine E. Pugh, Baltimore Democrat (sponsor)
Sen. Victor Ramirez, Prince George's County Democrat (sponsor)
Sen. Jamie Raskin, Montgomery County Democrat (sponsor)
Sen. James Robey, Howard County Democrat
Sen. James Rosapepe, Prince George's County Democrat
Sen. Ronald Young, Frederick County Democrat (sponsor)
Sen. Bobby Zirkin, Baltimore County Democrat (sponsor)
Against
Sen. John Astle, Anne Arundel County Democrat
Sen. Joanne Benson, Prince George's County Democrat
Sen. David Brinkley, Carroll and Frederick counties Republican
Sen. Richard Colburn, Eastern Shore Republican
Sen. Ulysses Currie, Prince George's County Democrat
Sen. James DeGrange, Anne Arundel County Democrat
Sen. Roy Dyson, Southern Maryland Democrat
Sen. George Edwards, Western Maryland Republican
Sen. Joseph Getty, Baltimore and Carroll counties Republican
Sen. Barry Glassman, Harford County Republican
Sen. Nancy Jacobs, Harford and Cecil counties Republican
Sen. J.B. Jennings, Baltimore and Harford counties Republican
Sen. James Mathias, Eastern Shore Democrat
Sen. Thomas Middleton, Charles County Democrat
Sen. Thomas V. Mike Miller, Prince George's and Calvert counties Democrat
Sen. C. Anthony Muse, Prince George's County Democrat
Sen. Douglas J.J. Peters, Prince George's County Democrat
Sen. E.J. Pipkin, Eastern Shore Republican
Sen. Edward Reilly, Anne Arundel County Republican
Sen. Christopher Shank, Washington County Republican
Sen. Bryan Simonaire, Anne Arundel County Republican
Sen. Norman Stone, Baltimore County Democrat"
"Washington, DC – U.S. Senator Dianne Feinstein (D-Calif.) issued a statement today following Attorney General Eric Holder's decision on lawsuits challenging the "Defense of Marriage Act." The law defines marriage for federal purposes as only between a man and a woman, denying federal benefits to legally married same-sex couples.
Following is Senator Feinstein's statement:

"As a Member of the Judiciary Committee, it is my intention to introduce legislation that will once and for all repeal the Defense of Marriage Act.
My own belief is that when two people love each other and enter the contract of marriage, the Federal government should honor that.
I opposed the Defense of Marriage Act in 1996. It was the wrong law then; it is the wrong law now; and it should be repealed."
Sing us out Raul