Surely the facts are. . .WRONG.
"Sue Espinoza was planted before the television, awaiting news of her father's now infamous prediction: cataclysmic earthquakes auguring the end of humanity.

God's wrath was supposed to begin in New Zealand and then race across the globe, leaving millions of bodies wherever the clock struck 6 p.m. But the hours ticked by, and New Zealand survived. Time zone by time zone, the apocalypse failed to materialize."
True, BUT. . .
"REYKJAVIK, Iceland— Iceland closed its main international airport and canceled domestic flights Sunday as a powerful volcanic eruption sent a plume of ash, smoke and steam 12 miles into the air.

Airport and air traffic control operator ISAVIA said Keflavik airport was closed at 0830 GMT (1:30 a.m. PDT), and no flights were taking off or landing.

Spokeswoman Hjordis Gudmundsdottir said the ash plume was covering Iceland, but "the good news is that it is not heading to Europe."

She said the ash was blowing northwest toward Greenland instead."
Well that's something, isn't it?
"On Saturday morning, Espinoza, 60, received a phone call from her father, Harold Camping, the 89-year-old Oakland preacher who has spent some $100 million — and countless hours on his radio and TV show — announcing May 21 as Judgment Day. "He just said, 'I'm a little bewildered that it didn't happen, but it's still May 21 [in the United States],'" Espinoza said, standing in the doorway of her Alameda home. "It's going to be May 21 from now until midnight."

But to others who put stock in Camping's prophecy, disillusionment was already profound by late morning. To them, it was clear the world and its woes would make it through the weekend.

Keith Bauer, a 38-year-old tractor-trailer driver from Westminster, Md., took last week off from work, packed his wife, young son and a relative in their SUV and crossed the country.

If it was his last week on Earth, he wanted to see parts of it he'd always heard about but missed, such as the Grand Canyon. With maxed-out credit cards and a growing mountain of bills, he said, the rapture would have been a relief."
Ya think?
"On Saturday morning, Bauer was parked in front of the Oakland headquarters of Camping's Family Radio empire, half expecting to see an angry mob of disenchanted believers howling for the preacher's head. The office was closed, and the street was mostly deserted save for journalists."
"Bauer said he was not bitter. "Worst-case scenario for me, I got to see the country," he said. "If I should be angry at anybody, it should be me."

Tom Evans, who acted as Camping's PR aide in recent months, took his family to Ohio to await the rapture. Early next week, he said, he would be returning to California.

"You can imagine we're pretty disappointed, but the word of God is still true," he said. "We obviously went too far, and that's something we need to learn from."

Despite the failure of Camping's prediction, however, he said he might continue working for him.

"As bad as it appears—and there's no getting around it, it is bad, flat-out—I have not found anything close to the faithfulness of Family Radio," he said."
"Others had risked a lot more on Camping's prediction, quitting jobs, abandoning relationships, volunteering months of their time to spread the word. Matt Tuter, the longtime producer of Camping's radio and television call-in show, said Saturday that he expected there to be "a lot of angry people" as reality proved Camping wrong.

Tuter said Family Radio's AM station in Sacramento had been "severely vandalized" Friday night or Saturday morning, with air conditioning units yanked out and $25,000 worth of copper stripped from the equipment. He thinks it must have been an angry listener. He was off Saturday but planned to drive past the headquarters "and make sure nothing's burning."

Camping himself, who has given innumerable interviews in recent months, was staying out of sight Saturday. No one answered the door at his Alameda home, though neighbors said he was there.

By late afternoon, a small crowd had gathered in front of Camping's Oakland headquarters. There were atheists blowing up balloons in human form, which were released into the sky just after 6 p.m. in a mockery of the rapture. Someone played a CD of "The End" by the Doors, amid much laughter."
"There were also Christians, like James Bynum, a 45-year-old deacon at Calvary Baptist Church in Milpitas, holding signs that declared Harold Camping a false prophet. He said he was there to comfort disillusioned believers.

"Harold Camping will never hand out poisoned Kool-Aid," Bynum said. "It's not that kind of a cult. But he has set up a system that will destroy some people's lives."
Religion is nothing more and nothing less than the worship Death.
Our stubborn refusal to face the fact that life is finite has led to the invention of a Big Invisible Bi-Polar Daddy Who Lives in The Sky who "loves us" yet will at the last kill us all. This explains why so many religious cults are literal Death Cults
Gore Vidal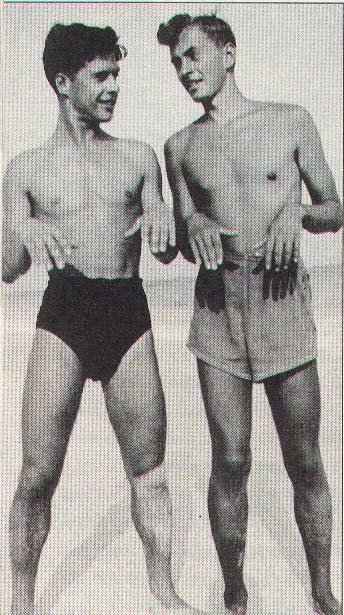 (seen here with irrepressible boytoy Harold Lang)
Explored this with great wit and insight in his book Kalki
whose title is taken by its principle character after the Hindu Death Incarnation.
"James J. Kelly, a former soldier in the American military, finds out that the American and Soviet governments are about to conduct tests of a new kind of neutron bomb called the model b or the nC, which will kill every living thing on the planet, leaving it uninhabitable for centuries. The American generals know the cataclysmic effects of conducting these tests but they acquiesce to the tests anyway, ignoring a report provided to the National Security Council which predicts the end of the world if six or more nCs are simultaneously exploded. Mistakenly assured that the Soviets would not explode reciprocating nCs, the generals are unwittingly about to destroy the whole world.
James J. Kelly decides to save the human race through an elaborate religious hoax, declaring himself to be Kalki and announcing the end of the world. His secret plan is to kill off everyone in the world except for himself and his wife Lakshmi. These two would then be the last living human couple on the planet. They would be the Adam and Eve to a new human race, giving birth to three sons and six daughters over the next twelve years, who would then intermarry and in about two centuries, the world would be fairly well populated again.
In addition to himself and his wife, Kalki decides to bring along three more people to his new world, teachers called Perfect Masters, chosen for their knowledge and the fact that they are all sterile. These three people will teach various fields of science to the new race. Teddy Ottinger will teach engineering, Geraldine O'Connor biology and genetics, and Dr. Giles Lowell medicine. Kalki's wife Lakshmi is herself a physicist, and Kalki is a chemical engineer.
Shockingly, Kalki succeeds in carrying out his insane plan and the entire world dies, leaving behind only Kalki, his wife Lakshmi and the three other Perfect Masters. However, Kalki's plans go awry when Lakshmi miscarries the first baby girl and it is learnt that Lakshmi is incapable of having children with Kalki. At this point, the only other male in the group, Dr. Lowell, announces that he never had a vasectomy and is the only one now with whom Lakshmi can conceive a child. It had been his plan all along to be the one to father the new human race with Lakshmi, whom he claims to be in love with. When Dr. Lowell admits his treachery, Kalki kills him.
The story ends with a bleak postscript from Kelly/Kalki, forty three years after the apocalyptic plague. In the interim period, Teddy died twenty seven years after the plague and Geraldine (Teddy's lover and Kalki's second consort) passed away, as has Lakshmi. Kalki has become the last human alive, and with his death, the human species will become extinct. It is implied that simians will inherit the post-apocalyptic world."
But hey, read the book.
Sing us out Judy!