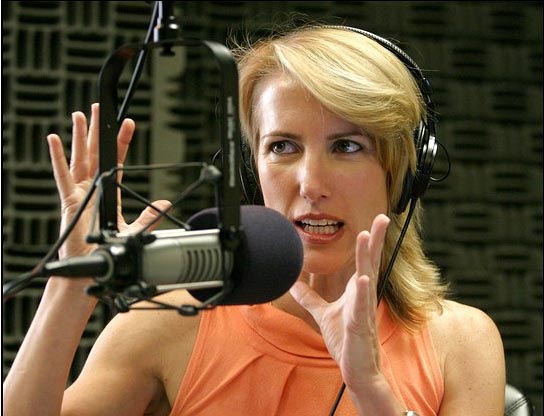 I read the news today Oh Prunella!
"MSNBC suspended host Ed Schultz for a week on Wednesday after Schultz called rival pundit Laura Ingraham"
(seen above about to suck off a giant metal dildo)
"a right-wing slut" during a radio broadcast the day before. Paul Farhi reports:
Schultz apologized for the comment on his TV program, "The Ed Show," on Wednesday night, saying he had used "vile and inappropriate language" in referring to Ingraham. "I am deeply sorry, and I apologize," he said. "It was wrong, uncalled for, and I recognize the severity of what I said. I apologize to you, Laura, and ask for your forgiveness."
Really? Why?
"Schultz's slur was a response to Ingraham's criticism of President Obama's trip to Ireland. Ingraham had noted that Obama was touring Ireland while devastating tornadoes were hitting the United States, including one that killed 116 people in Joplin, Mo."
As if she gives a shit.
"President Obama is going to be visiting Joplin, Mo., on Sunday, but you know what [Republicans are] talking about, like this right-wing slut, what's her name? Laura Ingraham?" Schultz said on the air. "Yeah, she's a talk slut. You see, she was, back in the day, praising President Reagan when he was drinking a beer overseas. But now that Obama's doing it, they're working him over."
True. And that's cause Miss Laura don't like no Upppity Niggers.
She only likes House Niggers. In fact, she almost married one.
Then she came to her senses and went after some rich white guy. Then she changed her mind and called off the wedding. Then she got breast cancer. Then she adopted some kid (whose mind she's poisoning even as I post.)
"In his apology, Schultz said: "It doesn't matter what the circumstances were. It doesn't matter that I was on radio and I was ad-libbing. None of that matters. What matters is what I said was terribly vile and not of the standards that I or any other person should adhere to. … I want all of you to know tonight that I did call Laura Ingraham today and did not make contact with her, and I will apologize to her as I did in the message that I left for her today."
Yadda, yadda, yadda.
"Schultz said he offered to take himself off MSNBC "for an indefinite period of time with no pay."
On her Facebook page Ingraham wrote, "Now I'm tempted to insert one additional zing … about men who preach civility but practice misogyny."
Opinion writer Alexandra Petri says there are serious implications of Schultz's use of the word 'slut'. She writes:
Slut is not a gender-neutral term, yet. In spite of all the Slut Walks proclaiming that You Can Do What You Want And Wear What You Want And Society Shall Not Label You — which, really, didn't anyone think this through beforehand? ("We're going on a slut walk," you say. "Oh, that's nice," your employer says. "Boy, when you bring them home, you really have no sense of the amount of care, feeding, and walking that's required.")
But in defense of the walks, there's got to be some way to drive the point home. So far, it's not working: If this is a misogynistic term, then it's a term that's somehow reserved for women. And that's a deeply misogynistic thought."
Is it now Honeybunch? Aren't y'all a tad Oversentisitive? Aren't y'all a just too Politically Correct? Wanna know what you can do with your hurt feelings?
"Ingraham earned a bachelor's degree at Dartmouth College, in 1985, and a law degree at the University of Virginia School of Law, in 1991. As a Dartmouth undergraduate, she was a staff member of the independent conservative newspaper, The Dartmouth Review. In her senior year, she was the newspaper's editor-in-chief, its first female editor.She wrote a few controversial articles during her tenure, such as a piece characterizing a campus gay rights group as "cheerleaders for latent campus Sodomites". She also secretly tape recorded the organization's meetings, and sent copies to the participants' parents. Jeffrey Hart, the faculty adviser for The Dartmouth Review, described Ingraham as having "the most extreme antihomosexual views imaginable," and noted that "she went so far as to avoid a local eatery where she feared the waiters were homosexual and might touch her silverware or spit on her food, exposing her to AIDS."In 1997, Ingraham wrote an essay in the Washington Post in which she stated that she changed her views after witnessing "the dignity, fidelity and courage" with which her gay brother Curtis and his late companion coped with AIDS.She said she now understands why gays need protection and regrets her "callous rhetoric." Nevertheless the Gay & Lesbian Alliance Against Defamation named Ingraham as one of the "worst anti-gay and anti-transgender voices of 2008," citing her statements regarding transgendered people and "allusions that being gay is a 'bad choice'."
You know what, bitch? Being a Republican is a Bad Choice. And for those "feminists" who've got their SPANX in a twist cause objecting to Laura on any level makes one misogynist, BEING A WOMAN IS A BAD CHOICE!!!!
The Pets will sing us out. And as you might expect the answer to their musical question is NO!!