There's a profile of the above-pictured carbon-based life-form in Jann Wenner's rag that "everyone's talking about."
"The 71-year-old Ailes presents the classic figure of a cinematic villain: bald and obese, with dainty hands, Hitchcockian jowls and a lumbering gait. Friends describe him as loyal, generous and "slap your mama funny." But Ailes is also, by turns, a tyrant: "I only understand friendship or scorched earth," he has said. One former deputy pegs him as a cross between Don Rickles and Don Corleone."
I'd say he's a lot more like —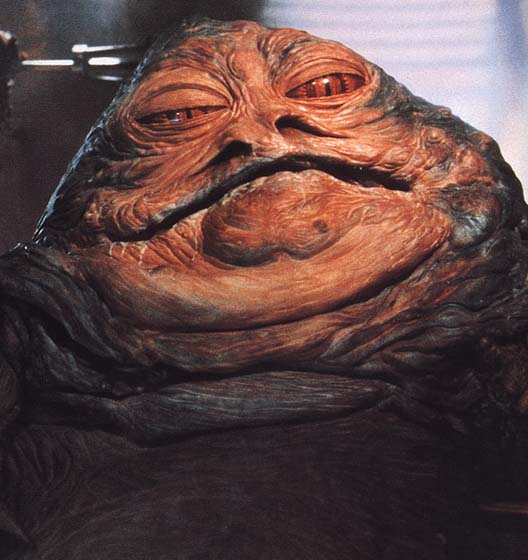 Here's the bit that's most amusing:
"Murdoch installed ailes in the corner office on Fox's second floor at 1211 Avenue of the Americas in Manhattan. The location made Ailes queasy: It was close to the street, and he lived in fear that gay activists would try to attack him in retaliation over his hostility to gay rights. (In 1989, Ailes had broken up a protest of a Rudy Giuliani speech by gay activists, grabbing demonstrator by the throat and shoving him out the door.) Barricading himself behind a massive mahogany desk, Ailes insisted on having "bombproof glass" installed in the windows – even going so far as to personally inspect samples of high-tech plexiglass, as though he were picking out new carpet. Looking down on the street below, he expressed his fears to Cooper, the editor he had tasked with up-armoring his office. "They'll be down there protesting," Ailes said. "Those gays."
And here they come!
Interestingly the piece also notes —
"Out on his own, Ailes briefly returned to the passion for the theater he discovered during his college days. In perhaps the oddest chapter of his professional life, he formed a partnership with Kermit Bloomgarden – the famed producer of Death of a Salesman – and set out to conquer Broadway. Their first production: an environmental-themed musical called Mother Earth. When the show flopped, folding after just a dozen performances in 1972, it nearly bankrupted Ailes. The next year, though, he was back in the game, scoring an edgy off-Broadway hit with The Hot L Baltimore, which the New York Drama Critics' Circle named Best American Play of 1973."
And was written by an acknowledged homosexual
But wait — there's more!
" He was later nominated for an Emmy for a documentary on Federico Fellini, and produced a TV special from the Fantasy Suite at Caesars Palace for Liberace, whom Ailes knew fondly as "Lee."
Hmmm. Let's see what the Wiki says about Roger's "Personal Life"
"Ailes left his first wife, who was his college sweetheart, to work on the Nixon campaign. Ailes' second marriage was to Norma E. Ailes, who had been a television producer with Mission Media Ministries. The two raised one child, a daughter from Norma Ailes' earlier relationship, Shawn C. Ailes Visco Ferrer (born July 1968), now a television producer.
In July 1997, the St. Louis Post-Dispatch reported that Ailes was engaged to Elizabeth Tilson (born December 1960), whom he married on February 14, 1998. Formerly a television executive, she is now a homemaker and titular publisher of The Putnam County News and Recorder. They have one son.
Ailes is a longtime friend of journalist and media personality Barbara Walters"
And as we all know, Barbara was a longtime friend of —
Yes Roger "has issues."
Not as many "issues" as Bradley Manning (who does?) but "issues" nonetheless.
Lip-synch us out Bernadette!