Ah yes, the inimitable Marilyn. As "Sugar Kowalczyk" she's absolutely devestating — the embodiment of heterosexual desire. Luminous in this moment about which Roger Ebert has gushed –
"Consider her solo of "I Wanna Be Loved by You." The situation is as basic as it can be: a pretty girl standing in front of an orchestra and singing a song. Monroe and Wilder turn it into one of the most mesmerizing and blatantly sexual scenes in the movies. She wears that clinging, see-through dress, gauze covering the upper slopes of her breasts, the neckline scooping to a censor's eyebrow north of trouble. Wilder places her in the center of a round spotlight that does not simply illuminate her from the waist up, as an ordinary spotlight would, but toys with her like a surrogate neckline, dipping and clinging as Monroe moves her body higher and lower in the light with teasing precision. It is a striptease in which nudity would have been superfluous. All the time she seems unaware of the effect, singing the song innocently, as if she thinks it's the literal truth. To experience that scene is to understand why no other actor, male or female, has more sexual chemistry with the camera than Monroe."
Indeed. "Sugar's" companions on the bandstand, Tony Curtis and Jack Lemmon, are in drag. Not because they enjoy it, but because they're in disguise the better to escape the Chiago mobsters who want to kill thm. Lemmon, howver, has acquired a beau — "Old sachel-mouth" the randy bellhop calls him — Joe E. Brown, playing a character we learn at the film's finale, delivering the greatest last line in the history of the cinema — is not at all disturbed that he's a man.
"Ahead of his time" or right on it? A question worth contemplating as LGBT Pride festivities get underway, and the world's oldest, largest, wealthiest and most thoroughly lawyered pedophile cult takes another crack at "curing" us all.
And their latest plan involves sugar
but not in the form of Monroe.
"A Catholic doctors' association in Germany believes it can cure the sexual orientation of gays and lesbians with sugar pills — though only at their request, the group says. But the homo-homeopathy has been harshly criticized by members of its target community."
Do Tell Michelle!
"The Lesbian and Gay Federation in Germany (LSVD) is outraged. Following news reported this week by the online magazine Telepolis that the Union of Catholic Physicians (UCP) has been offering homeopathic "Therapy Options for Homosexuality" on their website, the advocacy organization called the suggestion an "insult," and an "impertinence" that showed "a lack of respect for homosexuals and bisexuals."
The religious association, which calls itself the "voice of the Catholic medical community," writes on its website that while "homosexuality is not an illness," a host of treatments are available to keep such "inclinations" at bay. Possibilities include "constitutional treatments with homeopathic tools … such as homeopathic dilutions like Platinum," "psychotherapy," and "religious counseling." Among homeopathy's controversial treatments are the prescription of "Globuli," tiny pills that consisting mostly of sugar."
Sugar you say?
Like this?
Why not a cake or four?
or more?
Why not chocolate?
Hey, why not a chocolate waterfall?
Are you with me Sammy?
Very sweet. But this is sweeter
"We know about a number of people with homosexual feelings who find themselves in a spiritual and psychological emergency and suffer greatly," UCP head Gero Winkelmann told SPIEGEL in a written statement. "If someone is unhappy, ill or feels they are in an emergency, they should be able to find options for help with us."
But the doctor, who runs a private practice with an emphasis on homeopathy in the Bavarian town of Unterhaching, also stressed that the UCP website had not been recently updated, "because the issue is not particularly topical at the moment."
As for the scientific basis of the treatments offered by the UCP, Winkelmann listed "medical-psychotherapeutic, philosophical and theological literature," the "minority views of psychotherapists," the "teachings of the Catholic church, the Holy Scripture," and the "homeopathy of Samuel Hahnemann," the German physician credited with creating the practice."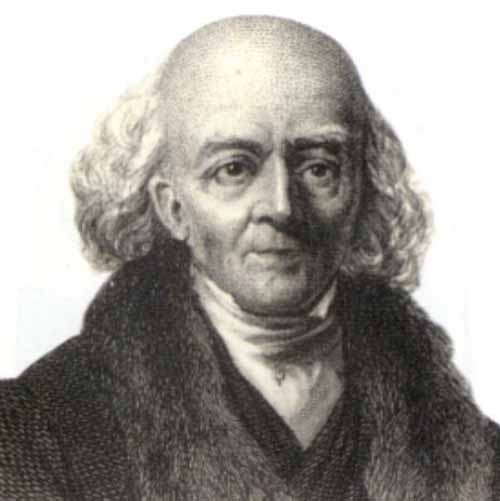 Quite the Babe-Magnet, no? In an article entitled "Four Eyes Are Beter Than Two," Jeremy Clarkson notes —
"My eye was caught recently by a photograph in a magazine called The Spectator. It showed an old man in a 19th-century setting and underneath it read "Samuel Hahnemann, the founder of homosexuality".
This seemed odd, partly because the old man in the photograph, with his mutton chops and his frock coat, looked about as gay as Sean Connery, and partly because I thought homosexuality had been invented long before the 1800s.
I therefore plunged into the lengthy story that accompanied the photograph and pretty soon my curiosity turned to bewilderment. Because it just went on and on about alternative medicine.
Only when I reached the end and turned back for a better look at the old man did I realise my mistake. Samuel Hahnemann was not the founder of homosexuality. He was the founder of homeopathy."
A perfectly understandable error, no?
(Back to Der Spiegel )
"But touting ineffective medication for nonexistent suffering is unacceptable, the LSVD said. "The offerings are dangerous," said spokeswoman Renate Rampf. "They use the insecurities of homosexual or bisexual young people and their parents." Such "laughable" therapeutic ministrations are problematic because they can be "destabilizing," she said.
"All serious experts agree that sexual orientation is already evident in early childhood," she added.
But Winkelmann defended the treatments, saying his organization's intentions were not meant to "injure or pressure" anyone, but to express a "position and medical opinion" to interested parties.
The UCP website includes a testimonial from a southern German gay man who writes that he had been happy to find that the organization believed "that changing homosexual tendencies was possible" because finding a therapist to undertake such a task had been difficult. "Unfortunately the widespread opinion among psychotherapists is that homosexuality is inherent and unalterable," he writes.
While the UCP says it does not represent official Catholic policies, the Church continues to grapple with its approach to homosexuality. Just last month Cologne Archbishop Joachim Meisner withdrew the religious teaching privileges of prominent publicist and pedagogue David Berger after he revealed his homosexuality and criticized the Catholic stance on the issue. The church declared that the teacher could "no longer credibly give Catholic religion lessons on behalf of the Church."
Ya don't say.
Well he do say — and is very much worth quoting at length in this regard.
SPIEGEL: Mr. Berger, you describe the Catholic Church as a homophobic organization. Why did it take you, a homosexual theologian, so long to resign from your offices in the
church?
Berger: Because such an exit isn't a question of days. Even as a child I wanted to be a priest, but by the time I had finished high school it was clear to me that I would not be able to live a life of celibacy.
SPIEGEL: And you became a theologian anyway?
Berger: Yes, because the church never lost its attraction for me. The Tridentine Mass was like a gateway drug for me. When I was 17, I was with the Pius Brothers in Lower Bavaria. What I saw there was a fascinatingly aesthetic baroque dream of leaf gold and Brussels Bobbin lace. I couldn't get away from it. It only became clear to me later what I had got involved in, and the dream turned more and more into a nightmare.
SPIEGEL: Why?
Berger: Because my own life, my life with a partner, increasingly contradicted what was said and demanded in my church environment. Through my enthusiasm for the traditional mass and for conservative theology, I became increasingly involved with conservative Catholic networks of young aristocrats, industrialists and reputable academics. They utterly condemned homosexuality.
SPIEGEL: How did that manifest itself?
Berger: I kept having to listen to inhuman views. For example, Hitler was praised for having interned and murdered homosexuals in concentration camps. The point came when I couldn't remain silent any longer …
SPIEGEL: … after you and your career had profited for a long time from contact with these right-wing circles.
Berger: Ever since Pope Benedict XVI, at the latest, you have to be anti-modern to have a career in the Catholic Church. I criticized the relatively progressive theology and left-wing church policy of Karl Rahner. That is how people noticed me. Because I was an expert on the medieval thinker Thomas Aquinas, I was invited by almost all right-wing conservative groups to give lectures. I was in touch with the Sedevacantists, the Priestly Fraternity of St. Peter, the Society for the Defense of Tradition, Family and Property, Una Voce, Opus Dei and the Servants of Jesus and Mary.
SPIEGEL: What went on at the meetings?
Berger: These groups are very careful about who they invite. They meet in very high-class venues, sometimes in former aristocratic residences or in luxury hotels. Old men smoke fat cigars, drink expensive red wine and eat well. It is a parallel world whose inhabitants seek to defy the modern world.
SPIEGEL: And what do they discuss?
Berger: They talk about a supposed Jewish global conspiracy or about how to keep emancipators, freemasons and gays out of the church. For many years, there were "gentlemen's evenings" in Düsseldorf that were organized by a tax consultant. They increasingly became a focal point for a right-wing Catholic network. At one of the meetings, which were regularly visited by senior clerics, the man sitting next to me, a retired university professor, was railing against the gay parades on Christopher Street Day (in Germany): "Instead of standing in a corner, being ashamed of themselves and just shutting up, they behave like pigs gone wild."
SPIEGEL: Why didn't you turn your back on the church at that point?
Berger: Many gays are attracted by the clear hierarchies of the male world of Catholic rituals. Among clerics I discovered extremely effeminate behavior of the sort I knew well from certain gay scenes. People give each other women's names and attach very high importance to clerical robes in all colors. Just think of the nicknames Bishop Walter Mixa (who recently stepped down amid accusations of violence and financial irregularities) and his housemaster friend gave each other: "Hasi," or "bunny," and "Monsi," short for monsignore.
SPIEGEL: Did you get the impression that your homosexuality may even have helped your career?
Berger: In clerical circles I kept getting shown through unmistakeable looks, hugs, stroking of my upper arms and excessively long handshakes that one didn't just appreciate my work a lot. The fact that many prelates had homosexual tendencies is certain to have made them more ready to help me get positions.
SPIEGEL: And these gentlemen weren't homophobic?
Berger: The contradiction between evident homosexual inclinations and homophobic statements is one way in which people in the church deal with their own, usually suppressed inclination.
SPIEGEL: You must explain that to us.
Berger: Evidently those who succumb to their desires are rejected particularly vehemently by those who painfully suppress such leanings in themselves. In the course of my own close cooperation with clerics, something I had long disavowed suddenly became clear to me: The fiercest homophobia in the Catholic Church comes from homophile clerics who desperately suppress their own sexuality.
SPIEGEL: Did you feel this pressure yourself?
Berger: I published the magazine Theological Issues and was summoned by the sponsors every time a faintly liberal view was espoused. Opus Dei people were always there to observe. They said I wasn't allowed to write "life partner;" it should instead be referred to as "fornication partner." "Homosexuality" was too neutral, they said. One had to refer to it as "unnatural fornication."
SPIEGEL: What finally triggered your departure?
Berger: The appearance of the bishop of Essen, Franz-Josef Overbeck, on Anne Will (a prominent Sunday night political talk show broadcast on German public television station ARD), when he described homosexuality as unnatural and a sin during a debate about sexual abuse.
SPIEGEL: Did that make clear to you that you'd been part of the church too long?
Berger: Instead of standing up for my rights and those of my partner I supported anti-democratic and anti-liberal groups that fight against these rights and in which some people dream of a fundamentalist Catholic religious state or seriously call for a Catholic jihad. I joined in this playing with fire and was then naively appalled when the whole house was ablaze. I regret that.
SPIEGEL: It sounds as if your book is a confession. But your former colleagues are not prepared to grant you absolution.
Berger: A reputable theologian loyal to the pope put it clearly: He said I was given the opportunity to discreetly distance myself from the "scene." I was offered the chance to continue this hypocrisy and go on climbing up the career ladder. Because I didn't want to take part in this ecclesiastic "crisis management," I was accused of "shamelessly seeking the public spotlight."
SPIEGEL: What impact do you hope your book will have?
Berger: I hope that the church will at last confront the issue of homophobia. It must recognize that a large proportion of the Catholic clerics and trainee priests in Europe and the United States are homosexual.
SPIEGEL: Can one really apply your experiences with peripheral right-wing groups to the whole church?
Berger: Ever since the rehabilitation of the Pius Brothers with a Holocaust denier among its leaders, it has become evident how much influence extreme conservative circles have won in just a few years. The views that used to be exchanged discreetly at gentlemen's evenings or in the editorial conferences of newspapers and magazines have now been declared part of the official doctrine of the Catholic Church by leading clerics.
SPIEGEL: Where do you think this development will end?
Berger: The fear of the world, of a spoiled, godless civil society, from which the Catholic Church wants to seal itself off in a bastion, will lead into isolation. There is no longer much sign of the open spirit, the sense of renewal that emanated from the Second Vatican Council. In order to defend itself, the Vatican is instead relying increasingly on reactionary troops. It is closing ranks with evangelists, bible fundamentals and extremely reactionary forces. But a fundamentalist parallel world will turn the people's church into a sect.
In conclusion —
"Though Germany's Protestants tend to take a more liberal approach to homosexuality, conservative members of the church also continue to raise opposition to gay-friendly policies. In 2009 some 30 pastors from the state of North Rhine-Westphalia wrote an open letter to condemn statements made by the church's state president Alfred Buss. "The practice of homosexuality is not consistent with God's creation," said the letter to online news portal Der Westen. Those who discredit therapy for homosexuality deny people "who suffer from homosexual feelings the help to change," the letter continued.
Meanwhile the World Health Organization (WHO) removed homosexuality from its International Code of Diseases on January 1, 1993. The move brought the "19th century to an end for gays and lesbians 90 years too late," said the LSVD at the time. But perhaps they rejoiced too soon."
Oh perhaps not.
Zooey Deschanel will sing us out