That was then.
This is now.
Surely the facts are not in dispute.
"Supporters of the same-sex marriage bill danced in the streets of the West Village after the State Senate approved it on Friday night.
Crowds gathered, screamed and embraced in Sheridan Square near the Stonewall Inn, where the gay-rights movement began more than 40 years ago. Many stood on park benches to get a better view. Gay and lesbian bars in the neighborhood were packed with patrons, and the neighborhood had the feel of jubilant celebration.
"Equality is what this means; this is our right as people," said John Huls, 52, standing in the Stonewall with his partner, Jay Hoff, 50. "It'll be our same relationship. We're the same people as when we met, except now it's proper in the eyes of the state, and I'll be able to look at people and say, 'This is my husband.' "
Jen Morera and her partner, Rio Morera, who were married in Boston last year and live in Queens, spent hours glued to the television screen in the Stonewall on Friday night. On their fingers were matching diamond wedding rings.
Both women, who are lifelong New Yorkers, said they now wanted to get married in their hometown. Being denied the right to marry in New York was like being "rejected by my own city," Jen Morera said, adding that her family could not attend her wedding because of the distance.
"We had to choose between having our family present or getting married," she said. "It's an obstacle, having to go to another state to get married."
When the measure passed, the women screamed and embraced.
As crowds cheered Friday night in the street, politicians offered messages of support.
Mayor Michael R. Bloomberg called the vote "a historic triumph for equality and freedom." "
"The City Council speaker, Christine C. Quinn, the city's highest-ranking openly gay official, said after passage: "I really can't really describe what this feels like, but it is one of the best feelings I have ever had in my life."
The passage of the bill coincided with the annual Gay Pride weekend, which draws thousands of people from around the country and will culminate on Sunday with a parade down Fifth Avenue in Lower Manhattan. A drag parade on Friday from Tompkins Square Park in the East Village to Stonewall in the West Village also went on as planned — the ranks of the marchers augmented by people who gathered to be part of history.
Scott Stoddart, 50 who lives on the East Side of Manhattan, heard that the issue was coming to a vote and headed right to Stonewall.
"It's where it all began," Mr. Stoddart said.
Outside the bar, the crowd swelled to nearly 1,000. Some of those who could not squeeze inside the bar stood outside with Champagne in plastic flutes.
"We're there, finally, but we're not all the way there; this is only one step," said a man dressed in drag who identified himself as Lady Havoc, standing in front of the historic bar. Celebration, he said, however, was still in order. "
And that ain't the half of it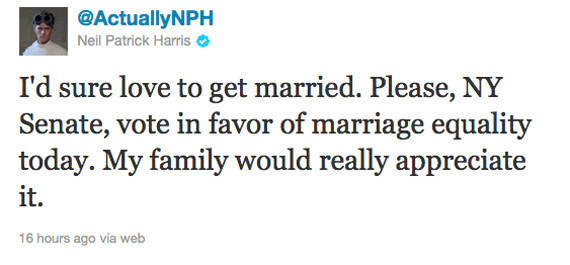 "As Americans of all stripes celebrated the passage of marriage equality in the New York State Senate, gay New Yorker couples affirmed their commitments to one another and began the 30-day countdown until they could finally say "I Do." Amongst them, one of New York's most famous gay couples jubilantly told each other "yes" and took to Twitter to announce their big news.
Neil Patrick Harris, the "How I Met Your Mother" star and Tonys host, became engaged late Friday night to his longtime partner, actor/chef David Burtka. Earlier in the night, Harris tweeted words of encouragement to the State Senate and said he'd "sure love to get married," and following the law's passage, Burtka took to Twitter and announced that the two had proposed to each other — and both said yes.
"I'd sure love to get married. Please, NY Senate, vote in favor of marriage equality today. My family would really appreciate it," Harris wrote before the vote; once it was passed, he tweeted his excitement, saying, "It PASSED! Marriage equality in NY!! Yes!! Progress!! Thank you everyone who worked so hard on this!! A historic night!"
Burtka then gave the big news in a tweet to a fan. "I've already purposed, he said yes! Thank god!" he wrote, before adding, "he proposed to me as well. I said yes! Thank god!"
Of course, it only makes sense that the pair should be allowed to marry; together for at least five years, the pair are fathers to fraternal twins, Gideon Scott and Harper Grace, born via surrogate in October 2010.
Congratulations to the happy couple, and all the other loving pairs finally granted equal rights in New York State."
Sing us out Eddie!