Last night I dreamed I was at News Corp.
Oh Rebecca was a charmer.
Unlike Rebekah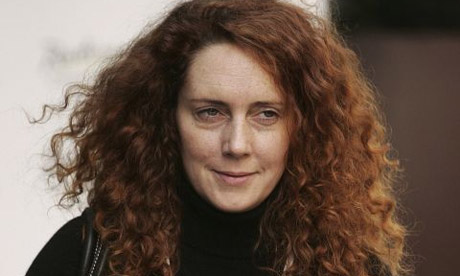 — who's a lot closer to Mrs. Danvers
Imagine what might have happened had Rebekah been privvy to Rebecca's medical records.
Well no matter she's going up in flames too.
"At News International we pride ourselves on setting the news agenda for the right reasons. Today we are leading the news for the wrong ones.
"The reputation of the company we love so much, as well as the press freedoms we value so highly, are all at risk.
"As Chief Executive of the company, I feel a deep sense of responsibility for the people we have hurt and I want to reiterate how sorry I am for what we now know to have taken place.
"I have believed that the right and responsible action has been to lead us through the heat of the crisis. However my desire to remain on the bridge has made me a focal point of the debate.
"This is now detracting attention from all our honest endeavours to fix the problems of the past.
"Therefore I have given Rupert and James Murdoch my resignation.
"While it has been a subject of discussion, this time my resignation has been accepted.
"Rupert's wisdom, kindness and incisive advice has guided me throughout my career and James is an inspirational leader who has shown me great loyalty and friendship.
"I would like to thank them both for their support.
"I have worked here for 22 years and I know it to be part of the finest media company in the world.
"News International is full of talented, professional and honourable people. I am proud to have been part of the team and lucky to know so many brilliant journalists and media executives.
"I leave with the happiest of memories and an abundance of friends.
"As you can imagine recent times have been tough. I now need to concentrate on correcting the distortions and rebutting the allegations about my record as a journalist, an editor and executive.
"My resignation makes it possible for me to have the freedom and the time to give my full cooperation to all the current and future inquiries, the police investigations and the CMS appearance.
"I am so grateful for all the messages of support. I have nothing but overwhelming respect for you and our millions of readers.
"I wish every one of you all the best."
Following Ms Brooks' resignation, News International named Tom Mockridge as her successor."
But wait –there's more!
"Here is the full statement announcing his appointment:
"News Corporation today announced the appointment of Tom Mockridge to the role of Chief Executive Officer of News International.
"Mr Mockridge will assume responsibility for his new role with immediate effect following the resignation of Rebekah Brooks.
"Mr Mockridge joins News International from Sky Italia where he has been Chief Executive Officer since launch in 2003. He was also Chief Executive European Television of News Corporation, overseeing News Corporation's television operations in Europe, outside of the UK.
"Laura Cioli, Chief Operating Officer, and Domenico Labianca, Chief Finance Officer, will assume Mr Mockridge's responsibilities on an interim basis, reporting to James Murdoch, Deputy Chief Operating Officer and Chairman and CEO, International, News Corporation.
"Prior to joining Sky Italia, Mr Mockridge was Chief Executive of the publicly-listed New Zealand company, Independent Newspapers, and Chairman of Sky New Zealand.
"He previously held various roles at Star Group Limited and spent three years as Chief Executive Officer of Foxtel, News Corporation's Australian pay TV joint venture.
"Mr Mockridge joined News Corporation in January 1991, working for Ken Cowley, Chairman and Chief Executive of the Australian newspaper company News Limited.
"Before that, he was a spokesperson in the Australian government. He started his career as a newspaper journalist in New Zealand.
Mr Mockridge is also a non-executive director of BSkyB and a member of the Supervisory Board of Sky Deutschland.
"James Murdoch, Deputy Chief Operating Officer and Chairman and CEO, International, News Corporation, said: 'Tom is an outstanding executive with unrivalled experience across our journalism and television businesses.
"He has proven himself to be a very effective operator in his time at Sky Italia. "Under his leadership, Sky has grown to become one of the world's most successful pay TV businesses, reaching close to 5 million homes and launching channels like TG24 which has set a new standard for independent journalism in Italy.
"I believe that Tom is the best person to move the company forward to a brighter future."
News Corporation's chief executive in Europe James Murdoch sent the following message to News International staff:
"I am writing to update you on the actions we have been taking as a company to solve the problems at News International relating to the News of the World, in addition to continuing to co-operate fully and actively with the police and settling civil claims.
:: Earlier today, Rebekah Brooks resigned from her position as CEO. I understand her decision and I want to thank her for her 22 years of service to the company. She has been one of the outstanding editors of her generation and she can be proud of many accomplishments as an executive. We support her as she takes this step to clear her name;
:: We have created an independent Management & Standards Committee and I want to emphasise its importance. The Committee has direct governance and oversight from News Corporation Board members and is codifying standards that will be clear and enforced;
:: We made the difficult and necessary decision to close the News of the World;
:: A number of other executives have now left the company;
:: News Corporation also withdrew its proposal to acquire the shares in BSkyB it does not own. This is a strong signal that our top priority in the UK is to address the issues facing News International.
Looking to the future, I am also pleased to tell you that Tom Mockridge will become CEO of News International. Tom is in London today and will start right away. Tom is a highly respected and accomplished media executive who has served as CEO of Sky Italia since its launch in 2003. Tom, who has also been in charge of our European Television business, started his career as a newspaper journalist in New Zealand and he has held a range of top roles in the newspaper industry. The creation of TG-24, Italy's only truly independent 24 hours news channel, is a credit to Tom's leadership and integrity.
This weekend, News International will run advertisements in all national newspapers. We will apologise to the nation for what has happened. We will follow this up in the future with communications about the actions we have taken to address the wrongdoing that occurred.
We are also sending letters to our commercial partners with an update on the actions we are taking.
Next week, my father and I will appear before the CMS Select Committee and will speak to them directly about our determination to put things right.
The company has made mistakes. It is not only receiving appropriate scrutiny, but is also responding to unfair attacks by setting the record straight.
I would like to conclude by saying thank you. Throughout this time, you have gotten out great papers every day and have stayed focused. I am deeply grateful for that."
Surely the facts (Rupert hopes) won't get in the way of continued mendacity.
But maybe they will.
"After days of mounting pressure from politicians and shareholders, Rebekah Brooks, the embattled chief executive of Rupert Murdoch's British newspaper operations, announced her resignation on Friday in another stunning blow to Mr. Murdoch's once all-powerful empire, which is now under investigation in Britain and the United States. "
"Her resignation came a day after Mr. Murdoch himself, the chairman of News Corporation, and his son James reversed themselves and said they would testify before a parliamentary panel probing the cascading scandal over phone hacking that has forced the closure of The News of the World tabloid and the collapse of a $12 billion bid to assume full control of Britain's biggest satellite broadcaster.
Ms. Brooks, who has denied that she knew of the phone hacking during her editorship of The News of the World,"
"said in an e-mail to her staff at News International, Mr. Murdoch's newspaper subsidiary, "My desire to remain on the bridge has made me a focal point of the debate. This is now detracting attention from all our honest endeavors to fix the problems of the past. Therefore I have given Rupert and James Murdoch my resignation. While it has been a subject of discussion, this time my resignation has been accepted."
Ms. Brooks had been under mounting pressure to resign from investors and from British political leaders including Prime Minister David Cameron and the Labour opposition leader, Ed Miliband. She was replaced by Tom Mockridge, the head of Sky Italia, News Corporation's Italian satellite broadcaster.
Mr. Cameron said Ms. Brooks had made "the right decision."
But former staffers at The News of the World questioned why she had not resigned earlier. "Our paper was sacrificed to save her career, and now she's gone as well," one former staffer said, requesting anonymity because he did not wish to jeopardize his position in severance negotiations following the newspaper's closure. "Who knows why they've chosen to do it now as she'll have to appear before the select committee anyway."
And what will the select committee do?
Remember, phone hacking celebs and murder victims is ust part of the story. These people went after the highest officials in the British govenrment.
Can you so much as concieve what Al Queida and its ilk would have done with such information?
And who's to say they didn't hack into Presiedent Obama too?
This is Beyond "Serious."
"Ms. Brooks is to join Mr. Murdoch and his son James to testify on Tuesday before Parliament's select committee on culture, media and sport, which is the main parliamentary panel investigating the phone hacking. Prime Minister Cameron has called a separate inquiry to be headed by a senior judge.
The Murdochs initially said they could not attend the parliamentary session but later reversed themselves to say they would appear after all. The about-face was apparently part of an effort to control the fall-out from the scandal by showing senior executives ready to cooperate with an array of inquiries.
Only recently, such measures would have seemed unthinkable. Indeed, the Murdochs' hasty reversal on Thursday seemed to reflect the company's confusion in handling the crisis and a sense that its chairman has been unable to properly judge the public mood.
With the pace and fury of a hurricane, the scandal has torn through Mr. Murdoch's British outpost in less than two weeks, even though questions about the news-gathering techniques employed by News International had been under largely ineffective scrutiny by the police and Parliament for years. Initially, too, many outsiders believed that the phone hacking was restricted to the phones of prominent people. "
"Then, at the beginning of last week, news reports emerged that The News of the World had ordered the hacking of voice mails left for Milly Dowler, a 13-year-old girl who had been abducted and was later found murdered."
"That episode shocked many Britons and triggered other disclosures of hacking into the phones of terrorism victims, possibly including some of those who died in the attacks on Sept. 11, 2001 in the United States.
In response to requests from members of Congress and to at least one news report, the Federal Bureau of Investigation in New York opened a preliminary inquiry on Thursday into allegations that News Corporation journalists sought to gain access to the phone records of victims of the Sept. 11 attacks, according to several people briefed on the matter."
"Once the scandal spread beyond Mr. Murdoch's British outpost, major investors in the much bigger parent company, News Corporation, began questioning what was going on. In Britain, Mr. Murdoch owns The Times of London, The Sunday Times and the top-selling daily tabloid, The Sun. He also holds a 39 percent interest in British Sky Broadcasting. His United States holdings include Fox News, The Wall Street Journal and the New York Post. "
"Mr. Murdoch had previously rejected two offers from Ms. Brooks to resign, defending her as almost a member of the family that controls his media holdings.
In her farewell message, Ms. Brooks said: "At News International we pride ourselves on setting the news agenda for the right reasons. Today we are leading the news for the wrong ones. The reputation of the company we love so much, as well as the press freedoms we value so highly, are all at risk. As chief executive of the company, I feel a deep sense of responsibility for the people we have hurt and I want to reiterate how sorry I am for what we now know to have taken place."
Ms. Brooks said she would focus on "correcting the distortions and rebutting the allegations" and would cooperate with a police inquiry into phone hacking and payments to corrupt police officers."
"Since January, nine people have been arrested in that probe, including Andy Coulson, a former close associate of Ms. Brooks and once a senior aide to Prime Minister Cameron. She also praised Mr. Murdoch's "wisdom, kindness and incisive advice" and his son James's "great loyalty and friendship."
"I have worked here for 22 years and I know it to be part of the finest media company in the world," she said. "
"On Thursday, the decision by Rupert and James Murdoch to attend next week's parliamentary inquiry coincided with several other moves suggesting a more assertive strategy. News Corporation brought on outside public relations help, hired a prominent white-collar defense lawyer and was said to be planning to run full-page apology advertisements in newspapers across Britain.
The elder Mr. Murdoch made his first extended comments on the matter, phoning a reporter at The Wall Street Journal to defend his company's handling of the crisis. He said the matter had been handled "extremely well in every way possible," and rejected claims that his son James had moved too slowly to address concerns about the hacking.
He added that he was eager "to address some of the things that have been said in Parliament, some of which are total lies," and said reports that the News Corporation was contemplating spinning off its newspapers into a separate entity were "pure rubbish."
Meanwhile, the company's woes increased on Thursday when yet another former senior editor of The News of the World, now defunct, Neil Wallis, became the ninth person since January to be arrested in the phone-hacking scandal. Mr. Wallis also appears to have unusually close ties to top officers at the Metropolitan Police Service, and worked for them as a public relations consultant last year."
"Mr. Wallis's arrest, while bad news for the company, is doubly worrying for the Metropolitan Police Service. The police are already under attack for failing to adequately pursue the phone-hacking inquiry in 2006, and again for failing to reopen the investigation in light of new evidence in 2009. While Mr. Wallis is not the most important figure yet to be arrested — that would be Mr. Coulson, a former editor of The News of the World who until January was Mr. Cameron's chief spokesman — he is close to Scotland Yard.
After leaving The News of the World in 2009, Mr. Wallis became a media consultant, whereupon he was immediately hired to "provide strategic communication advice" to Scotland Yard officials from October 2009 to September 2010, according to a police spokesman. His firm offered the lowest rate, the spokesman said, explaining how he got the job.
But his ties to the police went back longer. In September 2006, one month after The News of the World's royal correspondent, Clive Goodman, was arrested on suspicion of phone hacking and the paper Mr. Wallis worked for was supposedly under investigation, Mr. Wallis had dinner with Sir Paul Stephenson, then Scotland Yard's deputy commissioner, and Dick Fedorcio, its chief spokesman.
Sir Paul, now the police commissioner, said on Thursday that he was "very satisfied with my own integrity." "
"More recently, Assistant Commissioner John Yates, another top police official, told a parliamentary committee in March that he could not remember exactly when he last had lunch with Mr. Wallis, but that it "may well" have been in February.
A police spokesman said he did not know the precise date of this engagement. But if it was indeed in February, that meant that it took place after the police had already opened Operation Weeting, the investigation into phone hacking under which Mr. Wallis has now been arrested. "
Alan Price will sing us out