Ah what innocent little lambs J.J. and Sidney were. And brave too. They didn't have underlings to do their dirty work. They did it themselves.
Unlike —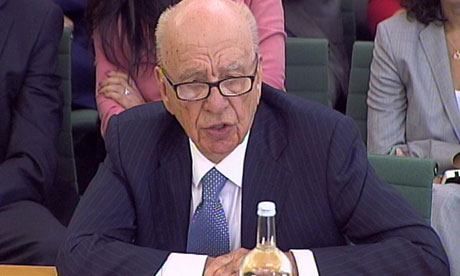 Surely the facts, like teeth (as Gertrude Stein observed) are to be deeply regretted.
"Rupert Murdoch and his son James have been quizzed by MPs at a hearing about the phone hacking crisis, in an appearance that the News Corporation chairman described as the "most humble day" of his life.
The dramatic session, where an intruder attempted to attack Murdoch with a plate of foam, began with an apology.
Taking questions about the News of the World phone hacking scandal, James Murdoch was accused by the chair of the culture media and sport select committee, John Whittingdale, of misleading parliament.
"It's a matter of great regret … these actions do not live up to the standards that our company aspires to around the round", the deputy chief operating officer and chairman and chief executive of News Corp's international operations told MPs.
The younger Murdoch said they'd relied on reports from the Press Complaints Commission, independent lawyers and others, saying when the scandal broke it was unclear how widespread phone hacking he was. He said it was a matter of "deep regret" that "the facts could not emerge".
"We have established a group in the company cooperating very closely with the police on their investigation", James Murdoch said. He highlighted the fact that News International had provided new information to the police.
He defended Rebekah Brooks and Les Hinton, saying there was no evidence that either had been aware of the practice."
Aha, the Manuel Defense !
""Nonetheless, those resignations have been accepted."
Rupert Murdoch added that both top executives had asked to resign. He said Brooks had "insisted" on going as was "at a point of extreme anguish", and said he did not initially accept her resignation because he trusted her.
The chairman said he was "clearly" misled about phone hacking but did not know by whom. Pressed on Brooks' previous admission that she had paid police officers, Murdoch said he had not investigated the claims.
In a dramatic admission, Rupert Murdoch said he may have "lost sight " of the News of the World. He said he would only speak to the News of the World editor once a month or so, but would speak to the Sunday Times editor every Saturday.
Tom Watson, the Labour MP who pursued claims about phone hacking at the paper, asked Rupert Murdoch a series of questions about events at the company.
The News Corp CEO replied that:
He was unaware of News of the World reporter Neville Thurlbeck being found guilty of blackmail.
He was shocked and appalled when he heard about the Milly Dowler case
He was unaware of payments made to Gordon Taylor for privacy claims."
IOW, Rupert is "Uncle Leo"
"James Murdoch also defended the £700,000 payout to Taylor, who is chief executive of the Professional Footballers Association, saying there was no new information about how widespread phone hacking was when he signed off the payment.
"It was quite clear and quite likely that if litigated the company would lose that case."
He told MPs that if he had known then what he now knew he still would have made the payment, but would have contacted police and put a process in place for admitting liability and apologizing to the victims for phone hacking which was "absolutely inexcusable".
"We would have taken more action around that and moved faster to get to the bottom of these allegations."
James Murdoch said he was "surprised" that News International had contributed to the legal fees of Clive Goodman and Glenn Mulcaire, who were jailed in 2007 for tapping the phones of royals.
He said he was "as surprised as you are" that payments had been made to help Glenn Mulcaire's legal fees. He said he knew certain legal fees had been paid but did not know if they were ongoing, and had asked them to be ceased.
Rupert Murdoch said the payments "could have been" authorised by the then chief legal officer, Tom Crone, or Les Hinton.
He also replied to questions about the closure of News of the World. He said his company was making every effort to give jobs to former journalists at the paper who were not guilty of wrongdoing
He also said he felt "ashamed" of what had happened at the News of the World.
"We had broken our trust with our readers," he told the committee.
Murdoch senior also told the ministers that he had no recollection of meeting former News of the World executive Alex Marunchak, who worked for the Metropolitan Police for 20 years as a translator.
Questioned over his relationship with Prime Minister David Cameron, Rupert Murdoch said he was "told" to enter Number 10 from the back door after the 2010 election.
"I was asked, would I please come in through the back door".
He added that he would "absolutely" co-operate with further investigations, including any examining claims that the paper attempted to hack the phones of 9/11 victims.
Murdoch said he was not ultimately responsible for the scandal and blamed it on the people he "trusted", and the people they in turn trusted. But he stood by Les Hinton, the recently resigned Dow Jones chief and former News International chief executive, saying that he would trust him with his life."
Ah but life is cheap these days, Rupe.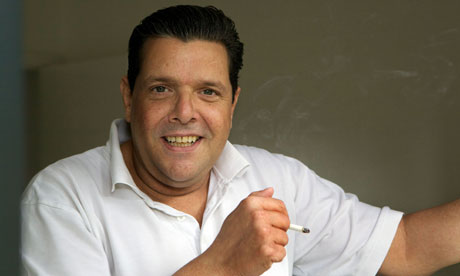 as that former employee of yours learned too late.
"Sean Hoare said he was told to stop at nothing to deliver celebrity scoops for the Sunday papers, and he delivered some of the most sensational as he knocked back whiskey and snorted cocaine with the stars. Then he helped break open the biggest scandal of all: a phone-hacking saga that has thrown Britain's establishment into disarray.
Hoare's death this week added another tragic twist to the very scandal he helped bring to light, which has forced the closure of his newspaper, The News of the World, brought down senior police officials and threatened to engulf the rest of Rupert Murdoch's media empire.
Hoare was the first journalist to openly say that his former friend and editor at the paper, Andy Coulson, knew about the tabloid's widespread use of phone hacking. Coulson links the scandal to Prime Minister David Cameron, for whom he worked as communications chief.
Hertfordshire police discovered Hoare's body at his home north of London on Monday morning. They said Tuesday a post-mortem found no evidence of outside involvement in Hoare's death, calling it "non-suspicious."
Uh. . .about those police. . .
"One senior journalist worked as a media consultant to Scotland Yard, helping to shape its public message. A second worked as a police interpreter, privy to confidential information. A third allegedly served as a police informant, passing on sensitive material in return for tips.
Across Scotland Yard, more than a dozen current and former employees of Rupert Murdoch's media empire have found work, raising questions about whether the ties were so close that Britain's premier police force shied away from investigating allegations of lawbreaking at his now-closed tabloid News of the World.
Keith Vaz, chairman of the parliamentary committee questioning senior police officers Tuesday about their links to the press, said that officials seemed to treat ex-reporters "almost like a fashion accessory."
"People leave the News of the World and come to work for the police or a politician," he said.
Scotland Yard's failure to properly investigate allegations of spying, corruption and unethical behavior by News of the World journalists has already cost two of the country's most senior policemen their jobs and led Britain's police watchdog to open an inquiry into the force's top brass.
The past two weeks have also unearthed a series of overlapping personal, professional and business interests between Murdoch's British newspaper division, News International, and the police officers supposedly investigating it.
Take Neil Wallis, once a senior News of the World journalist, arrested last week as part of the police inquiry into the tabloid's illegal interception of voice mails.
Until shortly before his arrest, Wallis was working at a $1,600-a-day (1,000-pound-a-day) job advising Scotland Yard on its media strategy. Wallis' daughter also found work at the Metropolitan Police — her resume had been submitted by none other than outgoing Scotland Yard Assistant Commissioner John Yates, who announced his resignation Monday.
Departing Police Commissioner Paul Stephenson has acknowledged dining 18 times with News of the World editors over the past five years.
Then there's Alex Marunchak, who rose to become editor of the News of the World's Irish edition. Scotland Yard said that between 1980 and 2000 the Ukrainian-speaking Marunchak was on its list of London interpreters who provide translation services for victims, witnesses and suspects.
At the same time, Marunchak was working for News of the World, raising the possibility he may have drawn on his police work to fill his newspaper's pages.
In a statement, Scotland Yard acknowledged that "this may cause concern and that some professions may be incompatible with the role of an interpreter." It promised to investigate.
Marunchak, who is also accused of using detectives to spy on a British intelligence officer and a police detective, denies any wrongdoing.
Questions about police ties have also surfaced concerning Neville Thurlbeck, the News of the World's chief reporter, who was arrested in April an allegations of hacking into voice mails.
The Evening Standard reported Tuesday that Thurlbeck led a double life as a police informant for Scotland Yard, a role it said enabled him to get sensitive police data on a serving lawmaker and threats against the queen.
Scotland Yard declined to address the accusation, saying it never discusses police informants. Quizzed about the allegation by lawmakers, Stephenson said he "certainly would not have been aware of it."
Thurlbeck did not return a message seeking comment through his profile on a professional networking site and it was not immediately clear if he had a lawyer.
Finally, of the 45 people who work in the Metropolitan Police's press office fielding calls from the media, drawing up official statements and pitching stories to journalists, 10 have held jobs at News International publications, Stephenson said.
It works the other way around too. Former assistant police commissioner Andy Hayman, once the force's top counterterrorism officer, is now a columnist for the Murdoch-owned Times of London. Hayman told lawmakers last week that "any hint that I am in their back pocket is unfounded."
In some respects, News International's links to the police aren't surprising. It's common for former journalists to work as press officers, and given that Murdoch publications account for 40 percent of Britain's newspaper readership, it's not unexpected that top officers spend time chatting with the group's executives.
And politicians have also drawn upon the services of News International journalists — most notably former News of the World editor Andy Coulson, who worked as David Cameron's communications director before resigning in January as the phone hacking scandal heated up. He was arrested July 8 and is free on bail.
The close relationship between police and the media organization they were supposed to be investigating has harmed Scotland Yard's image — as have allegations that several officers accepted bribes from journalists.
Metropolitan Police Federation chairman Peter Smyth said that the focus on allegations of police wrongdoing was sapping morale across the force and appealed for patience while judicial authorities did their work.
"If there is evidence of corruption by individual officers, let them be prosecuted through the courts," he said."
Yeah like that's gonna happen. This was a hit.
Meanwhile today's hearings may have been nothing more than a PR circus, but at least there was pie.
The pink blob behind Rupert's head in the photo at the top of this post belongs to the third Mrs. Rupert — Wendi Deng
Yes in good times and bad it's great to have a "Little Woman" there to prop you up when you fall down. Right Rupe?
Mary Martin will sing us out