Surely the facts are not in a dispute we care about any longer.
"Publishers are releasing a new round of books timed to the 10th anniversary of the Sept. 11 terrorist attacks despite lukewarm sales of many books about the events in the past. But the question remains whether people will want to read more about Sept. 11, especially after weeks of magazine covers, newspaper articles and wall-to-wall cable news coverage."
Not to mention Death Fetishism.
"W. W. Norton and Company has high hopes for one book it plans to release on Sept. 12: the memoir of Ali H. Soufan, a former F.B.I. agent who played a major role in terrorism investigations between 1997 and 2005. A spokeswoman for Norton said that the book, "The Black Banners," will have close to 150,000 copies in print when it is released, a significant number in these days of e-books and struggling brick-and-mortar bookstores.
Smaller publishers have also noted the anniversary. "We're Not Leaving," by Benjamin J. Luft, a compilation of stories told by first responders, is set for publication on Tuesday by Greenpoint Press.
Added to the mix are previously published works, like "The Looming Tower" by Lawrence Wright, the best-selling look at the events leading up to the attacks, that have recently been reissued in new editions. Norton has rereleased what was perhaps the best-selling Sept. 11 book of all, "The 9/11 Commission Report," with a new afterword by Philip Zelikow, executive director of the commission.
Simon & Schuster has reissued "What We Saw," an account of Sept. 11 with pictures and video (the book comes with a DVD), and the paperback edition of "The Truth About Grief" by Ruth Davis Konigsberg, a nonfiction study of grieving that includes a chapter focusing on those who lost spouses in the attacks."
There. Was that good for you ?
"Booksellers have put in modest orders, not expecting a great rush to stores for the occasion in the coming days.
At Kramerbooks in Washington there has been little interest from customers in books timed to the anniversary, said Jake Cumsky-Whitlock, a buyer for the store. They have stocked some of the books anyway, in case there is sudden demand for them in the week ahead."
But what if there isn't ?
""They have the benefit of time and distance for perspective, which is one advantage they have over the books that came out in 2002 and 2003," Mr. Cumsky-Whitlock said. "Other than that, I don't know what they have to offer." One hot seller in the store is the latest issue of Granta, which focuses on the attacks and is also available as an e-book.
Throughout September Barnes & Noble will keep a prominent display of eight anniversary-themed books in all of its stores, a spokeswoman said. The titles include "The Legacy Letters," collected by the nonprofit organization Tuesday's Children and edited by Brian Curtis; "A Decade of Hope" by Dennis Smith; "A Place of Remembrance" by Allison Blais and Lynn Rasic; and "Thunder Dog" by Michael Hingson.
Daniel Schreffler, manager at the Book House of Stuyvesant Plaza in Albany, said he planned to create a window display featuring about a dozen titles released in recent months.
"We're doing the window out of a sense that we should commemorate the event, rather than actually sell books," he said, adding that the store has sold several children's books that teach about the attacks. "
Hey, how about making a scale model of THIS for your bookstore window!
"After a deluge of books in the past decade, publishers are facing the difficulty of persuading consumers that there is anything new they need to read, said Mark Tavani, an executive editor at Ballantine Books, part of Random House. Mr. Tavani edited "The Eleventh Day," by Anthony Summers and Robbyn Swan.
"One of the things that is a real challenge for us was convincing people that they didn't know everything they should know about an event," Mr. Tavani said. "I don't think there are a lot of people walking around thinking that there's a lot more they need to learn about 9/11."
Here's "more"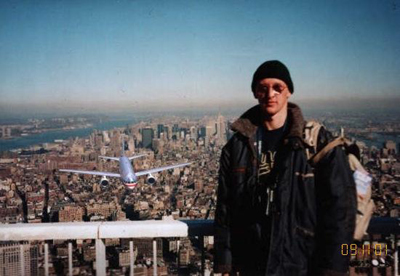 Of course it's fake, but that's what we want, isn't it folks?
"Peter Osnos, the founder and editor at large of PublicAffairs, the independent publisher, said he did not buy any books tied to the anniversary of the attacks because of the lack of compelling material available.
"It's basically commercial," Mr. Osnos said. "I don't think anybody wants to underestimate what the impact on our society was on 9/11. Having said that, a cascade of books and articles and programs and so on is so extensive that it's kind of hard to single out something that would truly break through and change the way we view the event."
Not gonna happen. 9/11 was five minutes ago ten years ago.
"While authors will have ample opportunities to publicize their books on television throughout the week, said Rick Kot, an executive editor at Viking, an imprint of Penguin, who edited "A Decade of Hope," he added that they also run the risk of not standing out among the others.
"We were all aware that there was going to be a lot of 9/11 anniversary books," Mr. Kot said. "But I like to think this particular book has as broad a range as possible."
Timing can be tricky, too. For publishers to capitalize on the publicity surrounding the anniversary, they have to release their books close to it.
But not too close. "As soon as it's Sept 12," Mr. Tavani said, "they'll put it out of their minds for another 350 or so days."
Oh more than that. 9/11 is what Roland Barthes would call "an empty signfier." It has utterly exhausted itself.
We need another Fear Module. Right Mr. Cale?