After over three weeks of total indifference The World's Worst Newspaper has finally seen fit to put the Wall Street Protest on Page One
"In a tense showdown above the East River, the police arrested more than 700 demonstrators from the Occupy Wall Street protests who took to the roadway as they tried to cross the Brooklyn Bridge on Saturday afternoon.
The police said it was the marchers' choice that led to the enforcement action.
"Protesters who used the Brooklyn Bridge walkway were not arrested," Paul J. Browne, the chief spokesman for the New York Police Department, said. "Those who took over the Brooklyn-bound roadway, and impeded vehicle traffic, were arrested."
But many protesters said they believed the police had tricked them, allowing them onto the bridge, and even escorting them partway across, only to trap them in orange netting after hundreds had entered.
"The cops watched and did nothing, indeed, seemed to guide us onto the roadway," said Jesse A. Myerson, a media coordinator for Occupy Wall Street who marched but was not arrested."
Let's go to the tape!
"Around 1 a.m., the first of the protesters held at the Midtown North Precinct on West 54th Street were released. They were met with cheers from about a half-dozen supporters who said they had been waiting as a show of solidarity since 6 p.m. for around 75 people they believed were held there. Every 10 to 15 minutes, they trickled out into a night far chillier than the afternoon on the bridge, each clutching several thin slips of paper — their summonses, for violations like disorderly conduct and blocking vehicular traffic. The first words many spoke made the group laugh: all variations on "I need a cigarette."
Cause where there's smoke there's —
"David Gutkin, 24, a Ph.D. student in musicology at Columbia University, was among the first released. He said that after being corralled and arrested on the bridge, he was put into plastic handcuffs and moved to what appeared to be a Metropolitan Transportation Authority bus, along with dozens of other protesters, for over four hours. They headed first into Brooklyn and then to several locations in Manhattan before arriving at the 54th Street precinct.
Men and women had been held separately, two or three to a cell. A few said they had been zip-tied the entire time. "We sang 'This Little Light of Mine,' " said Annie Day, 34, who when asked her profession said, "I'm a revolutionary." Ms. Day was wearing laceless Converse sneakers: police had required the removal of all laces as well as her belt. She rethreaded them on the pavement while a man who identified himself as a lawyer took each newly freed person's name.
None of the protesters interviewed knew if the bridge march was planned or a spontaneous decision by the crowd. But all insisted that the police had made no mention that the roadway was off limits. Ms. Day and several others said that police officers had walked beside the crowd until the group reached about midway, then without warning began to corral the protesters behind orange nets."
Oh we've seen those orange nets before.
"The scene outside the Midtown South Precinct on West 35th Street around 2 a.m. was far more jovial. Only about 15 of the rumored 57 people had been released, but about a dozen waiting supporters danced jigs in the street to keep warm. They snacked on pizza. One even drank Coors Light beer, stashing the empty bottles under a parked police van. When a fresh protester was released, he or she ran through a gantlet formed by the waiting group, like a football player bursting onto the field during the Super Bowl. "This is so much better than prison!" one cheered."
Nice Product Placement, NYT!
"It's cold," said Rebecca Solow, 27, rubbing her arms as she waited on the sidewalk, "but every time one is released, it warms you up."
The march on the bridge had come to a head shortly after 4 p.m., as the 1,500 or so marchers reached the foot of the Brooklyn-bound car lanes of the bridge, just east of City Hall.
In their march north from Zuccotti Park in Lower Manhattan — headquarters for the last two weeks of a protest movement against what demonstrators call inequities in the economic system — they had stayed on the sidewalks, forming a long column of humanity penned in by officers on scooters.
Where the entrance to the bridge narrowed their path, some marchers, including organizers, stuck to the generally agreed-upon route and headed up onto the wooden walkway that runs between and about 15 feet above the bridge's traffic lanes.
But about 20 others headed for the Brooklyn-bound roadway, said Christopher T. Dunn of the New York Civil Liberties Union, who accompanied the march. Some of them chanted "take the bridge." They were met by a handful of high-level police supervisors, who blocked the way and announced repeatedly through bullhorns that the marchers were blocking the roadway and that if they continued to do so, they would be subject to arrest.
There were no physical barriers, though, and at one point, the marchers began walking up the roadway with the police commanders in front of them – seeming, from a distance, as if they were leading the way. The Chief of Department Joseph J. Esposito, and a horde of other white-shirted commanders, were among them.
After allowing the protesters to walk about a third of the way to Brooklyn, the police then cut the marchers off and surrounded them with orange nets on both sides, trapping hundreds of people, said Mr. Dunn. As protesters at times chanted "white shirts, white shirts," officers began making arrests, at one point plunging briefly into the crowd to grab a man. "
Clearly today's Brown Shirts are White.
Meanwhile over on Op-Ed Nicholas Kristoff has some Birdbath-Deep Thoughts.
"AFTER flying around the world this year to cover street protests from Cairo to Morocco, reporting on the latest "uprising" was easier: I took the subway.
The "Occupy Wall Street" movement has taken over a park in Manhattan's financial district and turned it into a revolutionary camp. Hundreds of young people chant slogans against "banksters" or corporate tycoons. Occasionally, a few even pull off their clothes, which always draws news cameras."
Unlike the sight of THIS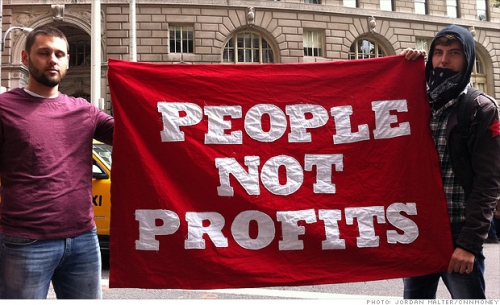 "Occupy Wall Street" was initially treated as a joke, but after a couple of weeks it's gaining traction. "
Translation: "We can't go on ignoring it."
"The crowds are still tiny by protest standards — mostly in the hundreds, swelling during periodic marches — but similar occupations are bubbling up in Chicago, San Francisco, Los Angeles and Washington. David Paterson, the former New York governor, dropped by, and labor unions are lending increasing support."
Labor Unions? The Koch Brothers and their Republican pool-boys aren't going to like that.
"I tweeted that the protest reminded me a bit of Tahrir Square in Cairo, and that raised eyebrows. True, no bullets are whizzing around, and the movement won't unseat any dictators. But there is the same cohort of alienated young people, and the same savvy use of Twitter and other social media to recruit more participants. Most of all, there's a similar tide of youthful frustration with a political and economic system that protesters regard as broken, corrupt, unresponsive and unaccountable.
"This was absolutely inspired by Tahrir Square, by the Arab Spring movement," said Tyler Combelic, 27, a Web designer from Brooklyn who is a spokesman for the occupiers. "Enough is enough!"
The protesters are dazzling in their Internet skills, and impressive in their organization. The square is divided into a reception area, a media zone, a medical clinic, a library and a cafeteria. The protesters' Web site includes links allowing supporters anywhere in the world to go online and order pizzas (vegan preferred) from a local pizzeria that delivers them to the square.
In a tribute to the ingenuity of capitalism, the pizzeria quickly added a new item to its menu: the "OccuPie special."
More "Product Placement." We aren't citizens to the NYT. We're "Consumers."
And nothing else.
"Where the movement falters is in its demands: It doesn't really have any. "
Yeah, right.
"The participants pursue causes that are sometimes quixotic — like the protester who calls for removing Andrew Jackson from the $20 bill because of his brutality to American Indians. So let me try to help.
I don't share the antimarket sentiments of many of the protesters."
No shit, Sherlock!
"Banks are invaluable institutions that, when functioning properly, move capital to its best use and raise living standards. But it's also true that soaring leverage not only nurtured soaring bank profits in good years, but also soaring risks for the public in bad years.
In effect, the banks socialized risk and privatized profits. Securitizing mortgages, for example, made many bankers wealthy while ultimately leaving governments indebted and citizens homeless"
The Banks are (clutch those pearls) Socialist?
"We've seen that inadequately regulated, too-big-to-fail banks can undermine the public interest rather than serve it — and in the last few years, banks got away with murder. It's infuriating to see bankers who were rescued by taxpayers now moan about regulations intended to prevent the next bail-out. And it's important that protesters spotlight rising inequality: does it feel right to anyone that the top 1 percent of Americans now possess a greater collective net worth than the entire bottom 90 percent?
So for those who want to channel their amorphous frustration into practical demands, here are several specific suggestions:
¶Impose a financial transactions tax. This would be a modest tax on financial trades, modeled on the suggestions of James Tobin, an American economist who won a Nobel Prize. The aim is in part to dampen speculative trading that creates dangerous volatility. Europe is moving toward a financial transactions tax, but the Obama administration is resisting — a reflection of its deference to Wall Street.
¶Close the "carried interest" and "founders' stock" loopholes, which may be the most unconscionable tax breaks in America. They allow our wealthiest citizens to pay very low tax rates by pretending that their labor compensation is a capital gain.
¶Protect big banks from themselves. This means moving ahead with Basel III capital requirements and adopting the Volcker Rule to limit banks' ability to engage in risky and speculative investments. Another sensible proposal, embraced by President Obama and a number of international experts, is the bank tax. This could be based on an institution's size and leverage, so that bankers could pay for their cleanups — the finance equivalent of a pollution tax."
See how simple it is? Just like re-arranging the deck chairs on the Titanic.
"Much of the sloganeering at "Occupy Wall Street" is pretty silly — but so is the self-righteous sloganeering of Wall Street itself."
It's not Wall Street's slogans that are self-righteous
"And if a ragtag band of youthful protesters can help bring a dose of accountability and equity to our financial system, more power to them."
Sing us out, ragtags!