Well Jon doesn't think so.
Needless to say The World's Worst Newspaper (in its inimitable sneering style)begs to differ.
"Stuart Appelbaum, an influential union leader in New York City, was in Tunisia last month, advising the fledgling labor movement there, when he received a flurry of phone calls and e-mails alerting him to the rumblings of something back home. Protesters united under a provocative name, Occupy Wall Street, were gathering in a Lower Manhattan park and raising issues long dear to organized labor.
And gaining attention for it. "
Not the sort of attention the NYT favors (Here's more from that dude Jon sampled.)
"Mr. Appelbaum recalled asking a colleague over the phone to find out who was behind Occupy Wall Street — a bunch of hippies or perhaps troublemakers? — and whether the movement might quickly fade.
So far, at least, it has not, and on Wednesday, several prominent unions, struggling to gain traction on their own, made their first effort to join forces with Occupy Wall Street. Thousands of union members marched with the protesters from Foley Square to their encampment in nearby Zuccotti Park. "
DAMNED HIPPIES!!!!!
"The labor movement needs to tap into the energy and learn from them," Mr. Appelbaum, president of the Retail, Wholesale and Department Store Union, said. "They are reaching a lot of people and exciting a lot of people that the labor movement has been struggling to reach for years."
"In fact, the unexpected success of Occupy Wall Street in leveling criticism of corporate America has stirred some soul-searching among labor leaders. They have noted with envy that the new movement has done a far better job, not only of capturing interest, but also of attracting young people. Protests have spread to dozens of cities, including Boston, Chicago and Los Angeles.
Several union leaders complained that their own protests over the past two years had received little attention, though they had put far more people on the streets than Occupy Wall Street has. A labor rally in Washington last October drew more than 100,000 people, with little news media coverage."
Oh we know you've done your level best to ignore it.
"Behind the scenes in recent days, union leaders have debated how to respond to Occupy Wall Street. In internal discussions, some voiced worries that if labor were perceived as trying to co-opt the movement, it might alienate the protesters and touch off a backlash.
Others said they were wary of being embarrassed by the far-left activists in the group who have repeatedly denounced the United States government."
For shame! Thank goodness we've got True Patriots like Union-busting Governor Scott Walker
Not to mention THESE Corporate Heroes and "Tea Party" supporters.
"Those concerns may be renewed after a disturbance about 8 p.m. Wednesday as the march was breaking up. The police said they arrested eight protesters around the intersection of Broadway and Wall Street, after people rushed barriers and began spilling into the street. While a couple of witnesses said that officers used pepper spray to clear the streets, Paul J. Browne, the Police Department's chief spokesman, said that one officer "possibly" used it. Several protesters were also arrested at State and Bridge Streets at 9:30 p.m.; the police said one protester was charged with assault after an officer was knocked off his scooter."
Let's go to the tape —
MY but those protesters are scary!
"Despite questions about the protesters' hostility to the authorities, many union leaders have decided to embrace Occupy Wall Street. On Wednesday, for example, members of the A.F.L.-C.I.O.'s executive council had a conference call in which they expressed unanimous support for the protest. One A.F.L.-C.I.O. official said leaders had heard from local union members wondering why organized labor was absent.
The two movements may be markedly different, but union leaders maintain that they can help each other — the weakened labor movement can tap into Occupy Wall Street's vitality, while the protesters can benefit from labor's money, its millions of members and its stature.
The labor leaders said they hoped Occupy Wall Street would serve as a counterweight to the Tea Party and help pressure President Obama and Congress to focus on job creation and other concerns important to unions.
"This is very much a crystallizing moment," said Denise Mitchell, the A.F.L.-C.I.O.'s communications director. "We have to look for sparks wherever they are. It could be an opportunity to talk about what's wrong with the system and how to make it better."
Still, it may not be easy for organized labor to mesh with this new movement. Labor unions generally represent older workers, while the Occupy Wall Street protesters are younger. Unions are hierarchical, while the Occupy Wall Street protesters are more loosely knit and like to see themselves as highly democratic.
Unions invariably have a long and specific list of demands, while Occupy Wall Street has not articulated formal ones."
And that, needless to say, is a Fucking Lie!
"As we gather together in solidarity to express a feeling of mass injustice, we must not lose sight of what brought us together. We write so that all people who feel wronged by the corporate forces of the world can know that we are your allies.
As one people, united, we acknowledge the reality: that the future of the human race requires the cooperation of its members; that our system must protect our rights, and upon corruption of that system, it is up to the individuals to protect their own rights, and those of their neighbors; that a democratic government derives its just power from the people, but corporations do not seek consent to extract wealth from the people and the Earth; and that no true democracy is attainable when the process is determined by economic power. We come to you at a time when corporations, which place profit over people, self-interest over justice, and oppression over equality, run our governments. We have peaceably assembled here, as is our right, to let these facts be known.
They have taken our houses through an illegal foreclosure process, despite not having the original mortgage.
They have taken bailouts from taxpayers with impunity, and continue to give Executives exorbitant bonuses.
They have perpetuated inequality and discrimination in the workplace based on age, the color of one's skin, sex, gender identity and sexual orientation.
They have poisoned the food supply through negligence, and undermined the farming system through monopolization.
They have profited off of the torture, confinement, and cruel treatment of countless nonhuman animals, and actively hide these practices.
They have continuously sought to strip employees of the right to negotiate for better pay and safer working conditions.
They have held students hostage with tens of thousands of dollars of debt on education, which is itself a human right.
They have consistently outsourced labor and used that outsourcing as leverage to cut workers' healthcare and pay.
They have influenced the courts to achieve the same rights as people, with none of the culpability or responsibility.
They have spent millions of dollars on legal teams that look for ways to get them out of contracts in regards to health insurance.
They have sold our privacy as a commodity.
They have used the military and police force to prevent freedom of the press.
They have deliberately declined to recall faulty products endangering lives in pursuit of profit.
They determine economic policy, despite the catastrophic failures their policies have produced and continue to produce.
They have donated large sums of money to politicians supposed to be regulating them.
They continue to block alternate forms of energy to keep us dependent on oil.
They continue to block generic forms of medicine that could save people's lives in order to protect investments that have already turned a substantive profit.
They have purposely covered up oil spills, accidents, faulty bookkeeping, and inactive ingredients in pursuit of profit.
They purposefully keep people misinformed and fearful through their control of the media.
They have accepted private contracts to murder prisoners even when presented with serious doubts about their guilt.
They have perpetuated colonialism at home and abroad.
They have participated in the torture and murder of innocent civilians overseas.
They continue to create weapons of mass destruction in order to receive government contracts.*
To the people of the world,
We, the New York City General Assembly occupying Wall Street in Liberty Square, urge you to assert your power.
Exercise your right to peaceably assemble; occupy public space; create a process to address the problems we face, and generate solutions accessible to everyone.
To all communities that take action and form groups in the spirit of direct democracy, we offer support, documentation, and all of the resources at our disposal.
Join us and make your voices heard!
*These grievances are not all-inclusive." "
"Union leaders often like the limelight, while Occupy Wall Street is largely leaderless.
"Labor's needed a way to excite younger people with their message," Michael Kazin, a historian at Georgetown University, said. "And to the extent that Occupy Wall Street's '99 percent versus 1 percent' theme goes along with what labor has been saying for a while, it's a natural fit."
"But obviously," said Professor Kazin, who has written several books on populist and progressive movements, "demographically, there may be some problems here. The protests haven't gotten much institutional presence, and if labor can help give them institutional presence, that can really help them."
Several major labor groups — including the Transport Workers Union, the Service Employees International Union, the United Federation of Teachers and the United Auto Workers — took part in the march on Wednesday. Some more traditionally conservative ones, like those in the construction trades, stayed away.
George White, 60, a retired union member who lives in Marine Park, Brooklyn, said it was up to the young protesters to champion bread-and-butter issues in the future. "Unions are on the way out," he said. "These are the children of mothers and fathers who have worked hard all their lives and now can't put food on the tables. These are the children who can't pay off their loans, who have nowhere to go and no opportunities."
Julie Fry, 32, a lawyer who is a member of the union at the Legal Aid Society, said labor's backing of the protest was momentous, and born out of frustration.
"We're so fed up and getting nowhere through the old political structures that there needs to be old-fashioned rage in the streets," she said.
Before the march, protesters at the Occupy Wall Street encampment's welcome table said that while the unions were welcome, they would be only one more base of support.
"The idea that the unions will take over the crowd, that's not going to happen," said Jeff Smith, 41, a freelancer in advertising who has been on the welcome committee since the protests began. "We are not a group looking for a leader."
Others expressed frustration with the unions. Chris Cicala, 26, from Staten Island, said his father, a union painter, had been laid off, leaving his family without health insurance. "I don't get where the unions have been for the past 10 years," Mr. Cicala said"
They've been busy with their Apple Ipods — whose inventor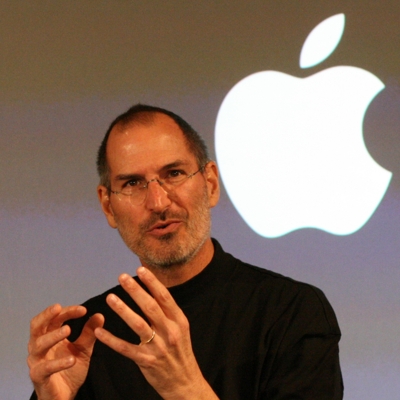 "Steven Paul "Steve" Jobs (February 24, 1955 – October 5, 2011)was an American computer entrepreneur and inventor. He was co-founder, chairman, and chief executive officer of Apple Inc. Jobs also previously served as chief executive of Pixar Animation Studios; he became a member of the board of directors of The Walt Disney Company in 2006, following the acquisition of Pixar by Disney. He was credited in Toy Story (1995) as an executive producer."
A cartoon whose leading character was clearly modelled after him.
And Randy Newman wrote the songs
"In the late 1970s, Jobs, with Apple co-founder Steve Wozniak, Mike Markkula[8] and others designed, developed, and marketed one of the first commercially successful lines of personal computers, the Apple II series. In the early 1980s, Jobs was among the first to see the commercial potential of Xerox PARC's mouse-driven graphical user interface, which led to the creation of the Macintosh. After losing a power struggle with the board of directors in 1985, Jobs resigned from Apple and founded NeXT, a computer platform development company specializing in the higher-education and business markets. Apple's subsequent 1996 buyout of NeXT brought Jobs back to the company he co-founded, and he served as its CEO from 1997 until 2011.
In 1986, he acquired the computer graphics division of Lucasfilm Ltd which was spun off as Pixar Animation Studios. He remained CEO and majority shareholder at 50.1 percent until its acquisition by The Walt Disney company in 2006. Consequently Jobs became Disney's largest individual shareholder at 7 percent and a member of Disney's Board of Directors. On August 24, 2011, Jobs announced his resignation from his role as Apple's CEO.
On October 5, 2011, Apple announced that Jobs had died at age 56 due to pancreatic cancer."
"And then as it must to all men. . ."
"Even though Jobs earned only $1 a year as CEO of Apple, he held 5.426 million Apple shares, as well as 138 million shares in Disney (which he had received in exchange for Disney's acquisition of Pixar). Forbes estimated his net wealth at $8.3 billion in 2010, making him the 42nd wealthiest American"
OMG — HE WAS POOR!!!!!!
"Jobs is listed as either primary inventor or co-inventor in 338 US patents or patent applications related to a range of technologies from actual computer and portable devices to user interfaces (including touch-based), speakers, keyboards, power adapters, staircases, clasps, sleeves, lanyards and packages"
IOW
Here are some happy Apple consumers with the latest IPOD
Take it away Gil-Scott