Surely the facts are as annoying to The World's Worst Newspaper as they are to The Mayor.
"Shortly before noon on Wednesday, the barricades that impeded foot traffic along Wall Street for weeks came down. Elected officials praised the mayor. Shopkeepers breathed sighs of relief.
But just seven hours later, the barricades went back up. Occupy Wall Street protesters were on the move, and the police were worried they would flood the street. "
Good heavens — frightening the horse-drawn carriages? We can't have that.
Consumer Uber Alles — right Mr. Mayor?
"Mayor Michael R. Bloomberg, who over the last seven weeks has struggled publicly with how to manage New York City's response to the demonstration Occupy Wall Street, on Thursday offered a staccato analysis of his administration's latest effort at finding a way forward:
"Taken down. People marched in the streets. Put up. We'll try again."
Alas poor Bloomie
All alone with no Irving to guide him.
"The decision to remove the barricades, followed by the quick reversal, was emblematic of the quandary that has vexed Mr. Bloomberg and his administration since a few hundred people critical of the nation's economic inequities first bedded down in Zuccotti Park on Sept. 17.
Mr. Bloomberg's evolving response to the protest has come to embody a central tension in his third term, between his celebration of free, and at times cacophonous, speech as a hallmark of New York, and his emphasis on bolstering the city's economy by improving its appeal to residents, employers and tourists. Mr. Bloomberg, who is generally known for his decisiveness, at first emphasized his disagreements with the protesters, then began describing them as peaceful dissenters exercising a fundamental liberty. In the last several days, he has sounded increasingly exasperated, a reflection of complaints from neighbors and accusations of criminal activity in Zuccotti Park."
Just look at this typical OWS criminal!
"There is no easy answer," Mr. Bloomberg told reporters on Thursday morning. "But there is a right answer, and the right answer is allow people to protest, but at the same time enforce public safety, provide public safety and quality-of-life issues, and we will continue to do that."
The entire OWS protest movement is about the Quality of Life.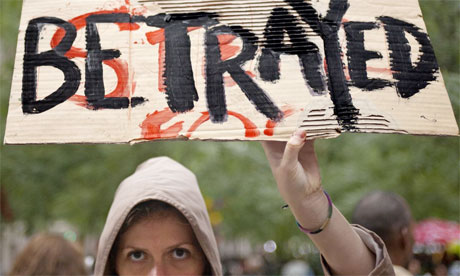 "Since Sept. 15, when a reporter asked him about the planned protest — "First I heard about it," he responded — Occupy Wall Street has come to dominate Mr. Bloomberg's public time. He was asked about the movement while marching in a Columbus Day parade, painting the finish line for the New York City Marathon and visiting Jerusalem. His attitude toward the protesters has been parodied on "Saturday Night Live."
"At one point, he felt compelled to disclose that he did not talk about Zuccotti Park while in bed with his girlfriend. "
TMI !!!!!!
"The mayor is in an awkward position — while the protesters proclaim themselves "the 99 percent," Mr. Bloomberg, with a net worth estimated by Forbes at $19.5 billion, is an elite member of the top 1 percent, the 12th richest person in a nation of 312 million. His wealth derives from Wall Street, the target of the protesters' ire, and he has repeatedly made clear that he does not support the demonstrators' arguments or their tactics.
"My personal view is, why don't you get out there and try to do something about the things that you don't like, create the jobs that we are lacking, rather than just yell and scream," Mr. Bloomberg said Thursday. "But if you want to yell and scream, we'll make sure you can do it."
"Mr. Bloomberg has managed simultaneously to be less sympathetic to the protesters' point of view, and more sympathetic to their right to protest, than some other elected officials around the nation. "There's nobody that's more of a defender of the First Amendment than I am," he has often said."
Say whatever you like. The fact is you and your (under)paid thugs have consistently violed the First Amendment rights of the OWS protesters.
"In Oakland, Calif., protesters have been furious with the mayor, Jean Quan, since the police used tear gas at a demonstration; this week, a march there attracted thousands and forced the port to close. In Los Angeles, Mayor Antonio R. Villaraigosa had been accommodating, giving the protesters ponchos during a rainstorm, but has more recently said that their encampment "cannot continue indefinitely."
In New York, the protests have altered life at City Hall. Mr. Bloomberg meets daily with an unofficial protest task force, made up of the police commissioner, Raymond W. Kelly; the fire commissioner, Salvatore J. Cassano; two deputy mayors, Howard Wolfson and Caswell F. Holloway; and the head of the city's Law Department, Michael Cardozo. Many evenings, he calls Mr. Wolfson or Mr. Holloway for an update before he goes to sleep.
For Mr. Wolfson, "
"protest response has become virtually a full-time job. He talks regularly with key players, including John E. Zuccotti, the co-chairman of Brookfield Properties, the company that owns the park; members of the local community board; and elected officials and labor leaders. He monitors social media and occasionally responds to critics.
Mr. Wolfson and Mr. Holloway visit the park; Mr. Wolfson rides by on his bike on weekends. Mr. Wolfson photographed a warning sign near flammable materials at the encampment, which he then posted on the Internet as evidence after fire officials confiscated generators and cans of gasoline.
Mr. Bloomberg has interacted with the protesters directly only once, on the evening of Oct. 12, when he briefly walked through the park. He was both cheered and heckled as "Billionaire Bloomberg."

"Clearly he's not personally or ideologically committed" to the protesters' agenda, said Douglas A. Muzzio, a professor of public affairs at Baruch College, "and he has spoken publicly and sometimes in a tone-deaf way about what their agenda might be and what it all means." At the same time, Professor Muzzio said, he "doesn't want to be known as the anti-free-speech mayor" or "the hammer of the 1 percent."

You Can't Touch This!

"In the early weeks, the New York police came down hard on the protesters, arresting hundreds during a march across the Brooklyn Bridge, and pepper-spraying several during a rally. But an effort to clear out Zuccotti Park temporarily for cleaning was abandoned when hundreds of supporters gathered to protect the encampment. There continue to be regular arrests — on Thursday, over a dozen demonstrators were detained after marching to the headquarters of Goldman Sachs — but the city has generally tried to avoid confrontation."

"As inconvenient as this is, the image that New York City is peaceful and tolerant in the long run is better for business than the image that the city is turbulent and ugly, and I think the mayor and the people who surround him understand that," said Kenneth Sherrill, a professor of political science at Hunter College.
Some of the protesters said they sensed that Mr. Bloomberg was in a difficult position.
"I don't think it's prudent for him to make a decision on what's going on here right now, for a lot of different reasons," Jason Harris, 40, said. "The general feel that I get when I'm down here is I sense a limbo in the political system and our leadership in exactly how to handle this."
Mr. Bloomberg and his aides seem uncertain when, or how, the protest will end, although they have suggested that winter could thin the protesters' ranks, and have pledged to take whatever actions they deem appropriate for public safety.
"At the moment, it will continue," Mr. Bloomberg said of the protest last week. "What will happen down the road… ," he said, trailing off. "We watch it very carefully."

As carefully as you watch Takarazuka's Rose of Versailles I trust.

Take it away ladies!