Here ya go fans, The World's Worst Newspaper on everyone's favorite sport Pedophile Rape
"Joe Paterno, who has the most victories of any coach in major college football history, was fired by Penn State on Wednesday night in the wake of a sexual abuse scandal involving a prominent former assistant coach and the university's failure to act to halt further harm."
This is of course presuming rape isn't considered victorious.
Just look at the face of one of it's biggest boosters!
On second thought — maybe not.
Though Ashton Kutcher finds it lovely.
"Graham B. Spanier, one of the longest-serving and highest-paid university presidents in the nation, who has helped raise the academic profile of Penn State during his tenure, was also removed by the Board of Trustees."
"When the announcement was made at a news conference that the 84-year-old Paterno would not coach another game, a gasp went up from the crowd of several hundred reporters, students and camera people who were present. "
A gasp? Maybe they were shootin' a load.
"We thought that because of the difficulties that engulfed our university, and they are grave, that it is necessary to make a change in the leadership to set a course for a new direction," said John Surma Jr., the vice chairman of the board.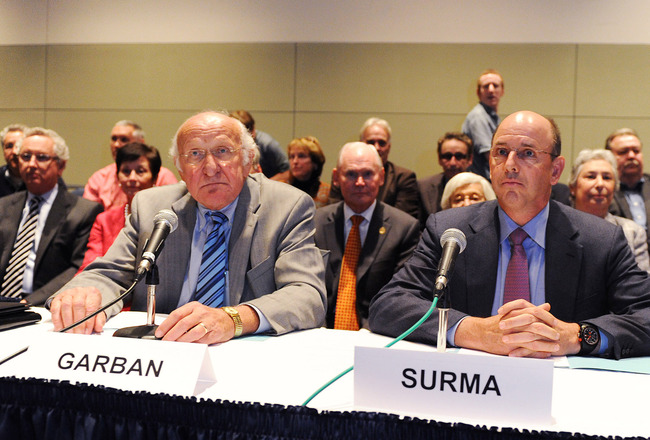 You don't say.
"The university's most senior officials were clearly seeking to halt the humiliating damage caused by the arrest last Saturday of the former assistant coach, Jerry Sandusky. Sandusky had been a key part of the football program, but prosecutors have said he was a serial pedophile who was allowed to add victims over the years in part because the university he had served was either unable or unwilling to stop him."
Very Catholic
"Sandusky has been charged with sexually abusing eight boys over a 15-year span, and two top university officials — Tim Curley, the athletic director, "
"and Gary Schultz, the senior vice president for finance and business "
"— have been charged with perjury and failing to report to authorities what they knew of the allegations. Neither Paterno nor Spanier was charged in the case, though questions have been raised about if they did as much as they could to stop Sandusky."
Well maybe Sandusky–
(Isn't he a treasure?)
— can hire Herman Cain's PR people and declare all ten to be liars.
"Paterno had announced earlier Wednesday that he planned to retire at the end of the football season, but the statement was apparently released without the approval of the board.
"At this moment the Board of Trustees should not spend a single minute discussing my status," Paterno said in his statement. "They have far more important matters to address. I want to make this as easy for them as I possibly can. This is a tragedy. It is one of the great sorrows of my life. With the benefit of hindsight, I wish I had done more."
Yet the board unanimously declined to let him finish out the season, his 46th as the head football coach and his 62nd over all at the college. The defensive coordinator Tom Bradley will take over as interim head coach. Paterno was told of his firing by telephone, according to Surma, who is the chief executive of U.S. Steel.
Late Wednesday night, Paterno issued another statement.
"I am disappointed with the Board of Trustees' decision, but I have to accept it.
"A tragedy occurred, and we all have to have patience to let the legal process proceed. I appreciate the outpouring of support but want to emphasize that everyone should remain calm and please respect the university, its property and all that we value," he said in the statement. "
which of course means the boys, not being University property, can be raped til the Disney Cows come home.
"This university is a large and complex institution, and although I have always acted honorably and in the best interest of the university, the buck stops here," Spanier said in a statement. "In this situation, I believe it is in the best interest of the university to give my successor a clear path to resolve the issues before us."
Rather than the one "behind us "
"Hot little piece, isn't he Jerry? I'll hold him down while you fuck him!"
Rodney A. Erickson, the executive vice president and provost, will serve as acting president.
After the announcements about Spanier and Paterno, the news conference immediately took on a frenzied and somewhat vitriolic tenor. Angry questions were shouted at Surma, who responded to them while the other board members sat behind him and to his sides. One cameraman repeatedly said, "Your campus is going to burn tonight."
The scandal, and the fallout from it, has left Penn State's normally placid campus in a state of shock. Scores of students poured into the streets downtown in the immediate aftermath of the news conference. Many held up cellphones to take pictures and others blew vuvuzelas and air horns. A few climbed lampposts, tried to topple street signs and knocked over trash cans. Others set off firecrackers from the roofs of buildings, and a television news truck was flipped on its side. A lamppost was torn down and police pepper-sprayed some in the crowd.
"I just don't think it's right that JoePa's losing his job," Corey Davis, a 23-year-old senior studying international politics, said. "All the facts aren't out, we don't even know he's done anything wrong. Joe's the fall guy."
Kathryn Simpson, 20, a junior studying graphic design, was weeping as she walked away from the university's administration building, Old Main, with a friend.
"This is devastating for us," she said. "I never in a million years thought I'd see this."
When football is your religion it's devestating when you discover that God has been shitcanned.
"A number of students went to the coach's house, where Paterno and his wife, Sue, spoke with them."
Such a touching scene. Not the sort of touching that was involved in the rapes, I'm sure.
"Dressed in a baggy gray pullover sweater, Paterno waved his hand and started to walk back inside. A student yelled, "We are Penn State," the frequent rallying cry. Paterno stopped and turned around to say: "That's right. We are Penn State, don't ever forget it."
Many students have shown their support for Paterno with large rallies outside his home and at Old Main. After Paterno was fired, thousands of people gathered in front of the administration building, throwing objects and chanting "We want Joe!"
A grand jury said that Spanier, the university's president since 1995, was made aware of a report of an incident involving Sandusky. Upon learning about a suspected 2002 assault by Sandusky of a young boy in the football building's showers, Paterno redirected the graduate assistant who witnessed the incident to the athletic director, rather than notifying the police. Paterno said the graduate assistant who reported the assault, Mike McQueary, said only that something disturbing had happened that was perhaps sexual in nature."
Love the "perhaps."
"McQueary testified that he saw Sandusky having anal sex with the boy."
Nothing "perhaps" about that.
"The Department of Education announced Wednesday that it would investigate the university's handling of the abuse allegations."
"Paterno has had a contentious relationship with some members of the Board of Trustees. In 2004, Spanier, Curley and select board members twice went to his house in efforts to get him to retire. Paterno declined, and the moment was looked at in the narrative of Paterno's career as an instance of his overcoming adversity. He revived the program, including victories in the Orange Bowl over Florida State in the 2005 season and the Outback Bowl over Tennessee in the 2006 season.
Spanier, 63, has helped to raise the academic prestige of Penn State during his tenure. A trained therapist with a Ph.D. in sociology, he was known among the students for playing the washboard with local bands and performing magic tricks at certain functions.
Yet it was Paterno who remained the public face of the university. He met with his team Wednesday in a gathering that players described as emotional. Stephon Morris, a junior cornerback, said Paterno was near tears when he told the team he was leaving. "I've never seen Coach Paterno like that in my life," Morris said. Still, Paterno's talk was not all about the turmoil. Morris said Paterno's main message was "Beat Nebraska," referring to Penn State's next opponent. When he left, his players gave him a standing ovation."
A standing ovation for rape.
Good Taste is Timeless.
Meanwhile in the LAT, Bill Plaschke notes –
"As university presidents throughout the country view the steaming pile of rubble that was once college football's greatest coach and its most admired program, they should understand one thing.

None of this is a coincidence.

It is no coincidence that the most heinous scandal in the history of college sports happened at Penn State University.

It is no coincidence that an alleged child molester was allowed to roam the Penn State University grounds unchecked for nearly a decade with the knowledge of everyone from the school president to the football coach.

It is no coincidence that an alleged sexual assault of a 10-year-old boy in the showers of the school's football locker room was never reported to police by anyone at Penn State University.

It is no coincidence, because for 46 years it was not really Penn State University, it was Paterno State University. It was a school that sold its soul to football coach Joe Paterno for the sake of riches and recognition, a school that found its identity in his plain uniforms and lived its life by his corny pep talks.

Paterno was allowed to play God, and so his longtime assistant coach Jerry Sandusky was allowed to do whatever he wanted, wherever he wanted, even if it included alleged sexual abuse of eight boys over a 15-year period.

Penn State created Joe Paterno, worshiped Joe Paterno, and stunningly required four long days to finally throw the phony out into the street Wednesday when public furor forced the school's board of trustees to fire him for not reporting Sandusky to police."
"Phony"? Pretty weak, Bill.
"What took them so long? It was the same sick fear of Paterno's power that created this nightmare in the first place."
No.
It's because heterosexuality is a religion and football is High Mass.
Cognative Dissonance demands that anything not matching the totalitarian fantasy be ignored.
"The question now is, how long will the scandal rumble the foundations of similar athletic kingdoms created by other schools around the country? There are other Penn States out there. Are they listening? Will they learn?"
No.
I suspect they would stand a better chance at getting the football signals from today's Professor Wagstaff equivalent if they sent Justin Bieber instead of Thelma Todd.