Nowthat's "Gay Culture"! Color, dancing, music, and drag (the principle dancer being Ivan the Terrible 's "favorite" — and probably SME's too)
You had to be a Very Important Communist to get away with that sort of thing in Stalin's USSR.
In today's Russia it's totally verboten.
"Lawmakers from the ruling United Russia party have backed a controversial bill imposing fines for the promotion of gay "propaganda" among young people in the city of Saint Petersburg.
The bill proposed by the United Russia faction was passed in its first reading on Wednesday in the city's parliament, where the party controls 23 out of 50 seats.
It would need to be passed in two further readings to become law.
Gay rights activists held pickets and gathered signatures in a petition against the bill. Two people were detained Wednesday for standing with protest signs near the parliament building, local media reported.
Under the bill, anyone who committed "public acts" promoting homosexuality, bisexuality or transgender identity to minors could pay up to 3,000 rubles ($97.50), while an organisation could pay 10,000 to 50,000 rubles.
The bill gave no definition of a public act, with activists saying it could be used to crack down on gay pride events, which are regularly banned in Russia.
The bill also imposes the same fines for promoting paedophilia, tacitly equating it with homosexuality, which was decriminalised in Russia in 1993 under the presidency of Boris Yeltsin.
Its backer Vitaly Milonov of the United Russia party said it was intended to "stop the flow of immoral information that pours over children and young people," in an official commentary.
"Sometimes parents and schools are unable to stand up to the powerful showbusiness industry that promotes immorality and permissiveness," he said.
The Memorial Anti-Discrimination Centre in St Petersburg, a rights group, issued a statement calling for deputies to vote down the bill, saying it "contradicted Russian and international legal norms."
If passed, the bill "will spoil the reputation not only of Russia but of Saint Petersburg as a European city," Igor Kochetkov of the city's LGBT Network rights group said in a video blog.
The bill had the aim "on the eve of elections to get the votes of the most conservative voters," he said.
Casual homophobia is common in Russia, where almost no public figure has spoken openly about being gay."
Intrepid queer film troublemaker John Greyson (whose great short the title of today's FaBlog post pays hommage) wouldfind this all darkly amusing.
Judging from the above posted news item discussing that country's most famous filmmaker
is an invitation to virtual death these days.
A year before he died of AIDS the great Nestor Almendros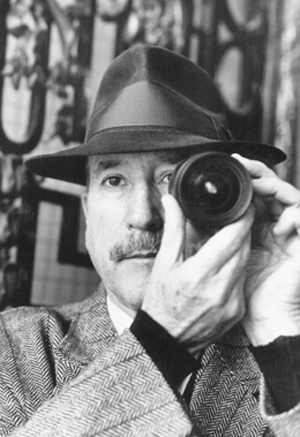 wrote an article for Film Comment entitled "Fortune and Men's Eyes." It appeared in isue 27/4, 1991, and sadly doesn't appear to be available online.
Ripping the lid of of the blatant homoeroticism that characterized all of Eisensteins' work — with special attention to his most famous film.
Without question Almendos's article is the only useful and pertinent writing ever done about Eisenstein.
Like so many offical "sources of information" the wiki has NOTHING about SME's "Personal life".
It does, however make mention of his most scandalous project Que Viva Mexico
"On November 24, Eisenstein signed a contract with the Trust "upon the basis of Eisenstein's desire to be free to direct the making of a picture according to his own ideas of what a Mexican picture should be, and in full faith in Eisenstein's artistic integrity." The contract also stipulated that the film would be "non-political," that immediately available funding came from Mrs. Sinclair in an amount of "not less than Twenty-Five Thousand Dollars," that the shooting schedule amounted to "a period of from three to four months," and most importantly that "Eisenstein furthermore agrees that all pictures made or directed by him in Mexico, all negative film and positive prints, and all story and ideas embodied in said Mexican picture, will be the property of Mrs. Sinclair…" A codicil to the contract, dated December 1, allowed that the "Soviet Government may have the [finished] film free for showing inside the U.S.S.R." Reportedly, it was verbally clarified that the expectation was for a finished film of about an hour's duration.
By December 4, 1930, Eisenstein was en route to Mexico by train, accompanied by Aleksandrov and Tisse. Later he produced a brief synopsis of the six-part film which would come, in one form or another, to be the final plan Eisenstein would settle on for his project. The title for the project, ¡Que viva México!, was decided on some time later still. While in Mexico Eisenstein mixed socially with Frida Kahlo, and Diego Rivera. Eisenstein admired these artists as much as Mexican culture in general, and they inspired Eisenstein to call his films "moving frescoes."
After a prolonged absence, Stalin sent a telegram expressing the concern that Eisenstein had become a deserter. Under pressure, Eisenstein blamed Mary Sinclair's younger brother, Hunter Kimbrough, who had been sent along to act as a line producer, for the film's problems. Eisenstein hoped to pressure the Sinclairs to insinuate themselves between him and Stalin, so Eisenstein could finish the film in his own way.
The furious Sinclair shut down production and ordered Kimbrough to return to the United States with the remaining film footage and the three Soviets to see what they could do with the film already shot, estimates ranging from 170,000 lineal feet with "Soldadera" unfilmed, to an excess of 250,000 lineal feet. For the unfinished filming of the "novel" of Soldadera, without incurring any cost, Eisenstein had secured 500 soldiers, 10,000 guns, and 50 cannons from the Mexican Army, but this was lost due to Sinclair's cancelling of production.
When Eisenstein arrived at the American border, a customs search of his trunk revealed sketches and drawings of Jesus caricatures amongst other material of a lewd pornographic nature."
No shit Sherlock
What Kimbrough had "discovered," that Wiki doesn't mention, is that Eisenstein and his pals were having WAY to much fun with comely young Mexican men.
"Eisenstein's re-entry visa had expired, and Sinclair's contacts in Washington were unable to secure him an additional extension. Eisenstein, Aleksandrov, and Tisse were allowed, after a month's stay at the U.S.-Mexico border outside Laredo, Texas, a 30-day "pass" to get from Texas to New York, and thence depart for Moscow, while Kimbrough returned to Los Angeles with the remaining film.
Eisenstein toured the American South, on his way to New York. In mid-1932, the Sinclairs were able to secure the services of Sol Lesser, who had just opened his distribution office in New York, Principal Distributing Corporation. Lesser agreed to supervise post-production work on the miles of negative — at the Sinclairs' expense — and distribute any resulting product. Two short feature films and a short subject — Thunder Over Mexico based on the "Maguey" footage, Eisenstein in Mexico, and Death Day respectively — were completed and released in the United States between the autumn of 1933 and early 1934.
Eisenstein never saw any of the Sinclair-Lesser films, nor a later effort by his first biographer, Marie Seton, called Time in the Sun. He would publicly maintain that he had lost all interest in the project."
No wonder. By this time it had been turned into guitar picks.
Happily queer interest in SME has not waned.
Oh it's tough to be a gay Soviet communist. And even tougher to be a gay Russian post-communist.
Right Yury?
Derek Green will sing us out