And there you are.
Dennis says he doesn't really get Pasolini. On one level it's easy to see why. The deliberate crudity of PPP's mise en scene is a slap in the face to one inspired by the silky smoothness of Bresson's art.
Not to mention Bresson's person.
Obviously Dennis and Pasolini would have plenty to say to one another
were the latter still here
— as opposed to Bresson, who makes the Delphic Oracle sound like a Speed Queen by comparasion. And that verbal three-minute-mile brings us to Dennis' latest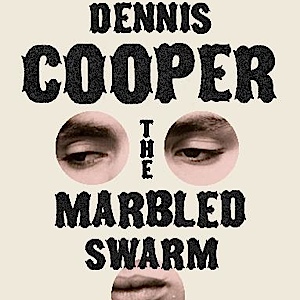 whose narrator declares —
"The marbles swarm is spoken at a taxing pace in trains of sticky sentences that round up thoughts as broadly as a vacuum. Ideally, its tedium is counteracted by linguistic decorations, with which the speaker can deign the spiel to his requirements. The result, according to this mode's inventor, is that one's speech becomes an entity as open-ended as the air it fills and yet as dangerous to travel as a cluttered, unlit room in which someone has hidden, say, a billion euros."
That "inventor" we learn was our anti-hero's father — who may be Pierre Clementi.
an intensely glam notion made more so by the suggestion that Mama may be Catherine Deneuve
And that's not to mention the references to Isabelle Adjani, whose apparent addiction to plastic surgery
has been, as they say "much-discussed":
"In a recent interview with Gala magazine, she admitted using anything she could to make her look younger, from Botox injections to hyaluronic acid.
"I am a follower of hyaluronic acid – always in small doses of course – to fill wrinkles and fine lines," said the 55-year-old.
The result is a woman who looks very different to the fresh-faced youngster who leapt to cinematic fame in Francois Truffaut's The Story of Adele H.
Adjani is the only actress to win a Cesar Award four times, and to feature on the cover of fashion magazine, Harper's Bazaar, but Parisians are now used to seeing her wandering around in oversized dark glasses and large headscarves, maintaining a low-key public profile.
Her ash-white face often looks completely frozen, while her pronouncements can be equally eccentric.
It has led to a perception among many in France that, like many sensitive artists, she lives in her own world.
The popular stand-up comedian Florence Foresti often potrays Adjani as a Greta Gardbo-type recluse who constantly says: "You know, I'm not mad."
In recent years, Adjani has taken up political causes, especially the rights of immigrants.
As the daughter of an Algerian father who fought in the French army and a German mother, she was horrified two years ago when the French government proposed introducing DNA testing for the children of immigrants in 2007.
"It's quite ludicrous that France, which has always had a reputation as a country that has granted asylum rights to those who need them, should want to treat people in this way," she said. "
This evocation of "asylum rights" naturally evokes Adjani's most iconic performance — especially it's climatic scene.
Truffaut and his star clearly regard Adele's "descent into insanity" as heroic. Adele moves beyond the supposed object of her affection at the last having become Love Itself.
Dennis is big on romantic obsession too. He doubtless sympathizes with Herman Melville's
Adele-like thing for ultra-hottie Nathaniel Hawthorne
In his Paris Review interview (#198, Fall, 2011) he says of his own soi distant beloved, George Miles "was the most important person I've ever known. I always write about him. In some ways he's in all of my characters."
Well that's quite a concept re The Marbled Swarm in that this character is given to such statement as —
"It would begin to pain me that, if I remained a cannibal or viewed myself as one, I would never have the independence of an actor who can disappear into his body as behind a puff of smoke or the freedom of an artist who need only find an isolated room to make his magic and then pay the rent and close the door."
You see how it works? He's a cannibal that doesn't quite want to come out and say it. In the same way he backs away from Teh Ghey. While admitting "I'm into three-ways," he goes on the declare–
"Were I even half as gay as you imagine, I might have rearranged my schedule for the next few days and fucked Serge until his epidermal layer collapsed around his neck like an old white sock."
and —
"Having preemptively tagged myself as gay, I was still too in thrall to the same-sex party line that an acrobatic fuck was the mom and pop of making out, and any partnership more offbeat, much less on that challenged laws both French and biblical, constituted one's self-hatred"
not to mention —
"I shoved one hand in Plank's internal organs then climbed Alfonse's thighs, my forearm knocking like the clapper in a fissured bell, until my knuckles brushed the frilling of his gentials, which, like mistletow seemed far too folksy to award me so much latitude."
and best of all —
"Azmir raped my brother for an hour-long few minutes."
IOW while there are references to Guro, and on-line chatrooms where Emo boys discuss all manner of horror, actual verbal depiction of that which Jesus (Son o' God) Christ said should be done in remembrance of Him is delicately sidestepped.
After all, Dennis is no Tobias Schneebaum
though I've no doubt he has read
(Click box below for Charlie Rose interview with Tobais)
But lit's time to take a bite from a different angle.
Dennis said at the Skylight Books reading the title of his book has nothing to do with the Babe-a-licious Nathaniel Hawthorne's The Marble Faun — a statement Bill Reed immediately challenged. Well let's look at the Wiki shall we?
"The Marble Faun: Or, The Romance of Monte Beni, also known as Transformation, was the last of the four major romances by Nathaniel Hawthorne, and was published in 1860. The Marble Faun, written on the eve of the American Civil War, is set in a fantastical Italy. The romance mixes elements of a fable, pastoral, gothic novel, and travel guide.

The four main characters are Miriam, a beautiful painter who is compared to Eve, Beatrice Cenci, Lady Macbeth, Judith, and Cleopatra, and is pursued by a mysterious, threatening man who is her "evil genius" through life; Hilda, an innocent copyist who is compared to the Virgin Mary and the white dove, and whose simple, unbendable moral principles can make her severe in spite of her tender heart; Kenyon, a sculptor, who represents rationalist humanism; and Donatello, the Count of Monte Beni, who is compared to Adam, and amazingly resembles the Faun of Praxiteles; the novel plays with the characters' belief that the count may be a descendant of the antique Faun, with Hawthorne withholding a definite statement even in the novel's concluding chapter."
Well a "threatening man" who is an "evil genius" sounds pretty essential Dennis to me.
and that's not to mention the Marble Faun of Praxiteles
(Hubba-Hubba)
Then of course there's the other Marble Faun
who's right up Dennis' arrondisement
And speaking of arrondisements Dennis' anti-hero resides at 118 rue de Turenne
Pretty nice, no?
His primary inspiration for this novel, meanwhile, can be found here–
More than a film star
Clementi was also a filmmaker
As you can doubtless guess from the passages I quote aboveThe Marbled Swarm also evokes Lautreamont
Sade
Robbe-Grillet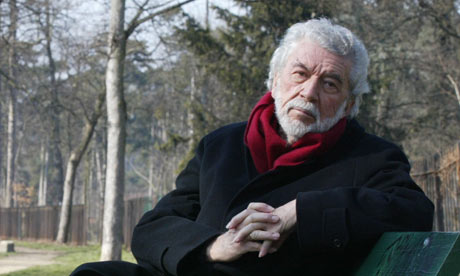 and Vincent Kartheiser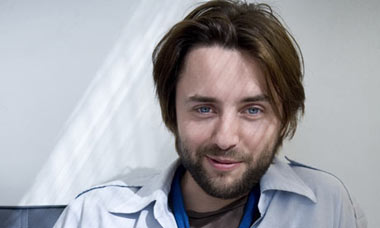 As to what this will mean to literature at large, well Dennis' French readers won't have any problems with it, and neither with those in the U.S. — rigorously ignored as they (and he) are by the "Mainstream" of the NYT and the NYROB.
Too bad for them.
I shall have more to say about this in future. For now here's Nico
But to truly sing us out we need the Marbled Musical Swarm of Serge
and Jane