The music for Wyler's masterpiece was written by Aaron Copland
who was quite the Babe in his younger days.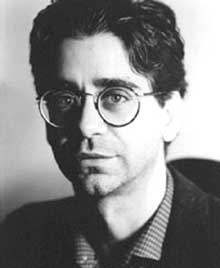 He's apparently been sampled by Rick Brokeback Perry
"By now, you've probably seen Rick Perry's "Strong" ad, in which he opines, "There's something wrong in this country when gays can serve openly in the military but our kids can't openly celebrate Christmas or pray in school." Not only are gays in our military, they're also composing music for our campaign ads. As the Harvard Political Review points out, the music that plays in the background of Perry's ad is inspired by or directly taken from Aaron Copland, a gay composer."
And not just gay He was a left-wing Jew too.
"Aaron Copland ( /ˌærən ˈkoʊplənd/; November 14, 1900 – December 2, 1990) was an American composer, composition teacher, writer, and later in his career a conductor of his own and other American music. He was instrumental in forging a distinctly American style of composition, and is often referred to as "the Dean of American Composers".[1] He is best known to the public for the works he wrote in the 1930s and 40s in a deliberately more accessible style than his earlier pieces, including the ballets Appalachian Spring, Billy the Kid, Rodeo and his Fanfare for the Common Man. The open, slowly changing harmonies of many of his works are archetypical of what many people consider to be the sound of American music, evoking the vast American landscape and pioneer spirit. However, he wrote music in different styles at different periods of his life: his early works incorporated jazz or avant-garde elements whereas his later music incorporated serial techniques. In addition to his ballets and orchestral works he produced music in many other genres including chamber music, vocal works, opera and film scores."
But wait — there's more!
"Deciding not to follow the example of his father, a solid Democrat, Copland never enrolled as a member of any political party, but he espoused a general progressive view and had strong ties with numerous colleagues and friends in the Popular Front, including Odets. Copland supported the Communist Party USA ticket during the 1936 presidential election, at the height of his involvement with The Group Theater, and remained a committed opponent of militarism and the Cold War, which he regarded as having been instigated by the United States. He condemned it as, "almost worse for art than the real thing". Throw the artist "into a mood of suspicion, ill-will, and dread that typifies the cold war attitude and he'll create nothing". In keeping with these attitudes, Copland was a strong supporter of the Presidential candidacy of Henry A. Wallace on the Progressive Party ticket. As a result, he was later investigated by the FBI during the Red scare of the 1950s and found himself blacklisted.
Copland was included on an FBI list of 151 artists thought to have Communist associations. Joseph McCarthy and Roy Cohn questioned Copland about his lecturing abroad, neglecting completely Copland's works which made a virtue of American values. "
So typical of these self-loathing closet queens
to zero in on a great gay man.
"Outraged by the accusations, many members of the musical community held up Copland's music as a banner of his patriotism. The investigations ceased in 1955 and were closed in 1975. Though taxing of his time, energy, and emotional state, Copland's career and international artistic reputation were not seriously affected by the McCarthy probes In any case, beginning in 1950, Copland, who had been appalled at Stalin's persecution of Shostakovich and other artists, began resigning from participation in leftist groups. He decried the lack of artistic freedom in the Soviet Union, and in his 1954 Norton lecture he asserted that loss of freedom under Soviet Communism deprived artists of "the immemorial right of the artist to be wrong." He began to vote Democratic, first for Stevenson and then for Kennedy.
Copland is documented as a gay man in author Howard Pollack's biography, Aaron Copland: The Life and Work of an Uncommon Man. Like many of his contemporaries he guarded his privacy, especially in regard to his homosexuality, providing very few written details about his private life. However, he was one of the few composers of his stature to live openly and travel with his lovers, most of whom were talented, much younger men. Among Copland's love affairs, most of which lasted for only a few years yet became enduring friendships, were ones with photographer Victor Kraft, artist Alvin Ross, pianist Paul Moor, dancer Erik Johns, and composer John Brodbin Kennedy."
Hubba-Hubba.
James Levine will play us out.
THIS JUST IN!
I have been informed by the estimable Jeremy Cavaterra that I have misidentified a picture as being Aaron Copland in his youth. It's actually Chester Biscardi
Here's a more recent pic of Chester
And here's the young A.C.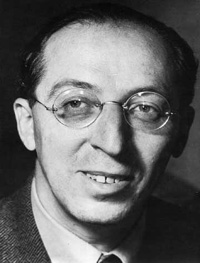 Ah well. . .
Sing us out Florence