Surely the facts can be rearranged to suit the purposes of The World's Worst Newspaper
"A defense lawyer for Bradley Manning, the Army private accused in the most famous leak of government secrets since the Pentagon Papers, began a frontal attack during Private Manning's first court appearance here on Friday morning, claiming that the Army's investigating officer at the evidentiary hearing was biased and should recuse himself from the case.
The lawyer, David Coombs, said that Lt. Col. Paul Almanza, the investigating officer who works as a Justice Department prosecutor in civilian life, was preventing the defense from calling witnesses to show that little harm was done by the disclosure of hundreds of thousands of confidential documents provided to WikiLeaks.
"All this stuff has been leaked," Mr. Coombs said. "A year and a half later, where's the danger? Where's the harm?"
Colonel Almanza declined to remove himself from the case, saying he did not currently supervise criminal cases in his job at the Justice Department, which involves child abuse and obscenity, not national security. He said he had no involvement in a separate federal criminal investigation of WikiLeaks.
Mr. Coombs appealed the recusal decision to the Army Court of Criminal Appeals and asked the court to halt the hearing until it could rule. A decision on a possible postponement could come as early as Saturday, when testimony is scheduled to resume at 10 a.m."
Forget about recusal. The fix is in. " Lt. Col. Paul Almanza, the investigating officer who works as a Justice Department prosecutor in civilian life"
Slow curtain. The end.
"At the hearing, the crowd of about 50 people in the unadorned courtroom, including reporters and supporters of Private Manning, caught their first glimpse of the soldier, who turns 24 on Saturday and faces a possible sentence of life in prison.
Private Manning, a slight figure in black-rimmed glasses, a crew cut and camouflage uniform, answered routine questions from the investigating officer in a quiet but steady voice."
"Yes, sir," he said, when asked whether he was satisfied with his lawyers.
At the end of six hours of stop-and-start proceedings, as spectators filed out, one man called out, "Bradley Manning, you're a hero." Private Manning did not react.
He is accused of aiding the enemy and violating the Espionage Act by providing WikiLeaks with diplomatic cables, military field reports and war videos. His supporters hail him as a whistle-blower who sought to expose wrongdoing.
The evidentiary proceeding, known as an Article 32 hearing and expected to last about a week, will determine whether the charges proceed to a court-martial or are dismissed. Both prosecutors and Private Manning's lawyer will present evidence, and the public could learn new details of the origins of the disclosures, which shook governments and embarrassed politicians around the world. "
Corporate criminals do not know the meaning of embarassment.
"The hearing could shed light not just on Private Manning's conduct, but also on the possible role of WikiLeaks' founder, Julian Assange, and other WikiLeaks activists, in soliciting the material or facilitating the leak. A federal grand jury in Alexandria, Va., is considering whether WikiLeaks leaders broke the law, though there has never been a successful prosecution for disseminating leaked secrets, as opposed to leaking them in the first place. "
"This is one of the most interesting military cases of the last 20 years," said Eugene R. Fidell, who teaches military justice at Yale. Mr. Fidell said the case came at the intersection of advancing technology, making it possible to lay bare a truckload of secrets on the Web with the click of a mouse, and the culture of the Facebook era in which nothing stays secret for long. "
"Reporters from around the world are covering the hearing, with a dozen at a time in the cramped courtroom and about 50 others following the proceedings on a video link from an adjacent media center. Security is tight at the sprawling Army base, which houses the National Security Agency, the intelligence agency that eavesdrops on foreign communications.
Private Manning, an intelligence analyst who served at Forward Operating Base Hammer, near Baghdad, was arrested in May 2010 and accused of exploiting gaping security holes on the military computer system by downloading the secret material onto CDs that he marked as Lady Gaga songs"
"His treatment during 19 months of incarceration set off a major controversy. At the jail on the Marine Corps base at Quantico, Va., he was held in isolation and forced to strip off his clothing and sleep in a tear-proof smock, a measure military officials said was necessary because he might be a suicide risk. After an outcry — including sharp criticism from the State Department's top spokesman, who was fired as a result — Private Manning was moved to a new military prison at Fort Leavenworth, Kan., where his lawyer, Mr. Coombs, said his treatment was better.
The leaked material was made public by WikiLeaks over more than a year, sometimes directly on the organization's Web site and sometimes in collaboration with newspapers and other media organizations, including The New York Times. "
Which, being a CIA "asset," will never be prosecuted for anything.
"Though WikiLeaks was founded in 2006, it attracted little public attention until it began to post the material Private Manning is accused of providing. The organization released an edited version of a long-withheld video of American helicopters in Iraq fatally shooting people on the ground, two of whom turned out to be Reuters journalists, and gave it the title "Collateral Murder."
WATCH THIS! YOU PAID FOR IT!
About Private Manning and "Collateral Murder" Wiki (nonleaks) sez–
"Manning and an older sister were born in Crescent, Oklahoma, to Susan Fox, born in 1953 in Wales, and her American husband, Brian Manning. His father had been in the United States Navy for five years; his parents met when his father was stationed in Wales at Cawdor Barracks. Manning was raised in Crescent, where his father worked as an IT manager for a rental car agency. The younger Manning was small for his age—as an adult, he reached just 5 ft 2 in (1.57 m) and weighed 105 lb (47.6 kg)—good at the saxophone, science, and computer games, and even in elementary school had said he wanted to join the U.S. Army. One teacher told reporters that Manning was smart and opinionated, but was never in trouble. He was one of the few people in his community who openly rejected religion; David Leigh and Luke Harding write that he would refuse to do homework related to the Bible, and remained silent during the reference to God in the Pledge of Allegiance. They also write that his father was strict with him, which may have contributed to his becoming introverted and withdrawn, something that deepened when at age 13 he began to question his sexual orientation"
As do we all.
"One neighbor said his mother had difficulty adjusting to life in the U.S., and his father was often away, so Manning was largely left to fend for himself. His parents divorced when he was 13, and he moved with his mother to Haverfordwest, Wales, attending the local Tasker Milward school. Tom Dyer, who was at school with him, told reporters Manning would speak out if there was anything he disagreed with, which included having altercations with teachers. He said Manning was bullied because he was an American, the only one at the school; other students would impersonate his accent and mannerisms. He was also targeted for being effeminate; Denver Nicks writes that he had told his schoolfriends in Oklahoma that he was gay, but he was not open about it at school in Wales."
Not an unfamiliar story.
"He decided to return to the United States after sitting his GCSEs, moving in with his father, sister, and his father's second wife in Oklahoma City. He took a job with a software company, Zoto, and was apparently happy for a time, but was let go after four months, and became increasingly depressed. In March 2006, he reportedly threatened his father's wife with a butcher's knife during an argument. She called the police, and he was escorted from the house. He lived in the pick-up truck his father had given him, and took several low-paid jobs, before moving in with his father's sister, Debra Manning, in Washington, D.C."
IOW he was "going nowhere."
"He enlisted in the army in October 2007, doing his basic training at Fort Leonard Wood, Missouri, and after graduating in April 2008 moved to Fort Huachuca, Arizona, where he trained as an intelligence analyst. Nicks writes that he was reprimanded while there for posting messages to friends on YouTube that apparently revealed sensitive information. In August 2008, he was sent to Fort Drum in Jefferson County, New York, where he waited to be sent to Iraq. It was while there in the fall of 2008 that he met Tyler Watkins, with whom he had his first serious relationship, posting happily on Facebook about it. "
"Nicks writes that it appears to have ended by September 2009, though Leigh and Harding say it ended around May 5, 2010.Watkins was studying neuroscience and psychology at Brandeis University near Boston, and Manning would regularly travel there to visit him. It was at Brandeis that he was introduced to Watkins's network of friends, and the university's hacker community, as well as its ideas about the importance of information being free. He visited Boston University's "hackerspace" workshop, and met its founder, David House, the computer scientist and MIT researcher who has been allowed to visit him in jail twice a month."
"While at Fort Drum, Manning had begun to lose control, according to Steve Fishman in New York magazine, falling out with roommates, and screaming at superior officers. He said he was being bullied for being gay, and by August 2009 had been referred to an Army mental-health counsellor. In October 2009, despite the doubts about his fitness to be deployed, he was sent to Iraq with the 2nd Brigade Combat Team, 10th Mountain Division, based at Forward Operating Base Hammer, near Baghdad. "
"despite the doubts about his fitness to be deployed"
"His unhappiness and loneliness continued there. Analysts were working 14–15 hours at a time in what he described as "a dimly lit room crowded to the point you cant move an inch without having to quietly say 'excuse me sir,' 'pardon me sergeant major'  … cables trip you up everywhere, papers stacked everywhere …" He called it Groundhog Day.
He was sent to a chaplain after officers noticed what ABC News said were "odd behaviors." In November 2009—the same month he allegedly first contacted WikiLeaks—he wrote to a gender counselor in the United States, said he felt female, and discussed having surgery. The counselor said it was clear that he was in crisis, partly because of his gender confusion, but also because he was opposed to the kind of war that he now found himself involved in. On May 7, 2010, he reportedly punched a woman officer in the face, and was demoted from Specialist to Private First Class. He was also told he would be discharged from the army."
And yet he wasn't.
"On May 7, 2010, after punching a female officer (who was his commanding officer) in the face, Manning was demoted and told he was about to be discharged. On May 20, he contacted Adrian Lamo, a former "grey hat" hacker convicted in 2004 of having accessed The New York Times computer network without permission. "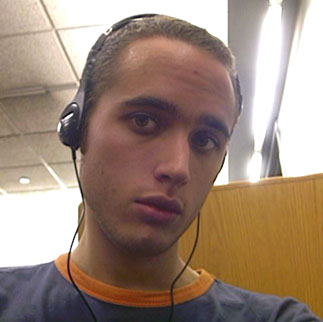 Not To Be Trusted!
"Lamo had been profiled that day by Kevin Poulsen in Wired magazine after being hospitalized and diagnosed with Asperger's Syndrome. Poulsen, now a reporter, is himself a former hacker who had used Lamo as a source several times over the years.
According to Lamo, Manning sent him several encrypted e-mails on May 20 after seeing a tweet from Lamo about WikiLeaks. Lamo said he was unable to decrypt the e-mails but replied anyway, not knowing the recipient or being able to read the content, and invited the e-mailer to chat on AOL IM. Manning sent him more e-mails, also encrypted. Lamo said he later turned these and the earlier e-mails over to the FBI without having read them. In a series of chats from May 21 until May 25/26, Manning—using the handle "Bradass87″—apparently told Lamo that he had leaked classified material. He introduced himself to Lamo as "an army intelligence analyst, deployed to eastern Baghdad, pending discharge for 'adjustment disorder' in lieu of 'gender identity disorder'."
Just over 10 minutes later he asked Lamo: "If you had unprecedented access to classified networks 14 hours a day 7 days a week for 8+ months, what would you do? Lamo told him: "I'm a journalist and a minister. You can pick either, and treat this as a confession or an interview (never to be published) & enjoy a modicum of legal protection." Manning told Lamo he felt isolated, and had "lost all of my emotional support channels … family, boyfriend, trusting colleagues … im a mess."
Indeed he was, but —
"Manning is said to have first contacted WikiLeaks in November 2009, days after it posted 570,000 pager messages from the September 11, 2001, attacks. From his workstation in Iraq, Manning had access to SIPRNet and the Joint Worldwide Intelligence Communications System, and in late 2009 he found the Apache helicopter video. He told Lamo: "At first glance it was just a bunch of guys getting shot up by a helicopter. No big deal … about two dozen more where that came from, right? But something struck me as odd with the van thing, and also the fact it was being stored in a JAG officer's directory. So I looked into it."
Manning's former partner, Tyler Watkins, told reporters that, while on leave in Boston in January 2010, Manning said he had found some sensitive information and was considering leaking it. During the same month Manning began posting on Facebook in a way that suggested he was upset about something. According to The Daily Telegraph, he wrote, "Bradley Manning didn't want this fight. Too much to lose, too fast," and said he was livid after being "lectured by ex-boyfriend."
On February 18, WikiLeaks posted the first of the material that allegedly came from him, a diplomatic cable dated January 13, 2010, from the U.S. Embassy in Reykjavik, Iceland—a document now known as Reykjavik13. In the chat log, Manning called this a "test" document. On March 15, WikiLeaks posted a 32-page report written in 2008 by the U.S. Department of Defense about WikiLeaks itself. On March 29, it posted U.S. State Department profiles of politicians in Iceland.
On April 5, it published the Apache helicopter video of the July 2007 Baghdad airstrike, which Manning is alleged to have passed on in February; WikiLeaks called it the "Collateral Murder" video, and it attracted widespread coverage. On July 25, it released the Afghan war documents, and in October the Iraq War documents, internal military war logs and diaries. Manning is also alleged to have given them 251,287 U.S. state department cables—written by 260 embassies and consulates in 180 countries—which were passed by Assange to several news organizations. Several thousand of them were published in stages, the first by WikiLeaks in February 2010 (the Reykjavik13 document), then from November 29 by The New York Times, Der Spiegel, The Guardian, El País, and others. WikiLeaks said it was the largest set of confidential documents ever released into the public domain."
Meanwhile, back at The World's Worst Newspaper —
"Private Manning is also accused of passing on military reports from Afghanistan and Iraq, as well as a quarter-million State Department cables. State Department officials have argued that the exposure hampered diplomacy by making valuable informants overseas reluctant to speak candidly. But Arab activists say the revelations of high-level corruption in Egypt, Libya, Tunisia and Yemen, among other countries, helped fuel the revolts that have transformed the region."
Whatever Bardley Manning's personal problems, whatever false friends and betrayers he's had, whatever "reason" the Corporate Oligarchy may use to "explain" why he did what he did — what he did remains heroic.
Especially the "Collateral Murder" video.
There is no question that he will spend the rest of his life in prison.
Joseph Gordon-Levitt will sing us out