Well there you have it, folks. "Conservatives" aren't opposed to abortion after all. They're very much in favor of it in fact — if the foetus in question will grow up to have "strange twilight urges."
The fact that Rachel
is bright, cheerful, well-spoken and not at all averse to talking to Republicans — or anyone elese for that matter — in a polite, rational and utterly "non-confrontational" way only stokes their anger.
But in "Conservative" circles she's not The Scariest Lesbian of Them All. That would be
Ellen.
"Ellen?" you say incredulously. "What's scary about Ellen?" Well might you ask!
Needless to say, these bozos aren't giving up.
even in the face of Howard Stern's derision.
Now as we all know Howard, in his own delightfully cheeky way has had a lot of fun with lesbians — or more to the point with men who find the faux lesbianism of straight porn to be sexually arousing. There is of course no faux gay male porn fasciantion on the part of such men. But lesbians have always managed to weave a "Mainstream" spell.
The above scene reflects Marlene's offsceen self as well, as she was an equal opportunity commingler with both sexes.
Unlike
who could barely manage one sex much less two.
So where to begin? How about boarding school?
Yes Maedchen in Uniform is a classic. But are Romy and Lili as scary as
of course not.
So what's a boy to do when he falls for a Scary Lesbian? A young man of good family named John Hinckley was so smitten by actress Jodie Foster — particularly for her performance in Taxi Driver
that he began stalking her when she took off from acting to go to college. There he discovered The Shocking Truth. And so in order to De-Lesbianize her he decided to do something Truly Impressive.
Not a good idea, as we all know
though it inspired Sondheim.
Uh oh.
Maybe what Jodie needs in her life is someone like Patricia Highsmith
While Highsmith was not transgendered in life she found the best way to exress herself in art was through male protagonists.
Bruno in Strangers on a Train
sprang from Highsmith's desire to find someone to kill her father. She never found anyone. But happily that Scary Lesbian Wish jump-started a sterling literary career.
Besides Bruno her other Major Male was Tom Ripley — first cinematically incarnated by the luscisous Alain Delon
As for her own romantic yearnings —
Here's the woman she was besottted with–
Ulrike Ottinger star Tabea Blumenschein. Those in the know say that they were quite a couple.
But that was at the end of her life. Back in the 50's Highsmith was one of the reigning lesbians of Greenwich Village, along with Jane Auer
Here's Jane with her husband Paul Bowles.
They were great friends and the marriage suited their respective parents. When Paul got into a spot of trouble with the authorities for "entertaining" comely young men at a certain New York "Hot Bed" hotel, they high-tailed it out of Dodge — first to Mexico and then to Tangier, where Jane met the love of her life, Cherifa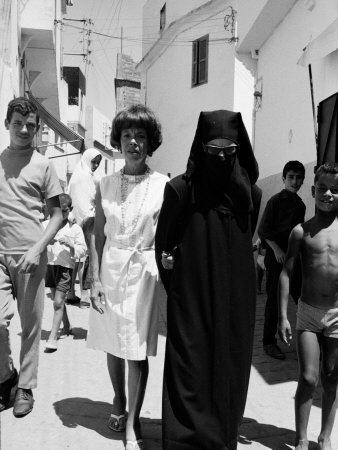 –a fearsome creature who John Girno claims poisoned Jane
Cherifa was a far cry from a New York actress that Jane and Pat both had flings with
As scary as Ellen, isn't she?
But not as scary as
And now we come to The Scariest Lesbian of Them All !
Hepburn is of course a truly mythic figure — in a myth she herself created. Happily the truth is FINALLY coming out. But for me one episode stands out in particular as it involves a young and very talented actress with the delightfull — and absolutely real — name of Joy Bang.
Joy had emerged form the New York underground piling up a number of significant credits, including the Rock Hudson vehicle Pretty Maids All in a Row directed by Roger Vadim.
As the IMDB reports:
"Cute, bubbly, engaging blonde actress Joy Bang blithely epitomized the quintessential, free-spirited, groovy 1960s and funky '70s hippie girl, almost always playing with infectiously naughty, upbeat good humor the kind of brash young woman who's very open, unabashed and uninhibited about her sexuality. She was born Joy Wenner in 1947 in Kansas City, Missouri, and was raised by adoptive parents in New York City. Bang made her film debut in the obscure and little-seen Separation (1968). Among Joy's most memorable parts are one of the titular young women in Roger Vadim's Pretty Maids All in a Row (1971), a rock groupie in the excellent Cisco Pike (1972), Woody Allen's date who gets abducted by bikers in Play It Again, Sam (1972), and drug dealer John Lithgow's fed-up, long-suffering girlfriend in Dealing: Or the Berkeley-to-Boston Forty-Brick Lost-Bag Blues (1972). Moreover, Bang had a rare lead as a naive biology student who runs afoul of a lethal, seductive jungle-dwelling snake goddess in the bizarre Filipino fright feature Night of the Cobra Woman (1972) and contributed a nice turn as a flaky lady who gets attacked in a movie theater full of zombies in the equally offbeat horror oddity Messiah of Evil (1973) (aka Messiah of Evil). Besides her film credits, Bang also acted in TV commercials and did guest spots on such TV shows as "Police Story" (1973), "Adam-12″ (1968), "Room 222″ (1969), "Medical Center" (1969), "Hawaii Five-O" (1968), and "Mission: Impossible" (1966). Bang was at one point romantically linked with Keith Moon, the drummer for the rock group The Who. She was also in the running for the lead in the hippie road movie Thumb Tripping (1972), but the role ultimately went to Meg Foster instead. Joy Bang abruptly stopped acting in the mid-1970s and has since gone on to become a nurse who works and lives in Minnesota."
What abruptly stopped her was Katherine Hepburn.
Hepburn was set to star for her longtime friend and creative collaborator George Cukor In the film version of Graham Greene's sophsiticated comic adventure tale Travels with My Aunt. In it there was a part for a young hippie girl that the titular character meets along story's way. Hepburn insisted that Joy, of whom she had becomeerribly superfond, play the hippie girl. The film's producers thought otherwise. Adamant, Hepburn left the the project — nearly destroying her friendship with Cukor in the process. Maggie Smith took her place in the eventual film.
Cindy Williams played the hippie girl.
And now to bring down the curtain Patricia Highsmith — in the form of Tom Ripley as played by Matt Damon — will sing us out with my very favorite song.