Yes friends with the coroner's report not going to be out for another six to eight weeks "The News" is going to be
ALL WHITNEY ALL THE TIME
Poor Don Lemon (who is now in L.A. keeping track of the latest developments) has taken this harder than anyone in the media I know of
except for the TMZ crew
"Los Angeles County coroner's officials said singer Whitney Houston's body showed no signs of trauma during an examination Sunday.
An autopsy was inconclusive, officials said, adding that toxicology tests could hold the key to determining how she died.
"There were no visible signs of trauma on the body," said Ed Winter, a spokesman for the coroner's office. "We need additional testing."
Houston was found in the bathtub of her suite at the Beverly Hilton Hotel, and officials said they are trying to determine whether she drowned."
This is the point of greatest interest at the moment. She was found in the battub but taken out of it before the paramedics arrived. There were reportedly no illegal drugs at the scene, but plenty of legal ones. And as I trust we all know by now the legal can be even more lethal than the illegal.
As Harvey Levin and his merry TMZ crew report –
"Whitney Houston's family was told by L.A. County Coroner officials … the singer did not die from drowning, but rather from what appears to be a combination of Xanax and other prescription drugs mixed with alcohol … this according to family sources.

We're told Coroner's officials informed the family there was not enough water in Whitney's lungs to lead to the conclusion that she drowned.

Our sources say the family was told Whitney may well have died before her head became submerged.

And family sources tell us … it was actually Whitney's aunt, Mary Jones, who discovered Whitney's body in the bathtub. Mary had laid out Whitney's dress for the evening on the bed and then left for about a half hour. When Whitney didn't come out of the bathroom, Mary entered, pulled Whitney out of the tub and began administering CPR.

And we're told … Whitney's mom has arranged to have the singer's body flown back to Atlanta, as early as tomorrow. The family was told the Coroner has no problem releasing the body because there is no evidence of foul play — and unless cops put a hold on the body, it can be flown back East."
Six of one half a dozen of the other.
Pop star bathtub expiration scenes are in no way new. In fact Whitney brings immediately to mind
"Morrison died on July 3, 1971 at age 27. In the official account of his death, he was found in a Paris apartment bathtub by Courson. Pursuant to French law, no autopsy was performed because the medical examiner stated that there was no evidence of foul play. The absence of an official autopsy has left many questions regarding Morrison's cause of death.
In Wonderland Avenue, Danny Sugerman discussed his encounter with Courson after she returned to the United States. According to Sugerman's account, Courson stated that Morrison had died of a heroin overdose, having insufflated what he believed to be cocaine. Sugerman added that Courson had given him numerous contradictory versions of Morrison's death, saying at times that she had killed Morrison, or that his death was her fault. Courson's story of Morrison's unintentional ingestion of heroin, followed by his accidental overdose, is supported by the confession of Alain Ronay, who has written that Morrison died of a hemorrhage after snorting Courson's heroin, and that Courson nodded off instead of phoning for medical help, leaving Morrison bleeding to death.
Ronay confessed in an article in Paris that he then helped cover up the circumstances of Morrison's death. In the epilogue of No One Here Gets Out Alive, Hopkins and Sugerman write that Ronay and Agnès Varda say Courson lied to the police who responded to the death scene, and later in her deposition, telling them Morrison never took drugs.
In the epilogue to No One Here Gets Out Alive, Hopkins says that 20 years after Morrison's death, Ronay and Varda broke silence and gave this account: They arrived at the house shortly after Morrison's death and Courson said that she and Morrison had taken heroin after a night of drinking. Morrison had been coughing badly, had gone to take a bath, and vomited blood. Courson said that he appeared to recover and that she then went to sleep. When she awoke sometime later Morrison was unresponsive, and so she called for medical assistance.
Courson died of a heroin overdose three years later. Like Morrison, she was also 27 years old at the time of her death. Contrary to initial reports circulating in 1974, she was not buried with Morrison, but rather her cremated ashes were interred in a wall at Fairhaven Memorial Park in Santa Ana, California, with the plaque bearing the name "Pamela Susan Morrison".
In the epilogue of No One Here Gets Out Alive, Hopkins and Sugerman also claim that Morrison had asthma and was suffering from a respiratory condition involving a chronic cough and vomiting blood on the night of his death. This theory is partially supported in The Doors (written by the remaining members of the band) in which they claim Morrison had been coughing up blood for nearly two months in Paris. None of the members of The Doors were in Paris with Morrison in the months prior to his death.
According to an outside individual who alleges that she witnessed Morrison's funeral at Père Lachaise Cemetery (a woman by the name of Madame Colinette who was at the cemetery that day mourning the recent loss of her husband) the ceremony was "pitiful", with several of the attendants muttering a few words, throwing flowers over the casket, then leaving quickly and hastily within minutes as if their lives depended upon it. Those who attended included Alain Ronay, Agnes Varda, Bill Siddons (manager), Courson, and Robin Wertle (Morrison's Canadian private secretary at the time for a few months)."
I doubt Whitney's headed to Pere Lachaise.
But to return to the tub, leave us not forget Claudette in Cleopatra
or Mick, Anita and Michelle in Performance.
Or that incredibly famous painting by Jean-Louis David
which in turn inspired —
Just a hop skip and a jump from there to the present day and Grover Norquist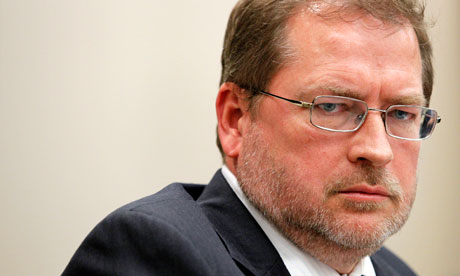 "I'm not in favor of abolishing the government. I just want to shrink it down to the size where we can drown it in the bathtub."
Does a Charlotte Corday await him? I wouldn't be at all surprised.
The question of the hour, however is
WAS GROVER ANYWHERE NEAR WHITNEY'S BATHTUB?
Hey — just asking
As everyone knows Grover shouldn't be confused with Grover
Yes, Ernie will sing us out.