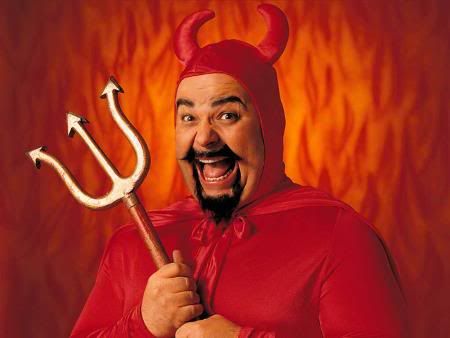 As I trust you know, His Holiness Archbishop Santorum
has been in a Satanic Panic for some time now
Well, isn't that Special?
"What academia does is educate the elites in our society."
Translation: Blessed are the stupid.
Now, alas, he's (drumroll please) "Walking it Back"
"PHOENIX — Former Pennsylvania senator Rick Santorum on Tuesday criticized a report about a 2008 speech in which he said "Satan has set his sights on the United States of America," calling it a "a joke" and that he believes in "good and evil."
"You know, I'm a person of faith. I believe in good and evil," he told reporters following a rally here. "I think if somehow or another because you're a person of faith you believe in good and evil is a disqualifier for president we're going to have a very small pool of candidates who can run for president."
In a 2008 speech to students at Ave Maria University in Florida, which was posted on The Drudge Report on Tuesday, Santorum said Satan was "attacking the great institutions of America."
Ave Maria was created by Tom Monaghan, the founder of Domino's Pizza and an ardent Catholic and abortion opponent. Monaghan founded the university in Michigan in 1998 and then moved it to Florida in 2003.
"This is a spiritual war. And the father of lies has his sights on what you would think the father of lies would have his sights on: a good, decent, powerful, influential country — the United States of America," Santorum said in 2008. "If you were Satan, who would you attack in this day and age?" he said. "If they want to dig up old speeches of talking to religious group, they can go ahead and do so."
"If they want to dig up old speeches of me talking to religious groups, they can go ahead and do so, but I'm going to stay on message and I'm going to talk about things that Americans want to talk about which is creating jobs, making our country more secure, and yeah, taking on the forces around his world who want to do harm to America, and you bet I will take them on," Santorum said Tuesday"
Could it be that Rick's taken pity on Old Nick?
Or perchance he's read MoDo's latest.
"Satan strikes, a Catholic exorcist told me, when there are "soul wounds." Santorum, who is considered "too Catholic" even by my über-Catholic brothers, clearly believes that America's soul wounds include men and women having sex for reasons other than procreation, people involved in same-sex relationships, women using contraception or having prenatal testing, environmentalists who elevate "the Earth above man," women working outside the home, "anachronistic" public schools, Mormonism (which he said is considered "a dangerous cult" by some Christians), and President Obama (whom he obliquely and oddly compared to Hitler and accused of having "some phony theology").

Santorum didn't go as far as evangelist Franklin Graham, who heinously doubted the president's Christianity on "Morning Joe."

Mullah Rick, who has turned prayer into a career move, told ABC News's Jake Tapper that he disagreed with the 1965 Supreme Court decision striking down a ban on contraception. And, in October, he insisted that contraception is "not O.K. It's a license to do things in a sexual realm that is counter to how things are supposed to be."

Senator Sanitarium, as he was once dubbed on "The Sopranos," sometimes tries to temper his retrogressive sermons so as not to drive away independent and Republican women who like to work, see their kids taught by professionals and wear Victoria's Secret."
And have their borders guarded by Sheriff Paul Babeu
Provided of course the Sheriff keeps his shirt on and doesn't flash his SATANIC TATTOOS!
"Arizona's top prosecutor has agreed to conduct a comprehensive independent investigation into allegations made against an Arizona sheriff accused of misconduct.
Arizona sheriff Paul Babeu, who publicly acknowledged Saturday that he is gay amid, is accused of threatening a Mexican immigrant whom he had a relationship. The state's top prosecutor said he was looking into the matter.
Babeu, a sheriff in Pinal County, had asked the Gila County sheriff's office and that county attorney's office to "look into allegations of human rights violations, threatening and intimidating, misuse of public resources, theft of property, theft of identity, fraud and impersonation."
Those offices told Babeu's office they did not have the resources, so the Arizona Attorney General Tom Horne agreed to take on the investigation. Horne said earlier Tuesday that his office hadn't been asked to look into the allegations against Babeu.
Babeu has denied claims from his former Mexican love interest that he tried to threaten the man with deportation if their relationship were made public.
Gay Outing Poses Problems for AZ Sheriff
Babeu is seeking the Republican nomination for a congressional seat. He has resigned from presidential hopeful Mitt Romney's Arizona committee amid the man's allegations, which were first published Friday in the Phoenix New Times, an alternative weekly magazine.
His lawyer, Melissa Weiss-Riner, has said he retained her firm's services because he was contacted by Babeu's attorney and "felt intimidated."
The Latino rights organization Respect Respeto on Monday sent a request to the U.S. Department of Justice for a probe into Babeu for abuse of power. The group said it wants the sheriff investigated on behalf of every immigrant who has been threatened with deportation and alleges in its request to the Justice Department that Babeu made "text messages, pictures and threats that are unbecoming of an elected sheriff."
Babeu, a first-term sheriff who has risen to national prominence with his strong opposition to illegal immigration and smuggling, said the accusations were an attempt to hurt his political career.
Latino Group Demands Babeu Probe
Babeu has vowed to continue his campaign in Arizona's rural 4th Congressional District, which spans western Arizona to the desert south of Phoenix. Its voters are heavily Republican and generally very conservative.
Babeu faces an incumbent tea party Republican who switched districts, U.S. Rep. Paul Gosar, and state Sen. Ron Gould, a conservative from northwestern Arizona, in an August primary.
Weiss-Riner has told the New Times that Babeu's attorney and campaign consultant falsely told her client that his visa had expired. Babeu told reporters he believed the man, identified only by his first name Jose, was living in the country legally.
Weiss-Riner didn't immediate return a call for comment Tuesday.
Babeu, who is not married, said his relationship with Jose ended sometime before September. Jose ran his campaign website and Twitter account, and Babeu said he began posting derogatory items on the sites after their breakup. Weiss-Riner has said that as a campaign volunteer, Jose created and maintained several websites and accounts at Babeu's request from approximately 2008 through late 2011."
Alas Babeu's pre-emptive strike
has come a cropper.
No doubt he'll rue the day he said "No Way Jose!"
"While still in what he thought was a monogamous relationship with Babeu, Jose says, he had stumbled upon the sheriff's page on adam4adam, which is peppered with pornographic images of men having intercourse. He says he confronted Babeu and that the sheriff told him it was an old profile.
"I told him to delete it because he was the sheriff, and it didn't look right," Jose tells New Times. "I told him that if you don't want [to be with] me, I'll stop helping you with your websites, and you move on with your life, and I'll move on with mine."

Babeu assured him that he would delete the profile, Jose says.
When Jose checked again, he says the account still was there — so he created his own profile under an assumed name.
He says Babeu then sent pictures to Jose, thinking he was a guy named "Matt." In one photo, Babeu poses grinning in a pair of gray underwear in front of a mirror. The flash from his camera phone obscures his left shoulder. In another photo, he poses naked with an erection. His face isn't visible, but the bottom edge of one of Babeu's unmistakable arm tattoos can be seen.
"When I saw the pictures and was [communicating with] him, I just couldn't believe it," Jose says. "I just wanted to see how far he'd go with his lying."
But wait — THERE'S MORE!
"Openly gay Tucson state Representative Matt Heinz was one of two Democratic lawmakers who broke ranks with the party in March 2011 and voted to give Babeu $5 million to combat border violence. Other lawmakers opposed the measure, in part, because Babeu's county is at least 70 miles from the U.S.-Mexico border. The measure finally was pared down to $1.7 million and passed by the Legislature.
About a week after Heinz's nod to Babeu, the sheriff spent the night at Heinz's home, text messages that Jose shared with New Times show.
"I'm at Mat Heinz and his boyfriend for dinner & ice cream . . . we are going out to bar and . . . to their house. [Am] staying over," Babeu texted to Jose at 1:04 a.m. last April 2.
Heinz didn't immediately return a phone call seeking confirmation of the sleepover."
Oh to have been a fly on that bedroom wall.
Take it away Harriet!