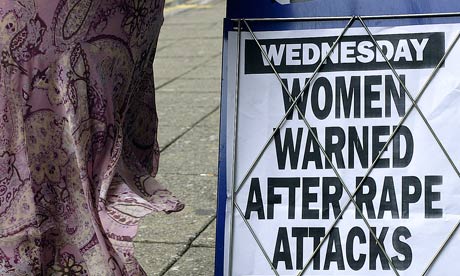 And here's the rapist!
"Honest, officer, I just stuck it in her this far."
If that's your story, Governor, you stick to it.
"Virginia Republican Gov. Bob McDonnell says he backed away from a bill requiring women to undergo an invasive procedure before receiving an abortion because he believed it might not have withstood legal scrutiny.
McDonnell discussed the matter Friday at a panel hosted by Politico. It was his first extensive comments since asking lawmakers to amend a bill that would have required women seeking abortions to submit to a vaginal ultrasound. The bill drew sharp opposition from Democrats and women's groups
McDonnell said he consulted with doctors and lawyers including the state's attorney general before concluding the bill would likely face constitutional challenges. The bill was changed to require noninvasive ultrasounds.
McDonnell has been mentioned as a possible vice presidential candidate in 2012 and potential future presidential contender."
Never fear. The World's Worst Newspaper to the rescue! with Rising Sob-Sister Star Sabrina Tavernese.
"Until this week, Bob McDonnell of Virginia was a popular Republican governor with a lot of national ambition but not much name recognition. Now, after a high-profile tussle over controversial abortion legislation, he is known nationally — but maybe not the way he had in mind."
"Mr. McDonnell, 57, a retired Army officer who took office in January 2010, has been mentioned regularly in party circles as an attractive candidate for vice president on a Republican ticket. Many of the ingredients fit: He is from a critical swing state in presidential politics. He is unabashedly anti-abortion and has a long record of supporting conservative causes. At the same time, he has painstakingly built a political image that has economics — not social issues — as its center. And his eldest daughter served as an Army officer in Iraq.
This week that narrative hit a bump when a furor erupted over a bill before the Virginia legislature that required women to undergo a vaginal ultrasound before having an abortion. Mr. McDonnell watched as left-leaning television show hosts mocked it and — though vaginal ultrasounds are standard practice for viewing a first-trimester fetus — some opponents denounced it as a "rape bill."
Damn those left-leaning television show hosts How dare they!
They should have been more respectful — like Virginia legislator David Albo
"The pressure placed Mr. McDonnell in a tricky spot. He had previously voiced support for an ultrasound requirement, but said later that he had not known the details of this bill."
He should have asked Rachel. She's got the skinny.
"Members of his own party were racing ahead with legislation that he had little to do with, and expecting him to sign it. But his national political ambitions required a more moderate approach. Eventually, Mr. McDonnell said he could not sign the bill unless Republicans softened the language to require only abdominal ultrasounds. But the bill had already done its damage, serving as a major distraction and the country's first real introduction to Mr. McDonnell."
Yes vaginal probes are so "distracting"
"This runs counter to the political identity that he has so carefully constructed," said Bob Holsworth, a political analyst in Richmond. "He has a story he thinks is very important to tell and that message is getting stepped on this week."
Not "stepped on" so much as stepped in.
"The episode was a bitter disappointment to many anti-abortion groups, and some strategists argue that it has the potential to harm Mr. McDonnell's long-term political prospects among conservatives."
Too bad Bob. You're not going to be Mitt's running mate.
"Any hope he had of getting on a national ticket went out the window," said a Republican strategist who follows Virginia politics who asked that his name not be used because he did not want to be seen as criticizing the governor. "He's the guy who pulled the plug on this and among conservatives, he's going to be suspect."
Because for the NYT only "Conservatives" matter.
"A conservative blog, Virginia Right, posted an entry on Thursday titled "Is Governor McDonnell Losing Virginia Christians and Conservatives?" and the Family Foundation, a powerful anti-abortion group, strongly criticized his decision to soften the bill.
"Bob is a good governor, but he's lost sight of the Statehouse for the Blair House," said Don Blake of the Virginia Christian Alliance, a conservative group that supported the original bill. "It grieves people that this is happening."
You want a hankie?
"Still, it is unclear whether such groups would stop supporting Mr. McDonnell, and most analysts said that while he was touched by the recent firestorm in Richmond, it might not have any lasting effects.
"The open question is how permanent is this and can he pivot back," Mr. Holsworth said.
The governor did not immediately agree to a request for an interview."
Gee I wonder why.
"His aides say they have been frustrated that he has come to be associated with legislation that was not his in the first place."
Liar. It was his bill. His name is on the bill — and has been from its inception.
"And while he did say, in a radio interview in January, that he would support the ultrasound requirement, no one, not even the bill's sponsors, according to the aide, understood at the time that it would entail such an invasive procedure."
Oh I'm sure they saw THIS
"If you flash back to late January, no one was talking about this," said an aide who asked not to be named because he was not authorized to speak publicly on the matter. "Why would the governor know every technical detail of every bill? It's not even part of his legislative agenda."
Sure. Why should he understand every technical detail of sticking something into women's vaginas without their consent?
The governor, "has his agenda, and legislators have theirs," said the aide, ticking off Mr. McDonnell's recent policy efforts, which he said included a $230 million increase in financing for higher education in his budget. Those measures might not be sexy on television, he said, but will do a lot of good. "The truth is, he is frustrated that so much time and energy is being spent on bills that are making headlines like this," the aide said.
Tough shit.
"Many analysts say that Mr. McDonnell is a man of compromise and was motivated as much by his aversion to controversy as his aspirations for national political office."
Who are these "analysts"? Got any names? Numbers? E-mail addresses?
Or were you just pulling this out of your ass?
"His ratcheting down of the bill means that he stayed true to character, they said.
Some Democrats say they suspect that Mr. McDonnell would have signed the legislation if there had not been such a fuss about it. He was expected to sign other pieces of conservative legislation in the coming weeks, including a recently passed bill that would have the effect of preventing religious adoption agencies from having to place children with same-sex couples."
Very much in character on that score.
"And while a "personhood bill," which defines life as beginning at conception, was quashed in the Senate on Thursday in a manner that led to speculation that Mr. McDonnell was involved, a bill that would repeal government financing for certain abortions for low-income women is still pending, abortion rights advocates say. "
There are still a few weeks left in the legislative session, which could potentially raise more problems for Mr. McDonnell. Katherine Greenier, director of a women's rights program at the American Civil Liberties Union of Virginia, said that 13 bills related to abortion were being considered by the General Assembly, up from 8 last year. One complication for Mr. McDonnell is Republicans in Virginia's legislature, who now control both the Senate and the House for the first time in a number of years, and their pent-up desire for conservative legislation.
"The headlines are gays, guns and abortion," said Larry Sabato, director of the Center for Politics at the University of Virginia. "They are pushing these buttons on purpose to please the base."
And with Republicans it doesn't get any more base.
"Mr. McDonnell's aide said that the governor in fact had supported the ultrasound bill, just not in as invasive a form, and that if it passes, anti-abortion conservatives would be able to hold up Virginia as one of eight states that require it. He argued that once the dust settled, the governor's political image as a pragmatist might even be stronger.
"If we come out of this with people saying, 'Here's a contentious issue where Bob McDonnell made a tough decision to calm the waters,' that strengthens his brand down the road."
Such a sad situation for a "popular Republican governor with a lot of national ambition," right Sabrina?
And women daring to demand that they have control over their own bodies rather than Republican politicians — well that's simply outrageous.
But that's the way things are nowadays.
Right Liza?