Some good news for a change. Bernardo Bertolucci is in post-production on his first film in 9 years Me and You . The plot? "An an introverted teenager tells his parents he going on a ski trip, but instead spends his time alone in a basement."
Very Bernardo.
The biggest names in the cast are Veronica Lazar and Pippo Delbono who played Tancredi in I Am Love.
IOW there are no big names in the cast. But it's a lot to look forward to as the none year interval between The Dreamers and this new work were marked by serious physical problems (horrendous back trouble) leading to the cancellation of several projects he had hoped to make.
In fact when I spoke to producer Jeremy Thomas a few years back he wondered if Bertolucci would ever make a film again.
The films he has made are all over the map: big and small, brilliant and maddening, invariably worthwhile.
Even Rochelle Rochelle: "a young girl's erotic journey from Milan to Minsk."
"Bertolucci was born in the Italian city of Parma, in the region of Emilia Romagna. He is the elder son of Ninetta, a teacher, and Attilio Bertolucci, who was a poet, a reputed art historian, anthologist and film critic. Having been raised in such an environment, Bertolucci began writing at the age of fifteen, and soon after received several prestigious literary prizes including the Premio Viareggio for his first book. His father's background helped his career: the elder Bertolucci had helped the Italian filmmaker Pier Paolo Pasolini publish his first novel, and Pasolini reciprocated by hiring Bertolucci as first assistant in Rome on Accattone (1961)"
Pasolini
was one Bertolucci mentor. The other was You Know Who
seen in the above pic imitating Sergei Eisenstein.
His first film La Commare Secca was a loose adaptation of stories in Pasolini's Ragazzi di Vita, but done in a far lusher style.
He was only 22 when he made it.
The following year came the film that launched his career Before the Revolution — a semi-adaptation of Stendhal's "The Charterhouse of Parma." Most appropriate in that Bertolucci is the most French of all Italain directors. It starred the great Adriana Asti who got her start working in the theater with Pasolini. While Wiki claims Asti and Bertolucci were married the IMBD puts a pair of question marks on the subject. I seriously doubt they were.
Bertolucci did marry writer-director Claire Peploe in 1990.
Both La Commare Secca and Before the Revolution feature Allen Midgette
a beautiful an enigmatic American who after his sojourn in Italy returned to the states where he appeared in films by Andy Warhol, and once in life as Andy himself
He has also appeared in films by Jean-Luc Godard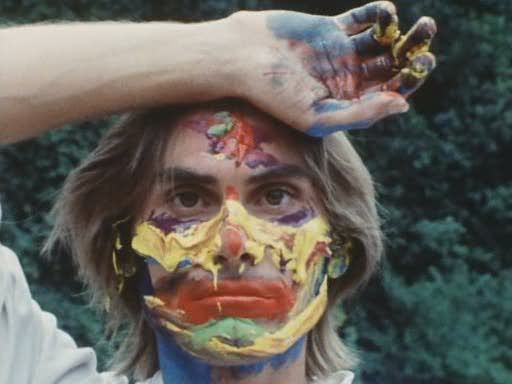 He currently resides in upstate New York
Midgette's beauty and vigor was astonishing, and totally gobsmacked me when I first saw Before the Revolution.
Bertolucci's work has always been marked by the extreme physicality of his performers, like Pierre Clementi in Partner
(Bertolucci's version of The Patty Duke Show )
The Living Theater in Agonia
And Dominique Sanda and Stephania Sandrelli in The Conformist
That film brought him international fame. International infamy came with his next Last Tango in Paris
An obvioulsy jealous Ingmar Bergman attacked Bertolucci for the film, saying it was "really" about a gay relationship "and only in those terms did the film make sense and become interesting" implying that Bertolucci didn't have the guts to film it as such. Bertolucci's reply: "I accept all interpretations of my films. The only reality is before the camera. Each film I make is kind of a return to poetry for me, or at least an attempt to create a poem." That is of course true, but the bisexuality or more tothe point polymrophous perversity of Bertolucci's cinema cannot be denied. It's at the heart of DeNiro and Depardiue's relationship in Novecento
And lurks at the heart of his magnificent maudit La Luna
Not to mention The Last Emperor
>and even Rochelle Rochelle
It's all over The Dreamers
though in muffled form as Gilbert re-closeted himself and thus altered his own novel — thereby depriving the world of a lovescene between Louis Garrel and Michael Pitt.
We'lll see what Me and You brings. Meanwhile here in its entirety is Before the Revolution. Like Breathless this is less a film than an event in my life. Frankly I think Agostino killed himself because he knew Fabrizio couldn't reciprocate his love. Gina is more practical. She knows that her affair with Fabrizio will be of short duration. But that fact doesn't make its end any less painful as we can see in the film's devestating finale framed by one of the greatest score ever composed by Ennio Morricone.
Enjoy!