Surely the facts are NOW in dispute.
"More than six weeks after he shot and killed Trayvon Martin, an unarmed 17-year-old with no criminal record, George Zimmerman, the neighborhood watch coordinator at a small gated community in Sanford, Fla., was charged by a special prosecutor on Wednesday evening with second-degree murder and taken into custody."
There, that was a simple matter — wasn't it?
"The charges, which Mr. Martin's family praised but called overdue, opened a new chapter in a case that set off a searing national discussion of racial profiling, Florida's expansive self-defense law and the fairness of the criminal justice system."
You forgot racism.
"The charges against Mr. Zimmerman were announced by Angela B. Corey, the state attorney for the Jacksonville area, who was appointed as a special prosecutor in the case after the local state attorney stepped aside in the wake of criticism that the case had been moving too slowly. Ms. Corey took pains to praise the local law enforcement officials at a news conference in Jacksonville, and pledged to pursue justice for the Martin family.
Asked about the racial overtones of the case — Mr. Martin, who was black, was shot and killed by Mr. Zimmerman, a Hispanic man who was not immediately arrested by the local police — Ms. Corey said that law enforcement officials were committed to justice for all, regardless of race, gender or background.
"We only know one category as prosecutors, and that's a 'V,' " Ms. Corey said. "It's not a 'B,' it's not a 'W,' it's not an 'H.' It's 'V,' for victim. That's who we work tirelessly for. And that's all we know, is justice for our victims."
"If convicted of second-degree murder, Mr. Zimmerman, 28, could face life in prison. It is the toughest charge he could have faced. First-degree murder would have required a finding of premeditation and a grand jury review, which Ms. Corey decided against this week.
Mr. Martin's parents, Sybrina Fulton and Tracy Martin, praised the decision to arrest and charge Mr. Zimmerman at an emotional news conference in Washington, where they had been meeting with their lawyers and supporters. "We simply wanted an arrest," Ms. Fulton said. "We wanted nothing more and nothing less, we just wanted an arrest. And we got it. And I say, 'Thank you, thank you, Lord, thank you, Jesus.' "
Here's who you shoulld thank.
"Mr. Zimmerman arrived at the Seminole County Jail around 8:25 p.m. and stepped out of a black S.U.V. in the custody of law enforcement agents.
The killing of Trayvon Martin incited outrage and protest marches across the country. He was shot on the evening of Feb. 26 as he returned from buying Skittles and iced tea at a 7-Eleven, bound for the home in a gated community in Sanford, a small city just north of Orlando, where he and his father were guests.
Mr. Zimmerman, the founder of the local neighborhood watch, called 911 that evening to report that Mr. Martin looked like "a real suspicious guy." Some questioned whether Mr. Martin attracted Mr. Zimmerman's attention simply because he was black. Others were outraged by the slow reaction of the local police and prosecutors, who did not immediately arrest and charge Mr. Zimmerman, saying that Florida's self-defense law could make it difficult to prove a criminal case against him.
President Obama weighed in on the case at one point, saying, "If I had a son, he'd look like Trayvon." After television commentators suggested that Mr. Martin might have looked suspicious because he was wearing a hooded sweatshirt, "
Just one "television commentator." This creep.
"people around the country began donning them in solidarity. LeBron James and other members of the Miami Heat basketball team posed in them for a photograph they posted on Twitter. "
"Representative Bobby L. Rush, Democrat of Illinois, even wore one on the floor of the House, saying "Just because someone wears a hoodie does not make them a hoodlum."
"The case drew attention to Florida's Stand Your Ground Law, which was enacted seven years ago after lobbying by the National Rifle Association, over the objections of many law enforcement officials. The law gives the benefit of the doubt to people who claim self-defense, even if they are not in their homes; it says that people who feel that they are in danger do not need to retreat, even if it would seem reasonable to do so.
In this case, Mr. Zimmerman, who had founded a neighborhood watch over the summer after a string of burglaries in the area, saw Mr. Martin, began following him, and called 911, telling the dispatcher that he appeared "suspicious."
The dispatcher asked if Mr. Zimmerman was following him. "Yeah," Mr. Zimmerman said.
"O.K.., we don't need you to do that," the dispatcher said. Mr. Zimmerman said: "O.K."
The case will probably hinge on what happened next. "
"A lawyer for Mr. Martin's parents, Benjamin Crump, has said that Mr. Martin was speaking on his cellphone at the time with his girlfriend, and told her that he was being followed. Mr. Crump said that the girl heard him being asked what he was doing before the line went dead.
Mr. Zimmerman's father, Robert Zimmerman, gave a different account: he has said that his son had lost sight of Mr. Martin, who then appeared from behind and challenged him.
Witnesses then told 911 that they saw two men fighting. Then Mr. Martin was shot in the chest and killed."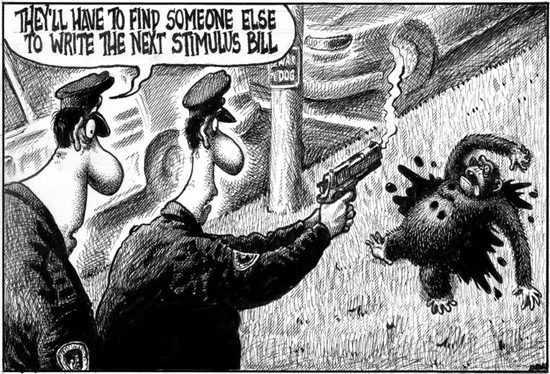 "The Sanford police came under heavy criticism when they did not arrest Mr. Zimmerman, saying that they had no evidence to dispute his claim of self-defense. The police chief, Bill Lee, eventually stepped down from his post. The state appointed a special prosecutor. And the Justice Department announced that it would open a federal civil rights investigation."
"Ms. Corey, the special state prosecutor who announced the charges, said that if Mr. Zimmerman's lawyers invoke the state's Stand Your Ground law in his defense, and prosecutors do not believe the shooting was justified, they will challenge the claim.
"This case is just like many of the shooting deaths we've had in our circuit," she said. "If Stand Your Ground becomes an issue, we fight it if we believe it's the right thing to do."
Mr. Zimmerman changed his lawyers this week,"
After consulting with this creep
"and his old legal team held an odd news conference on Tuesday to say that they were withdrawing from the case and had not heard from him since the weekend. Mr. Zimmerman's new lawyer, Mark M. O'Mara, a well-known criminal lawyer, said in a brief interview Wednesday night that his client would plead not guilty at a hearing on Thursday.
Mr. O'Mara also said that he hoped the judge would take up a bond motion at the hearing, but that he expected the judge would wait for a more extensive hearing in the near future.
One of Mr. Zimmerman's former lawyers, Craig A. Sonner, said after the murder charge was announced that he would use the Stand Your Ground law as a defense if he were still representing Mr. Zimmerman.
Mr. Sonner said that although he had not seen evidence in the case first hand, he believed that "when all the evidence arrives in its totality, and all the circumstances are viewed in their totality, everything will show, I believe, that George Zimmerman was acting in self defense."
As she announced the charge, Ms. Corey, the prosecutor, praised Mr. Martin's "sweet parents." But she stressed that the decision to charge was made based on the law, not on pressure. "Let me emphasize that we do not prosecute by public pressure or by petition," she said. "We prosecute based on the facts of any given case, as well as the laws of the State of Florida."
Cue Tom Waits