Well here's a new way to "fall into The GAP"! I can hear "One Million Moms" mooing in heavily-theatricalized horror already.
But Boys you're gonna need something more than a T-shirt this year if Mayor Bloomberg
"MAYOR BLOOMBERG released his $68.7 billion 2013 executive budget Thursday — threatening to slash more than 42,000 slots from child-care and after-school programs for kids.
"Many working families, if these cuts go through, would no longer have access to low-cost child care for their children," City Council Speaker Quinn said of the city's Early Learn and Out of School Time programs."
And does that mean the woman who will shortly be (according to the latest polls) New York's First-Lesbian Mayor is going to do anything to alleviate the situation?
I doubt it.
"Bloomberg, who presented his proposal to a packed room of city officials and news media, suggested that he would work with the Council to restore some funding.
"Sure, I'm concerned," Hizzoner said when asked about cutting services for needy children. "You'll have to wait and see what we do."
He has until June 30 to hammer out a final budget with the City Council.
"The city cannot do everything for everybody," he added. "The objective is to try to balance and make choices."
"Fair and Balanced." Like FOX News.
"Quinn, who hopes to follow Bloomberg as mayor, crowed about the preservation of 2,500 teaching jobs — or $185 million in the executive budget.
"This response to our call keeps school budgets whole and prevents classroom sizes from rising further," Quinn said.
Time to Tune-Up, Christine.
"It was the first time since 2008 the budget didn't slash teachers. There are 74,714 in the city, down from 79,109 in 2008.
But Bloomberg warned the United Federation of Teachers that it would cost the city $300 million in state aid if the union fails to reach a deal on evaluations by January.
Bloomberg defended the possible closure of 20 fire companies and insisted response times wouldn't increase. "We have the lowest number of deaths by fire ever in the history of the city since we started keeping numbers," he said.
And he balked at criticism from City Council members.
"They weren't elected to run the city and, you know, there's nothing wrong with them having those views."
Aside from the agency cuts, Bloomberg's budget relies on increased revenue through fees and fines and several one-shot deals to plug a $495 million shortfall.
Bloomberg's proposal uses $2 billion from the Retiree Health Benefits Trust Fund in 2013 and 2014. His plan also relies on about a half-billion dollars recouped in the CityTime scandal and $1 billion from outer-borough taxi medallion sales, a plan that is threatened by lawsuits.
"If we don't get the billion dollars, we're going to have to cut services in the city dramatically," Bloomberg warned."
And among the service the Mayor is already planning to cut there's
Named after a dead street kid
The Center's Carl Siciliano
"As the visibility of Lesbian, Gay, Bisexual and Transgender (LGBT) people grows in our society, more and more LGBT teens are finding the courage to come out of the closet.
Tragically, as many as 25% of these teens are rejected by their families, and many end up homeless on the streets. Homeless LGBT teens are more likely than straight homeless teens to be subjected to violence on the streets, and in the homeless shelter system. They suffer from inordinate rates of mental illness, trauma, HIV infection and substance abuse.
The Ali Forney Center (AFC) was started in June of 2002 in response to the lack of safe shelter for LGBT youth in New York City. We are committed to providing these young people with safe, dignified, nurturing environments where their needs can be met, and where they can begin to put their lives back together.
AFC is dedicated to promoting awareness of the plight of homeless LGBT youth in the United States with the goal of generating responses on local and national levels from government funders, foundations, and the LGBT community."
Hence while Quinn may sing Sondheim, Bloomberg's got Kurt Weill
And speaking of love, this student yearbook posting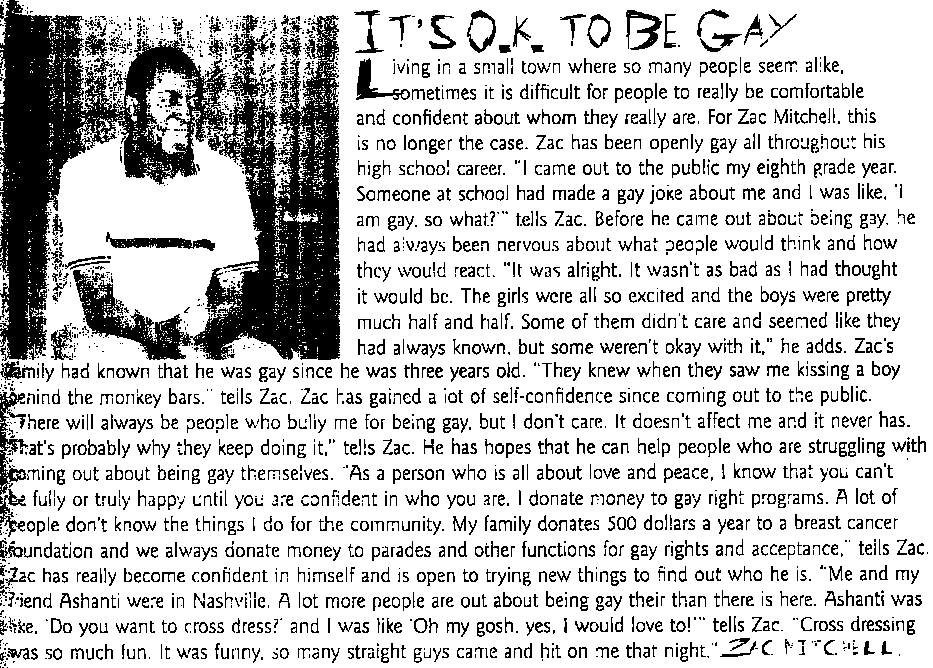 caused this Screamingly Obvious Self-Loathing Closet Queen
to throw the following shit-fit:
"In this twisted world we live in, some may believe It's OK to be gay but it's darn sure not OK for teachers to be promoting homosexuality in our high schools.
Below is the page in this year's Lenoir City High School year book promoting a gay life style. I do not know the young man featured in the article nor do I even know if he is a student. But I do know this article could not have made it into the year book without a teacher approving it. You will note it is written in the third person. Who was the interviewer?
According to the Lenoir City High School web site, journalism teacher, James Yoakley, is responsible for both the publication of the year book and the school news paper, the same paper where all the controversy over the atheist student's manifesto came from.
Journalism
Instructor: Yoakley, James D.
This class offers a variety of learning experiences in business, graphic arts, photography, and writing. This is a production class in which the member accepts responsibility for the creation of the yearbook and newspaper. Click Here For Web Site
Mr. Yoakley is also the teacher who a couple of years ago refused to allow the two students Christian based article to run in the Panther Press. So apparently, Mr. Yoakley would discourage Christian values yet promote atheism and homosexuality.
Some might think I'm intolerant toward homosexuals but that would be wrong. If an individual wants to be a homosexual, that's their own decision and they will have to live with the consequences of that decision. What I am intolerant of is an adult, a teacher no less, inflicting their personal beliefs and sexual orientation decisions on impressionable students.
If in fact it was Mr. Yoakley or any other teacher who allowed this article to be published in the year book, they should be dismissed from the school immediately. If it is found or known that Mr. Yoakley or any other teacher at any time has had any conversations or discussions with this student or any other student about their sexual orientation, sexual activities or anything about their private lives prior to those students being of legal age, those teachers should be charged with child sex abuse by an authority figure and arrested.
I and I know many other parents and members of our community expect a full and open investigation by school administrators and law enforcement into this issue and to hold accountable any and all those who had a hand in this despicable act.
To my fellow school board members. Contrary to what you have been told and taught, you do have the right and the authority to eliminate substandard employees.
TCA 49-2-203
(a) It is the duty of the local board of education to:
(6) Except as otherwise provided in this title, dismiss teachers, principals, supervisors and other employees upon sufficient proof of improper conduct, inefficient service or neglect of duty; provided, that no one shall be dismissed without first having been given in writing due notice of the charge or charges and an opportunity for defense;
Exercise your authority."
Oh we will Mr. Shaver. We know you too well.
And now in tribute to the GAP boys — and gay teenagers who don't have their own advertising campaigns — John Barrowman and Daniel Boys will sing us out.