That's a picture of Ronald Poppo, precisely as I recall him when I last laid eyes on him 52 years ago. You can therefore imagine the shock when I discovered he was the central figure of a news item I'd made a FaBlog on only last week.
Surely the facts are not in dispute.
"Close to midnight on April 14, the Palmetto Senior High School prom inside Jungle Island's ballroom was winding down.
Outside, aspiring photographer Nick Carlesi, 21, was waiting to pick up his girlfriend, a Palmetto student.
Strolling a parking lot behind the Watson Island attraction, near a boat ramp, Carlesi and a pal saw a homeless man with a beard—and a smile on his face.
What struck Carlesi, who attends Santa Fe College, was the man's expression.
"Here's this bum who has nothing and he seemed so happy,'' he said.
So he asked the "scruffy'' man, as Carlesi described him, if he could take his picture. The man said yes, and struck a pose"
"Carlesi got close with his iPhone 4S, and clicked, shooting what was probably the last photo ever taken of Ronald Edward Poppo's undamaged face. The extreme close-up shows deep creases between Poppo's bushy eyebrows, folds under his dark eyes, and just the hint of a smile.
On May 26, Poppo, 65, a longtime Miami vagrant who'd lost touch with his family 30 years ago, was attacked on the MacArthur Causeway, not far from Jungle Island, by Rudy Eugene, 31, who beat him and chewed off his face."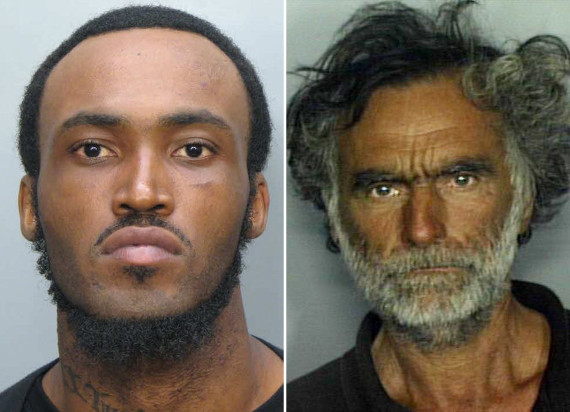 "Police had rousted Poppo from behind Jungle Island two days before the savage assault, which left Eugene dead from a police bullet and Poppo in critical condition at Jackson Memorial Hospital.
Carlesi, a Palmetto 2009 graduate, posted the photo on his Facebook and website page, nickcarlesiproductions.com, alongside pictures of sunsets and animals, the moon and beautiful women.
After media outlets ran booking photos of Poppo with stories about the attack, Carlesi realized it was the same man he'd photographed.
"He was wearing a jacket and normal clothes, not too ripped up,'' said Carlesi. "He didn't seem like a crazy person. He didn't smell bad."
He thanked Poppo, who replied: "No problem, man,'' and walked off"
No problem? Thirty years missing with his family convinced that he'd died long ago and "no problem"? Something happened. Something grave. Something that 52 years ago I couldn't possibly have foreseen.
"That is the Poppo — approachable and likable — remembered by David Ehrenstein.
Ehrenstein, a film critic and journalist whose latest book, Masters of Cinema: Roman Polanski, is due in September, says they were classmates at Flushing Christian Day School in Queens, N.Y..
"He was a very bright, funny kid — always making jokes and puns and things like that," Ehrenstein said. "He was a very lively guy. He was also very short — shorter than the rest of us. We weren't close friends, but everyone knew him. We always called him Poppo. No one ever called him by his first name. He was extremely academic and very smart. And somewhere along the way, his life fell apart and went off the rails."
Carlesi has seen the photos of Poppo's face since the attack — the unauthorized ones that have resulted in an investigation by Miami police, who want to know who shot them and posted them on the Internet. The photographs show his gruesome injuries.
The college student can't shake the disturbing contrast.
"He seemed like he was a good guy,'' Carlesi said."
Well he was a good guy. A good guy that a great number of bad things had happened to before this unimaginable horror.
What can one possibly say in the face of such calamities? What can one possibly say of the vagaries of life itself?
Only Mozart knows.
"Gentle be the breeze,
and calm the wave,
and may all elements
be favorable
to our needs"