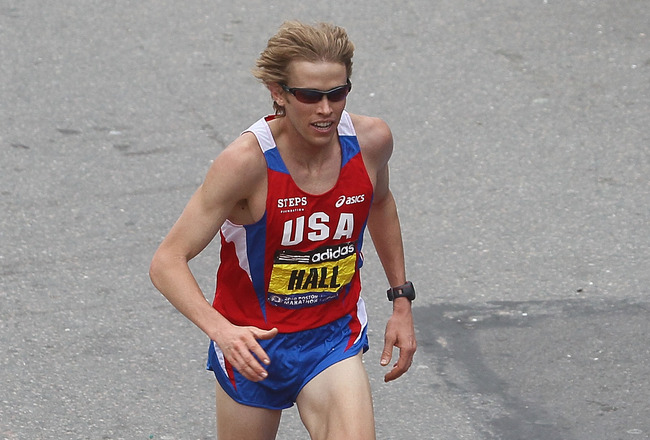 Separated at Birth?
Surely the facts are of no interest to The World's Worst NewspaperOnly the propaganda.
"REDDING, Calif. — Ryan Hall rocked slightly, palms up, closing his eyes or singing softly to lyrics projected on giant screens at the evangelical Bethel Church. Other worshipers jubilantly raised their arms and swayed and jumped in the aisles. A band played onstage and a woman waved a fabric flag like a rhythmic gymnast.
Thin and blond and boyish at 29 — flight attendants still asked his age when he sat in an exit row — Hall wore jeans and a blue shirt labeled with the shoe company that sponsored his running. At the 2011 Boston Marathon, he ran a personal best of 2 hours 4 minutes 58 seconds. No other American has run faster.
The Boston course is not certified for record purposes because of its drop in elevation and its layout. Still, of the 29 fastest marathon performances in 2011, Hall's was the only one by a runner from a country other than Kenya or Ethiopia. His next marathon will come Aug. 12 at the London Olympics. On a Sunday in March, Hall firmly believed he could challenge the East Africans for a gold medal.
"Light a fire in me for the whole world to see," he sang.'
Sweatin' with the Oldies!
"The Bible downloaded on his iPhone, Hall read along with Psalm 68: "Let God arise and his enemies be scattered." He took notes as Bill Johnson, the pastor, casually hip in a sports coat and jeans, spoke to hundreds of worshipers about risk-taking, saying, "If you live cautiously, all your friends will call you wise, but you won't move mountains."
"Hall has yet to win a major marathon. He finished 10th at the 2008 Beijing Olympics. After taking fourth at Boston in the spring of 2011, he finished fifth at the Chicago Marathon last fall. His preparation for the London Games has been complicated by foot problems, disappointing tuneup races and an acknowledgment that his initial training strategy — to try to shatter the world record — did not work. But Hall remains flexible, adaptable. He has four weeks until the Olympic marathon to refine a new approach begun over the past month.
"Sometimes, you have to fail your way to the top," Hall said in his open, easy manner in March. "Thomas Edison found a thousand ways not to make a light bulb before he got it right."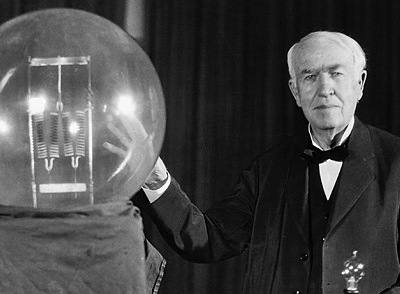 "Underpinning his running is his faith. The marathon is so isolating in its training, so impossibly fast at the elite level, so restricting to two performances a year for most top runners, that many athletes seek a purpose larger than themselves, something to believe in more than the numbing miles of roadwork. For some, it is their families or an escape from poverty. For others, it is their religion.
"If you run without any reason, you are just chasing the wind," said Wesley Korir, the reigning Boston Marathon champion from Kenya.
During the 2011 Chicago Marathon, Hall began singing praise to the Lord. Freestyling, he called it. Korir joined in.
"Come Lord Jesus, come," the two runners sang as they ran. "Come Holy Spirit, come."
After finishing second at the 2011 United States half-marathon championships, Hall went to drug testing, a standard procedure. Asked on a form to list his coach, he wrote: God.
You have to list the name of a real person, a doping official said.
"He is a real person," Hall responded."
Just like The Flying Spaghetti Monster
Not to mention this formidable Presidential Candidate
"Bethel Church, formerly affiliated with the Assemblies of God or Pentecostal faith, is a charismatic evangelical Christian fellowship with more than 3,000 congregants. It promotes a direct, personal relationship with an unconditionally loving God and what it calls supernatural signs and wonders. These include speaking in tongues, prophecy, healings and miracles that are said by church officials to include the curing of cancer, regeneration of limbs, mending of broken bones and raising the dead. "
IOW a convocation of charlatans and con artists that would be shut down were the government not loathe to do or say anything about organized religion.
"After the Sunday service in March, some worshipers came forward for healing ministry. Prayer teams circled them. Hands were laid on the spiritually and physically ailing. A few collapsed in apparent rapture in the presence of what they believed to be the Holy Spirit.
"Just what Jesus demonstrated in the Bible, we really do believe it; we're seeing it," said Eric Johnson, 35, the senior leader of Bethel Church and the son of Bill Johnson, 61, the senior pastor."
And if you do, I really do believe you're bat-shit crazy.
"Eric Johnson also spoke of "a culture of honor," serving your fellow man and living as Jesus lived. Hall donates prize money from his races to a nonprofit organization founded by himself and his wife, Sara, the national cross-country champion.
The nonprofit, called the Steps Foundation, is dedicated to fighting global poverty through improved health. The Halls have financed running programs in the United States to help mentor disadvantaged youth and homeless adults. They have also worked with Korir to build a hospital in Kenya's Rift Valley."
How sweet. Planning to do anything about Kenya's murderous anti-gay policies?
Yeah, right.
"As part of the so-called renewalist evangelical Christian movement, Bethel Church subscribes to a relationship with God that is not distant but intimate. Through prayer, charismatic evangelicals train their minds to converse with God, not unlike athletes who train their bodies to run marathons. They speak to God and believe that he speaks to them in return. "
We've seen this movie before
"There's a verse in the Bible that says we have the mind of Christ," Sara Hall said. "When you believe you have the mind of Christ, God can work in your own thoughts. His thoughts become your thoughts."
IOW, you're Bi-Polar!
"At Bethel Church, God's presence is felt in a number of ways, including what is said to be the appearance of feathers from angels' wings and the manifestation of what is called a "glory cloud."
Angels?
"Hall said he and his wife had experienced a glory cloud on New Year's night, likening the phenomenon to fireflies or the flashing of tiny fireworks. Others say it resembles gold dust. He had seen a YouTube version of the glory cloud and was somewhat skeptical, believing that it might be simply a cascade of dust from the ceiling of the church. His skepticism faded when he saw for himself.
"I feel like I've experienced God in a lot of ways, but I've never seen a sign like that in such a tangible way," Hall said. "I was like so sure it was God, that it was him doing it, because there was no explanation. I almost feel like we're kids and he's our dad and he's kind of like having fun with us."
Some fun!
"It is while running or thinking of running, Hall said, that he feels most conversant with and dependent on God. And it is through this professional excellence that Hall believes he is best able to show God to the world, to display his goodness and his love.
Joe Bottom, who won a gold and a silver medal in swimming at the 1976 Montreal Games and attends Bethel Church, compared Hall's Olympic pursuit to that of Eric Liddell, a Christian runner from Scotland who won the 400 meters at the 1924 Paris Games. Liddell's story was featured in the movie "Chariots of Fire."
In the movie, Liddell is portrayed as saying, "I feel God made me for a purpose, but he also made me fast. And when I run, I feel his pleasure."
There's been a remake you know.
"Bottom said in an e-mail: "It's fulfilling, even exhilarating, to feel God's pleasure in our willingness to pursue and occasionally fulfill the dreams He puts in our hearts and the purposes He built into us. Cooperating with that purpose and those dreams is the greatest fulfillment that one could experience."
Hall said that God spoke to him regularly, giving him training plans, even a race strategy for the London Olympics. He does not hear a voice; rather, he will pray or scroll through workouts in his head and a heightened thought will give him a sense of peace, grace, empowerment. Or a passage from the Bible will seem particularly relevant and urgent. Hall is still learning to distinguish his own thoughts from what he believes are God's words to him. And sometimes, he has done workouts that in retrospect seem unwise — a thigh-shredding hill run in Flagstaff, a bicycle time trial a week after the Boston Marathon."
Get therapy, dear — it's not too late! (Not to mention an Ice Pack for that shredded thigh.)
"But Hall has also found biblical reinforcement for his training. He takes one day off a week, just as God rested on the seventh day. Every seven weeks, for restoration he runs only once a day instead of twice, an allusion to Exodus 23:11 and the admonition that farmers should leave their fields fallow every seventh year.
At night, he rubs his legs with anointing oil, another reference to Exodus and the belief that the human body is the temple of the Holy Spirit. Hall bought — but did not immediately use — a weighted vest for uphill running, an idea gleaned from Judges 16:3 and Samson hoisting the doors of the city gate of Gaza on his shoulders and carrying them to the top of the hill facing Hebron.
In spacing three days between his most arduous workouts, Hall refers to the Holy Trinity and the time that Jesus spent in the tomb; for him, this period represents resurrection, completeness, new life."
The flesh-eating zombie of Gallilee has been an unaccountably attractive figure. A Robin Hood of the Undead as it were.
"The Bible is not going to tell you how to be a good runner, just like it's not going to tell you how to build a computer," Sara Hall said. "I don't think Ryan is looking at the Bible for a formula, necessarily. There are certain things that God highlights for him that he applies to his training. The majority is what he hears from God."
No, he sees the Bible as a formula. Isn't it obvious?
"Some elite runners seem taken aback by Hall's faith-based training.
"So he really thinks God is saying, 'Run 10 times 1,200 meters today,' or 'Take tomorrow off'?' " said Dathan Ritzenhein, who finished ninth in the marathon at the 2008 Beijing Olympics, one spot ahead of his countryman Hall. "Wow."
Hall's belief in a direct conversation with God was not a fringe occurrence, said T. M. Luhrmann, a Stanford anthropologist who spent a decade researching charismatic evangelicals and wrote a recent, critically acclaimed book, "When God Talks Back." Polls have shown that about a quarter of Americans have reported a direct revelation from God or have experienced a voice or a vision through prayer."
While the other three quarters want to have nothing to do with religion.
This mass disinclination to fealty to a Big Invisible Bi-Polar Daddy Who Lives in The Sky greatly troubles the keepers of the status quo. That's why this story is on the front page of The World's Worst Newspaper. And in this same issue Op-Ed Right Wing Zombie Ross Asshat throws shade on reigious "liberals" without any acknowledgement of the failure of religion overall.
"Just the way a well-parented child will carry with them the soothing voice of their mother and father, these folks are really trying to build God as that kind of personal relationship," Luhrmann said in an interview. "It really does give an emotional buffer to people. It seems people are able to carry with them a sense of comforting reassurance and a sense of inspiration. So it's not so alien as it seems."
That's what those in Power want — a population consisting entirely of "Well-parented" children.
"Hall does not appear defensive about challenges to his beliefs. Instead, he seems to relish the discussion. He does not view his reliance on God as an abdication of responsibility but as a means of empowerment.
"I'm my own toughest critic," Hall said. "I've messed up, but the mistake wasn't on God's end. I really believe God is always wanting to speak to me and reveal secrets to me and tell me what I need to be doing. I just mess it up sometimes.
"I'm very open about saying I don't have it all figured out," Hall said. "I don't necessarily feel I've hit a marathon completely right yet. But I don't think that's a reflection of some character flaw. I've learned to see myself as God sees me. We believe God sees us as perfect, almost as if we have a Jesus suit on, because he died for us and took away our sins."
A "Jesus suit"? Here ya go!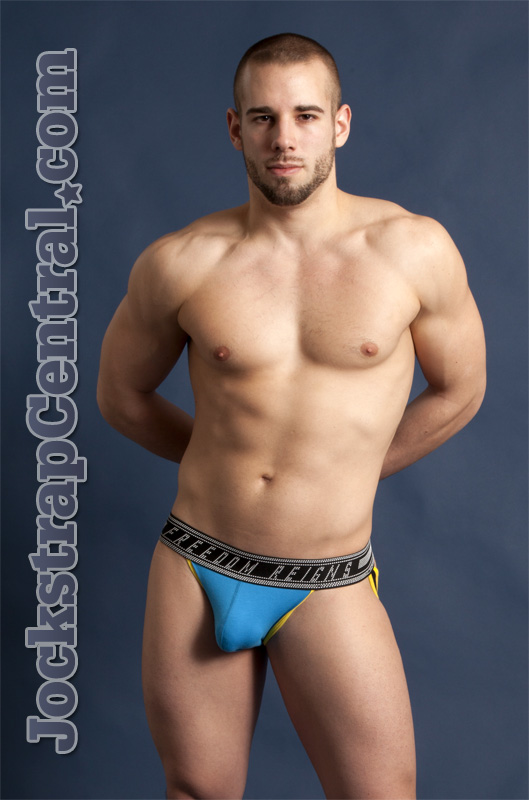 HOLY JOCKSTRAP, BATMAN!
As for Halls' cinematic role model –
"Ian Charleson (11 August 1949 – 6 January 1990) was a Scottish stage and film actor. He is best known internationally for his starring role as Olympic athlete and missionary Eric Liddell, in the Oscar-winning 1981 film Chariots of Fire
The Houghton Mifflin Dictionary of Biography describes Charleson as "a leading player of charm and power" and "one of the finest British actors of his generation." Alan Bates wrote that Charleson was "definitely among the top ten actors of his age group." Ian McKellen said Charleson was "the most unmannered and unactorish of actors: always truthful, always honest."
Charleson was diagnosed with HIV in 1986, and died in 1990 at the age of 40. He requested that it be announced after his death that he had died of AIDS, in order to publicize the condition. This was the first celebrity death in the United Kingdom openly attributed to AIDS, and the announcement helped to promote awareness and acceptance of the disease."
However —
"Charleson's other feature film roles are: punk-era Angel in his film debut Jubilee (1977) directed by Derek Jarman"
And Chariots of Fire producer David Puttnam advised Charleson to scrub this credit from his resume.
Can't have the star of the Most Patrictic/Religious Sports epic ever made associated with queer punks, can we?
And now Vangelis will play us out.
But not with that theme