Surely the facts are not in dispute — at least as far as The World's Worst Newspaper is concerned
"TEL AVIV — With rockets landing on the outskirts of Tel Aviv and Jerusalem on Friday and the Egyptian prime minister making a solidarity visit to Gaza, the accelerating conflict between Israel and Hamas — reminiscent in many ways of so many previous battles — has the makings of a new kind of Israeli-Palestinian face-off."
Doesn't look that new to me.
"The combination of longer-range and far deadlier rockets in the hands of more radicalized Palestinians, the arrival in Gaza and Sinai from North Africa of other militants pressuring Hamas to fight more, and the growing tide of anti-Israel fury in a region where authoritarian rulers have been replaced by Islamists means that Israel is engaging in this conflict with a different set of challenges."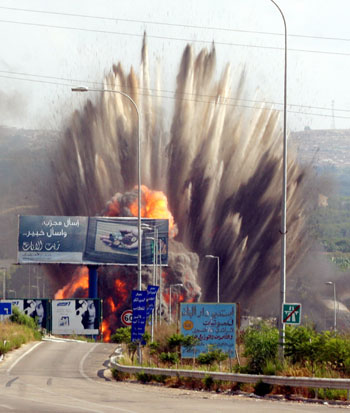 "The Middle East of 2012 is not what it was in late 2008, the last time Israel mounted a military invasion to reduce the rocket threat from Gaza. Many analysts and diplomats outside Israel say the country today needs a different approach to Hamas and the Palestinians based more on acknowledging historic grievances and shifting alliances.
"As long as the crime of dispossession and refugeehood that was committed against the Palestinian people in 1947-48 is not redressed through a peaceful and just negotiation that satisfies the legitimate rights of both sides, we will continue to see enhancements in both the determination and the capabilities of Palestinian fighters — as has been the case since the 1930s, in fact," Rami G. Khouri, a professor at the American University of Beirut, wrote in an online column. "Only stupid or ideologically maniacal Zionists fail to come to terms with this fact."
And there are plenty of them.
"But the government in Israel and the vast majority of its people have drawn a very different conclusion. Their dangerous neighborhood is growing still more dangerous, they agree. That means not concessions, but being tougher in pursuit of deterrence, and abandoning illusions that a Jewish state will ever be broadly accepted here.
"There is a theory, which I believe, that Hamas doesn't want a peaceful solution and only wants to keep the conflict going forever until somehow in their dream they will have all of Israel," Eitan Ben Eliyahu, a former leader of the Israeli Air Force, said in a telephone briefing. "There is a good chance we will go into Gaza on the ground again."
What is striking in listening to the Israelis discuss their predicament is how similar the debate sounds to so many previous ones, despite the changed geopolitical circumstances. In most minds here, the changes do not demand a new strategy, simply a redoubled old one."
Indeed!
Do we really need to know anything more about who's being played in all of this?
"The operative metaphor is often described as "cutting the grass," meaning a task that must be performed regularly and has no end. There is no solution to security challenges, officials here say, only delays and deterrence. That is why the idea of one day attacking Iranian nuclear facilities, even though such an attack would set the nuclear program back only two years, is widely discussed as a reasonable option. That is why frequent raids in the West Bank and surveillance flights over Lebanon never stop.
And that is why this week's operation in Gaza is widely viewed as having been inevitable, another painful but necessary maintenance operation that, officials here say, will doubtless not be the last. "
What I find most fascinating in the Netanyahu clip (above) is his evocation of the situation via images that sggest he's seen Roman Polanski's audition work for the Lodz film school.
"There are also those who believe that the regional upheavals are improving Israel's ability to carry out deterrence. One retired general who remains close to the military and who spoke on the condition of anonymity said that with Syria torn apart by civil war, Hezbollah in Lebanon discredited because of its support for the Syrian government, and Egypt so weakened economically, Israel should not worry about anything but protecting its civilians.
"Should we let our civilians be bombed because the Arab world is in trouble?" he asked.
So much was happening elsewhere in the region — the Egyptian and Libyan revolutions, the Syrian civil war, dramatic changes in Yemen and elections in Tunisia — that a few rockets a day that sent tens of thousands of Israeli civilians into bomb shelters drew little attention. But in the Israeli view, the necessity of a Gaza operation has been growing steadily throughout the Arab Spring turmoil."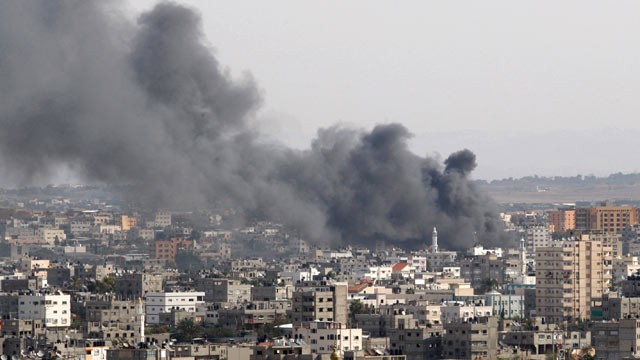 "In 2009, after the Israeli invasion pushed Hamas back and killed about 1,400 people in Gaza, 200 rockets hit Israel. The same was true in 2010. But last year the number rose to 600, and before this week the number this year was 700, according to the Israeli military. The problem went beyond rockets to mines planted near the border aimed at Israeli military jeeps and the digging of explosive-filled tunnels."
""In 2008 we managed to minimize rocket fire from Gaza significantly," said Lt. Col. Avital Leibovich, a military spokeswoman. "We started that year with 100 rockets a week and ended it with two a week. We were able to give people in our south two to three years. But the grass has grown, and other things have as well. Different jihadist ideologies have found their way into Gaza, including quite a few terrorist organizations. More weapons have come in, including the Fajr-5, which is Iranian made and can hit Tel Aviv. That puts nearly our entire population in range. So we reached a point where we cannot act with restraint any longer."
Gazans see events in a very different light. The problem, they say, comes from Israel: Israeli drones fill the Gazan skies, Israeli gunboats strafe their waters, Palestinian militants are shot at from the air, and the Gaza border areas are declared off limits by Israel with the risk of death from Israeli gunfire.
But there is little dissent in Israel about the Gaza policy. This week leaders of the leftist opposition praised the assassination of Ahmed al-Jabari, the Hamas military commander, on Wednesday. He is viewed here as the equivalent of Osama bin Laden. The operation could go on for many days before there is any real dissent."
"The question here, nonetheless, is whether the changed regional circumstances will make it harder to "cut the grass" in Gaza this time and get out. A former top official who was actively involved in the last Gaza war and who spoke on the condition of anonymity said it looked to him as if Hamas would not back down as easily this time.
"They will not stop until enough Israelis are killed or injured to create a sense of equality or balance," he said. "If a rocket falls in the middle of Tel Aviv, that will be a major success. But this government will go back at them hard. I don't see this ending in the next day or two."
I don't either. And neither would Brecht, Weill & Tom