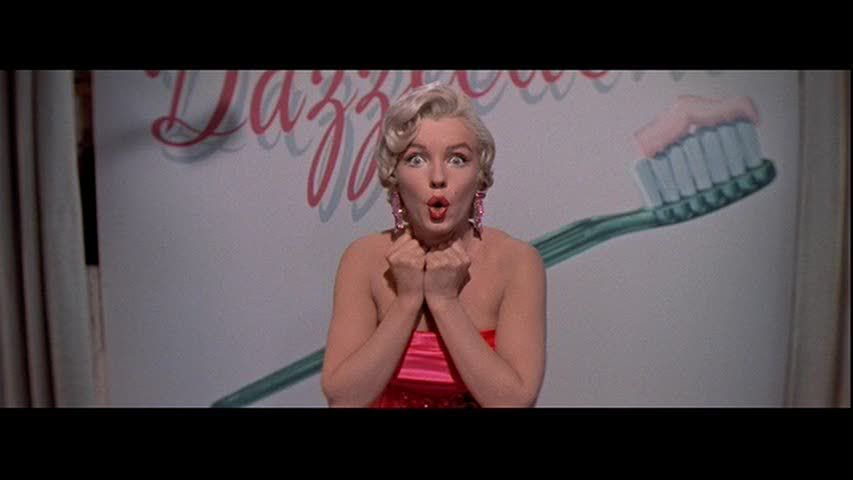 Surely the facts are. . .HUNH?!?!!
"LOS ANGELES — FBI files on Marilyn Monroe that could not be located earlier this year have been found and re-issued, revealing the names of some of the movie star's communist-leaning friends who drew concern from government officials and her own entourage.
But the records, which previously had been heavily redacted, do not contain any new information about Monroe's death 50 years ago. Letters and news clippings included in the files show the bureau was aware of theories the actress had been killed, but they do not show that any effort was undertaken to investigate the claims. Los Angeles authorities concluded Monroe's death was a probable suicide."
Miz Monroe — She Dead.
"Recently obtained by The Associated Press through the Freedom of Information Act, the updated FBI files do show the extent the agency was monitoring Monroe for ties to communism in the years before her death in August 1962."
IOW, she didn't really mean it when she sang —
Could those chorus boys have been . . .Commie spies?
"The records reveal that some in Monroe's inner circle were concerned about her association with Frederick Vanderbilt Field, who was disinherited from his wealthy family over his leftist views."
"A trip to Mexico earlier that year to shop for furniture brought Monroe in contact with Field, who was living in the country with his wife in self-imposed exile. Informants reported to the FBI that a "mutual infatuation" had developed between Field and Monroe, which caused concern among some in her inner circle, including her therapist, the files state.
"This situation caused considerable dismay among Miss Monroe's entourage and also among the (American Communist Group in Mexico)," the file states. It includes references to an interior decorator who worked with Monroe's analyst reporting her connection to Field to the doctor.
Field's autobiography devotes an entire chapter to Monroe's Mexico trip, "An Indian Summer Interlude." He mentions that he and his wife accompanied Monroe on shopping trips and meals and he only mentions politics once in a passage on their dinnertime conversations."
We get the picture
"She talked mostly about herself and some of the people who had been or still were important to her," Field wrote in "From Right to Left." "She told us about her strong feelings for civil rights, for black equality, as well as her admiration for what was being done in China, her anger at red-baiting and McCarthyism and her hatred of (FBI director) J. Edgar Hoover."
Frederick Vanderbilt Field (April 13, 1905 – February 1, 2000) was an American leftist political activist and a great-great-grandson of railroad tycoon Cornelius "Commodore" Vanderbilt, disinherited by his wealthy relatives for his radical political views. Field became a specialist on Asia and was a prime staff member and supporter of the Institute of Pacific Relations. He also supported so many openly Communist organizations that he was accused of being a member of the Communist Party and was a top target of the American government during the peak of 1950s McCarthyism. Field denied ever having been a party member, but admitted in his memoirs that "I suppose I was what the Party called a 'member at large."
"For all the focus on Monroe's closeness to suspected communists, the bureau never found any proof she was a member of the party."
Maybe Hoover should have looked more closely at Marilyn's relationship with this Commie Symp
"Subject's views are very positively and concisely leftist; however, if she is being actively used by the Communist Party, it is not general knowledge among those working with the movement in Los Angeles," a July 1962 entry in Monroe's file states.
Here she is using her Commie charms to woo an impressionable Don Bachardy
Shocking!
And as we all know she DID believe in Global Warming
A Commie plot if I ever saw one! Oh the humanity!