At first I didn't think I'd have much to say about Manti T'eo, the Mormon Samoan Notre Dame football star so much in te news for having a fake girlfriend, whether as a consequence of "Catfishing" (as he would appear from certain angles to claim) or overt, fully-conscious mendacity.
The way the "Mainstream Media" has harped on this nonsense is quasi-pathological in and of itself. And for a moment it looked like it was heading for fadeout. But now, thanks to ESPN it's back for yet another round.
"Manti Te'o told ESPN on Friday that he was not part of a girlfriend hoax, but he did acknowledge tailoring his stories to lead people to believe that he had met her in person before her supposed death.
It was the first time that Te'o, Notre Dame's all-American linebacker, expanded on his side of a story that has gripped the country in recent days"
Sports Geeks are not "the country." And fake girlfriends
don't pose a problem to the rational.
"During a dominant season, in which he led Notre Dame to the Bowl Championship Series title game, the often-retold story was that Te'o was inspired by playing through the pain of the early-season deaths of his girlfriend and his grandmother. On Wednesday, the Web site Deadspin broke the news that the girlfriend had never really existed.
On Friday, Te'o told ESPN in an off-camera interview, "I wasn't faking it."
So you currently claim. But hy should anyone believe it?
"He said he did not make up the story of a girlfriend who had died to bolster his chances of winning the Heisman Trophy. (He finished second to Texas A&M's Johnny Manziel.)
When people "hear the facts, they'll know," he told ESPN. "They'll know that there is no way that I could be part of this."
ESPN said Te'o was interviewed for two and a half hours while at the IMG Training Academy in Bradenton, Fla., where he is preparing for the N.F.L. draft.
Te'o told ESPN that he had embellished the story of the relationship at times because it would have been too embarrassing for people to know that he had not met her before her death. That apparently included lying to his father, who shared stories with reporters about their meetings."
"He said the relationship began on Facebook. He said that he tried to video chat with her through Skype and FaceTime, but that it did not work out.
Notre Dame has said Te'o learned on Dec. 6 that things may not have been what they seemed. He told ESPN that a person said to be behind the hoax reached out to him to apologize two days ago through Twitter."
Why should anyone care if T'eo Manti has a girlfriend or not? Isn't he just another pituitary case willing to run into others of his kind at high speeds with great impact on large outdoor fields before massive audiences who have bet hundreds of thousands of dollars on the outcome of actions that will end in brain injury and early death for him?
"Notre Dame, which has stood by Te'o in the aftermath of revelations about the hoax, pushed him to go public and tell his story, Athletic Director Jack Swarbrick has said. In a podcast released Friday, Swarbrick said he did not fault those who did not believe Te'o or the university's account of events surrounding the hoax. Swarbrick said he understood that those doubts would not be eased until Te'o came forward. He said, "Skepticism was easy to understand."
Swarbrick said that because of their silence, Te'o and his family had "lost the opportunity to, in some ways, control the story."
And what is this "story" that requires "control"?
Why it's Heterosexuality of course.
Sports is Heterosexual Verification and (over and above all) flaunting. When men ar getting physical with other men in public in any way we must be assurred that that they can't be placed anywhere on the Kinsey Scale.
IT'S THE LAW!!!!!em>
"Before Friday's interview, Te'o's only statement had been on Wednesday evening, when he said he was the target of "what was apparently someone's sick joke and constant lies," calling it "painful and humiliating."
The same night, Swarbrick held a news conference, saying that even after an investigation, he still had full faith in Te'o.
But through Thursday and much of Friday, Te'o remained silent, even as new allegations about his story swirled, including a tale of confession from the supposed mastermind.
On Friday morning, ESPN reported that Ronaiah Tuiasosopo
called a friend from church in early December and admitted to being behind a plan to trick Te'o into believing he was in a relationship with a girl who had died, according to the friend, who was identified only as a woman in her 20s.
As details trickled out after Deadspin broke the story of the hoax, Swarbrick said he had continued to stand by Te'o, who reported the situation to the university Dec. 26.
"Everything I have access to right now does nothing to shake my belief in Manti," Swarbrick said in the podcast, adding that he was "overwhelmed with the cruelty of this."
Such resolve. Very Jodi Arias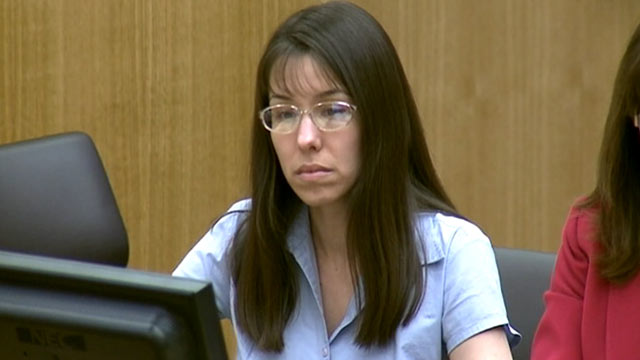 "He continued, "There is just a core cruelty here, which is just very sad for me, and a terrible statement about where we are today and how social media is a tool in some really bad stuff."
Swarbrick said Te'o and his family had initially planned to come out with the story on their own next week. "Sometimes the best-laid plans don't quite work," he said.
Te'o's mother, Ottilia, answered the door at the family's home in Laie, Hawaii, and said, "We're not talking at this time." She added that the family had not determined if it would make a statement."
Manti Te'o has told family and friends that the woman who was the voice of his fictitious girlfriend "Lennay Kekua" called him in December and said she had to fake her own death months earlier to elude drug dealers, the Honolulu Star-Advertiser has learned.
The woman, who has yet to be identified, tried to re-engage a relationship with Te'o months after she supposedly had died of leukemia in early September, the Notre Dame All-American linebacker has told the people close to him. The account was shared with the Star-Advertiser by a source close to the Te'o family.
According to the account, Te'o asked the woman to transmit a photo to him with a date stamp, which she did, but this did not allay his suspicions and he later told his family and Notre Dame officials about being scammed.
The account does not give the date of the call but on Wednesday Notre Dame athletic director Jack Swarbrick told a campus press conference that the woman contacted Te'o on Dec. 6 while he was in Florida for an ESPN post-season awards show. "He received a phone call from a number that he recognized as having been associated with Lennay Kekua," Swarbrick said. "When he answered it, it was a person whose voice sounded like the same person that he had talked to, who told him she was, in fact, not dead."
On Dec. 26, Te'o notified school officials, according to a statement from Te'o Wednesday.
Subsequently Notre Dame commissioned an investigation that concluded Te'o had been the victim of a hoax, the school said.
In his statement, Te'o said he was embarrassed to acknowledge that he was the victim "of what apparently was someone's sick joke and constant lies," a hoax in which he had a long-distance online and phone relationship with a fictitious woman, whom he knew as Lennay Kekua.
However, Te'o has yet to address questions about statements he made to the press about her death from cancer after Dec. 6.
The bizarre case became national news after the website deadspin.com published a story Wednesday that Kekua did not exist. The story of Te'o playing through the pain of having his grandmother and girlfriend die within 24 hours of each other became a major narrative in Notre Dame's storybook 2012 season. With Te'o as a team captain, the Fighting Irish had a 12-0 regular season and lost in the championship game to Alabama on Jan. 7.
The new details on the December phone call come on the heels of a report earlier today by ESPN which quoted a woman who said the California man allegedly behind the girlfriend hoax had admitted to her that he and his cousins had duped Te'o, a 2009 Punahou School graduate from Laie.
The woman told the ESPN show "Outside the Lines" that Ronaiah Tuiasosopo of California cried when he admitted to her in December that he was involved in the scam. ESPN did not identify the woman at her request but described her as in her 20s and a church friend of Tuiasosopo.
"He (Ronaiah) told me Manti was not involved at all, he was a victim. The girlfriend was a lie; the accident was a lie; the leukemia was a lie," the woman told ESPN. "He was crying; he was literally crying. He's like 'I know, I know what I have to do.'"
She added, "It is not only Manti, but he was telling me that it is a lot of other people they had done this to."
Outside the Lines interviewed two others who said they had family members who had a similar hoax played on them by Tuiasosopo.
The deadspin.com story identified Tuiasosopo as the man behind the scheme, but also raised questions about whether or not Te'o was a willing participant in the hoax.
Notre Dame's Swarbrick, meanwhile, said Friday he has strongly encouraged the Te'o family to speak publicly. Except for the brief written statement Wednesday following the deadspin.com report, the family has not commented. A planned one-on-one interview Thursday with Te'o was scrubbed.
Meanwhile, several TV sites, including Inside Edition, have identified the woman in the photo that had been posted on Kekua's Facebook page as Diane O'Meara, a 23-year old who works in marketing. She has said the photo was used without her permission and she was not involved.
Clear as mud — ain't it?
After all, t really doesn't matter if T'eo was "catfished" or complicit. What matters is he's STRAIGHT — right?
And a major hat-tip to th lovely Dan Savage
for being the first to mention what we'll now use to sing us out