Speaking ill of the dead is one of life's greatest pleasure — when the corpse in question thoroughly deserves deserves it
Needless to say The World's Worst Newspaper isn't about to throw the loathesome closet queen any shade
Edward I. Koch, the master showman of City Hall, who parlayed shrewd political instincts and plenty of chutzpah into three tumultuous terms as mayor of New York with all the tenacity, zest and combativeness that personified his city of golden dreams, died Friday morning at age 88.
Mr. Koch's spokesman, George Arzt, said the former mayor died at 2 a.m. from congestive heart failure. He was being treated at New York-Presbyterian Columbia Hospital.
Mr. Koch had experienced coronary and other medical problems since leaving office in 1989. But he had been in relatively good health despite — or perhaps because of — his whirlwind life as a television judge, radio talk-show host, author, law partner, newspaper columnist, movie reviewer, professor, commercial pitchman and political gadfly.
Ebullient, flitting from broadcast studios to luncheon meetings and speaking engagements, popping up at show openings and news conferences, wherever the microphones were live and the cameras rolling, Mr. Koch, in his life after politics, seemed for all the world like the old campaigner, running flat out.
Only his bouts of illness slowed Mr. Koch down, most recently forcing him to miss the premiere of "Koch," a documentary biographical film that opens on Friday in theaters nationwide.
Here's amuch more interesting movie about Koch and his ilk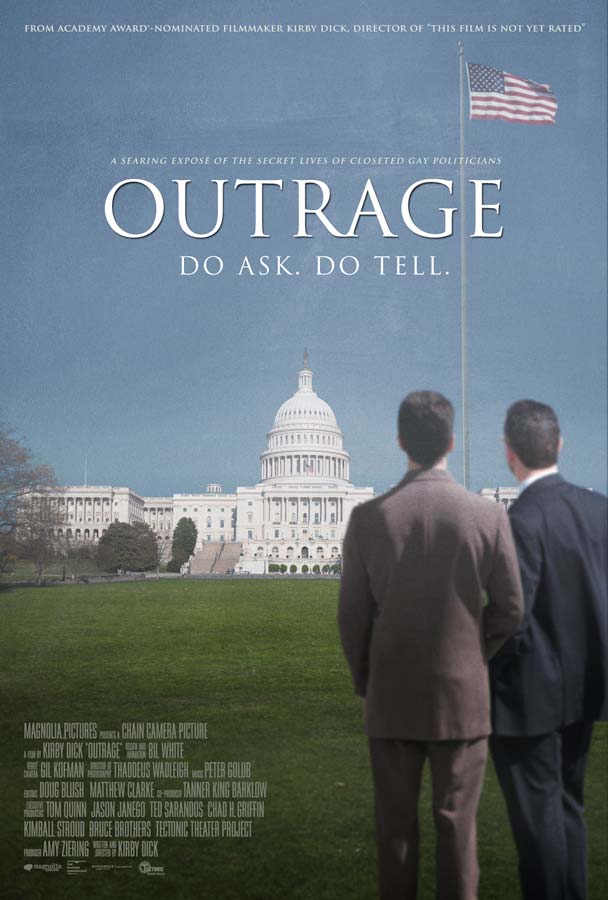 "The Republicans do not have a complete monopoly on closeted gays targeting LGBT issues, according to the film. New York City mayor Ed Koch kept a lover, Richard Nathan, and refused to answer questions about his sexuality, claims Wayne Barrett of the Village Voice in "Outrage," one of many journalists, political insiders and politicians interviewed in the film. After their relationship ended, Nathan was alleged to feel unsafe in New York and left. Meanwhile, Koch did little to help the AIDS crisis as it gripped the city's gay community during his tenure, and his former lover died of the disease in 1996."
But you won't find out anything about that in the NYT obit
Mr. Koch, for whom the headline "Hizzoner" seemed to have been coined, was a bachelor who lived for politics. Perhaps inevitably there were rumors, some promoted by his enemies, that he was gay. But no proof was offered, and, except for a single affirmation that he was heterosexual, he responded to the rumors with silence or a rebuke. "Whether I am straight or gay or bisexual is nobody's business but mine," he wrote in "Citizen Koch," his 1992 autobiography.
What would have constitutted "proof" for the NYT? A blue cum-stained dress from the GAP perchance? As always The Heerosexaul Dictatorship Hears No Gay, Sees No Gay, Speaks No Gay.
And that was Merv — whose biggest offense was promising his boyfriends the moon and leaving them a LaCoste shirt.
Even in death the beat goes on as this Daily Beast piece proves
Koch, who has always been blessedly bashful about his sex life, arguing quite reasonably that "it's nobody's fucking business," regularly clashed with gay activists even as he enacted regulations and laws to protect homosexuals from discrimination in private and public employment and housing. During the AIDS crisis of the 1980s, the Koch administration distributed a million free condoms and shut down gay bath houses that didn't require their use.
"So nobody can accuse me of running away from gays because I was afraid they'd think I was gay," Koch says, though that never helped his standing with AIDS activist Larry Kramer, whose play The Normal Heart assails Koch for alleged apathy. "What's interesting is Kramer lives in my apartment building," Koch says. "The first time I met him, I didn't know who he was. He had a marvelous-looking dog. An Irish Wheaten. And I said, 'That's a marvelous-looking dog.' He looks at me, and then I realize it's Larry Kramer. He says to the dog, 'Molly, don't talk to that man!' I think to myself, 'This is a crazy!'"
Koch continues: "In his play, the character that's supposed to be Kramer says he tried to get his gay friends who were dying to stop having sex—any sex—and that Koch, who was so popular, if he told them not to have sex, they would stop having sex. I say to myself, this guy is a meshuggeneh. You're going to tell people in the prime of life they should stop having sex? I told them to have safer sex using a condom. Kramer blames me for their continuing to have sex. What are you gonna do with such a person?"
Give him a great big kiss
As for Ed Koch, as Mary McCarthy said of Lillian Hellman, every word Koch ever said was a lie — incliding "and" and "the."
and Teh Ghey wasn't all — as Pravda notes
While AIDS activists at the time chided the mayor for being ineffectual, Mr. Koch cited the more than $400 million in government spending he had directed towards the crisis, the housing he ordered built for AIDS patience, and his opposition to AIDS discrimination.
His mayoralty also was defined several racially-charged crimes, including one in 1984 in which Bernhard Goetz, a white man who became known in the headlines as the "Subway Vigilante," shot four black men he believed were about to mug him aboard a No. 2 Express train. Five years later, five black and Hispanic teenagers were accused of raping and beating a woman jogging in Central Park, an attack that Mr. Koch branded at the time as "the crime of the century."
The convictions of the men were later overturned, a saga that became the subject of a Ken Burns documentary, "Central Park Five."
Four months after the jogger case dominated the headlines, Yusef Hawkins, a 16-year-old African American, was shot to death after he and three friends were attacked in the white neighborhood of Bensonhurst in Brooklyn. Hawkins' death prompted the civil rights activist Al Sharpton to lead protest marches through the neighborhood, at which white onlookers mocked the marchers by holding up watermelons.
The worst personal crisis Mr. Koch would face came in his third term, after he won re-election in 1985 with 78 percent of the vote.
Corruption scandals impaled many of his appointees and political allies, one of whom, Donald Manes, the Queens borough president, committed suicide with a kitchen knife in 1986 as federal investigators focused their probe on allegations that he took bribes and steered government contracts. Rudolph W. Giuliani, then the U.S. Attorney for the Southern District, led the prosecution into the scandal, a role that helped him launch his political career.
Although he was never implicated himself, Mr. Koch said in a 2009 Washington Post interview that the scandals were among the most difficult days of his mayoralty.
"I said to myself, 'Is this how I'm going to be remembered?' " he said. "I went into a state of depression that no one was aware of."
New Yorkers grew tired of the mayor's apparently unceasing need to share his opinions on everything from life in the Soviet Union ("The pits," he said) to an assessment of his own physique ("I'm a Greek God").
"Greek"? Active or passive?
Mr. Koch never married and, throughout his life, deflected questions about his sexuality. While mayor, he was often accompanied to official events by Bess Myerson, a TV personality who had been the first Jewish Miss America.
HE FORCED HIS LOVER RICHARD NATHAN OUT OF THE CITY IN ORDER TO FURTHER HIS POLITICAL AMBITIONS AND WHEN NATHAN SEROCONVERTED LEFT HIM TO DIE OF AIDS ALONE!
Oh it's a vicious world. Right Rufus?