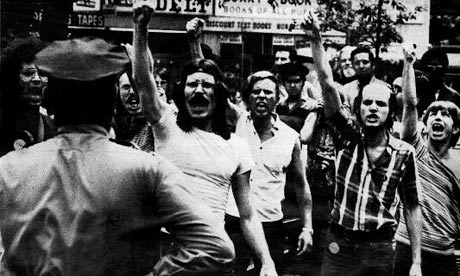 Surely the facts are being wildly oversimplified
I received a provocative e-mail from a prominent gay journalist this week. It had two words: "It's over."
We had been exchanging thoughts about what a remarkable week it has been in the battle for gay rights: The Boy Scouts moved toward ending their gay ban; word came that the fast-food chain Chick-fil-A stopped donating to antigay causes;
No it hasn't. Haven't you ever heard of "Bait and Switch"?
and the Mormon-founded Marriott Corp. joined the gay side in the legal fight against the Defense of Marriage Act.
A "Business Decision" if there ever was one.
And that was just Monday.
By Tuesday, President Obama announced his sweeping immigration reform plan that includes protections for some same-sex binational couples.
The operative term is "some."
By Wednesday, 49ers player Chris Culliver's offensive remark about not welcoming gays on the team
- and the immediate backlash followed by his apology – reminded us of how unacceptable homophobia has become, even in the macho world of professional sports. By any measure it does, indeed, feel as if we have passed the tipping point in the crusade for gay rights and that there are only individual battles still to be fought.
And here's a perfect example of one of those "individual battles"
Similar polls at the national level show a clear majority favoring not only rights for lesbian, gay, bisexual and transgender people, but also same-sex marriage. Even a survey of young evangelicals, done in 2011 by the Public Religion Research Institute, shows 44 percent of them supporting same-sex marriage, compared with only 12 percent of evangelicals over 65.
And that's because of –
Opponents of full equality for gays and lesbians are still vocal, of course. Sen. John McCain, R-Ariz., immediately threw cold water on the president's gay protections on immigration. But even McCain may just be mouthing the expected words, considering he had an openly gay chief of staff for many years.
THIS queen.
Other conservatives are more realistic. Newt Gingrich (something of an expert on marriage himself), recently told Republicans opposed to same-sex marriage to surrender, saying, "Gay relationships will be legal, period." Add to that the LGBT election victories in November, and the future political wins on the horizon. The biggest prize may be New York City, which seems poised to become the largest American city with an openly lesbian mayor, City Council Speaker Christine Quinn, who is the Democratic front-runner.
Though not everyone's on board for that
All of this comes after an election in which Obama's support of marriage equality proved a total nonissue – just eight years after it was the wedge issue that helped re-elect George W. Bush.
Similarly, there was very little criticism after Obama used his inaugural address to compare the civil rights movement to the gay rights struggle that was launched at the Stonewall Inn in 1969. Is it any wonder that in this climate, celebrities like Anderson Cooper could no longer giggle his way through Kathy Griffin's gay jokes without acknowledging his sexuality? Even Jodie Foster finally did her best to – in the words of the satirical Onion newspaper – "inspire teens to come out using vague, rambling riddles." Being closeted seems more passe with every awards show
Somebody tell —
and
Even the sports world has bet on the gay side. The San Francisco 49ers already won the gay Super Bowl by becoming the first NFL team to record an anti-bullying "It Gets Better" video. The Niners follow the San Francisco Giants, which was the first major-league team of any sport to join the campaign.
The fight is far from over, of course. Next up, besides Prop. 8 and DOMA, is an attempt to finally pass the Employment Non-Discrimination Act, which would ban antigay hiring practices. In 29 states, someone can still be fired for being gay.
Despite the repeal of the lawspertaining to the subject of Meryl's song
Leave us not forget. . .
Oh Fuck You, Tony!
And the mistreatment of gays and lesbians in some foreign countries is pervasive, but it is finally in the spotlight, thanks to social media and the wired world.
Thanks to the likes of –
Marriott told Business Insider's website that while he still thinks marriage should be between a man and a woman, he added, "We have to take care of our people, regardless of their sexual orientation or anything else. We have all the American values: the values of hard work, the values of integrity, the values of fairness and respect."
And that's really all that many gay people wanted in the first place.
Uh, no.
What we always wanted is what we always had — provided we possessed the guts
Gavin Creel will Sondheim us out