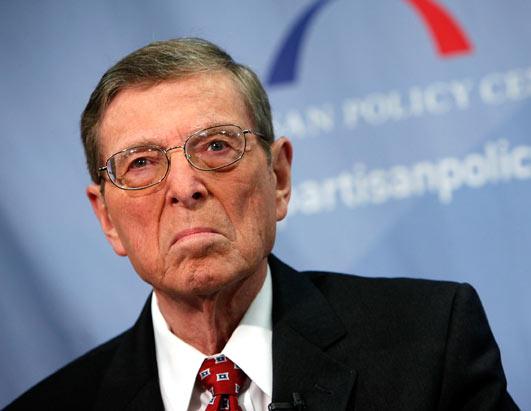 One He Had A Secret Love
But that secret's no secret anymore
Former New Mexico Senator Pete Domenici revealed today that he fathered a son in an extramarital affair with another senator's daughter more than 30 years ago and has kept the secret since then, only telling his own family in the last "several months."
In a statement to the Albuquerque Journal, the 80-year-old Republican, who represented New Mexico for more than 30 years, said the mother of his son "made me pledge that we would never reveal that parenthood and I have tried to honor that pledge and so has she."
Domenici wrote that he was worried about the privacy of his son, a 34-year-old Nevada lawyer named Adam Laxalt, as well as the potential impact on Laxalt's mother, Michelle Laxalt, 58. Domenici has eight other children with his wife Nancy.
NINE KIDS!!!!!! If you can't keep it in your pants wear your rubbers!
"My past action has caused hurt and disappointment to my wife, children, family, and others. For that I am solely responsible," Domenici, who still lives in Washington, D.C., said in the statement. "My family has been aware of these events for several months. I have apologized as best as I can to my wife, and we have worked together to strengthen our relationship. I deeply regret this and am very sorry for my behavior. I hope New Mexicans will view that my accomplishments for my beloved state outweigh my personal transgression."
Yadda, yadda, yadda.
Michelle Laxalt, the daughter of former U.S. senator and Nevada Gov. Paul Laxalt, is a former government relations consultant and lobbyist. Paul Laxalt was a U.S. senator from Nevada from 1974 to 1987 and served as chairman of the Republican National Committee.
Domenici told the newspaper he made the confession because he believed someone else was about to make the story public.
Who? Matt Drudge? Ben Shapiro?
"Rather than have others breach this privacy, I have decided to make this statement today. These circumstances now compel me to reveal this situation," Domenici said.
Michelle Laxalt also put out a statement to the Albuquerque Journal, saying, "one night's mistake led to pregnancy more than 30 years ago.
"I chose to go through with that pregnancy, although other choices were available," Laxalt wrote. "I also chose to raise my child as a single parent. Given the fact that both my father and the father of my child were United States senators, I felt strongly that I would make this choice according to my values, and would not seek advice, input or permission. My interaction with my child's father consisted of telling him my decision, asking that he avail himself for health-related purposes, and asking that he agree that this remain private between the two of us."
She said she raised her son Adam "surrounded by love and joy and opportunity."
Indeed!
"I am proud of him, yet saddened that the circumstances of his birth might be used like a weapon to hurt many we love," Laxalt said in the statement. "Recently information has come to me that this sacred situation might be twisted, re-written out of whole cloth, and shopped to press outlets large and small in a vicious attempt to smear, hurt and diminish Pete Domenici, an honorable man, his extraordinary wife, Nancy, and other innocents. Why after more than 30 years, would anyone insinuate pain and ugliness where joy and beauty have presided?"
Why indeed? After all tis is the 21st Century and we're all above such things — aren't we Matt?
Ben?
Buehller?
Adam Laxalt returned an e mail interview request from ABC News writing that he has "lived my entire life as a private citizen and intend to remain one."
"I plan to address personal issues privately and will not be commenting or joining any public discussion," Laxalt wrote.
According to his online biography at his Las Vegas law firm, Adam Laxalt served for five years as a Naval Officer and lawyer in the U.S. Navy. He was also deployed to Iraq, where he provided legal advice on detainee detention operations.
Here's the L'il Bastard now
And here's the official skinny
Mr. Laxalt brings significant litigation, military and political experience to his role as Of Counsel in the firm's Litigation Practice Group. Before joining Lewis and Roca, he served for 5 years as a Naval Officer and lawyer in the U.S. Navy. Mr. Laxalt worked in Italy as a regional prosecutor and legal advisor to the Commanding Officer. In his role as a legal advisor, he managed more than 100 criminal matters, resulting in 65 administrative actions and 16 full-scale statutory investigations. As a prosecutor, he oversaw 15 courts-martial, three guilty-pleas, two fully contested trials (one before a jury and one before a judge), and three Article 32 hearings (akin to preliminary hearings in civilian court).
In addition, Mr. Laxalt was deployed to Iraq to serve in a general counsel type role with Task Force 134, where he provided legal advice on detainee detention operations. While there, his unit received the Joint Meritorious Unit award. In his final duty station in the Navy, he served as a non-tenured Professor of Law at the U.S. Naval Academy where he taught a course on Constitutional, Criminal and International Law.

Before joining the Navy, Mr. Laxalt worked as a Law Clerk for the U.S. Air Force General Counsel; Special Assistant to John Bolton, Undersecretary of State for International Security and Arms Control; and staff member for Senator John Warner (R-VA)
a fortiori.
Memberships and Affiliations
• St. Thomas More Society of Nevada, Board of Directors
• Catholic Charities of Southern Nevada, Board of Directors
• UNLV William S. Boyd School of Law Mentor Program
Publications
• Author, "Sleeping Giant: ObamaCare May Awaken Activists," Las Vegas Review-Journal, July 2012
• Author, "For Nevada GOP Caucus, Lessons of '64 and '76 Don't Apply," Las Vegas Review-Journal, February 2012
• Co-Author, "Detainee Madness," National Review Online, December 2011
• Author, "Recovering the Spirit of '49," National Review Online, February 2011
• Co-Author, "Defense Lessons from Europe," National Review Online, March 2011
• Author, "An End to 'Don't Ask'," National Review Online, Dec 2010
• Co-Author, "Justice Scalia's Timely Advice," American Spectator (also appeared in Real Clear Politics), February 2011
Speaking Engagements
• Guest Host, "Point of View," 91.5 The Source on KUNV Las Vegas, December 2011
Other Distinctions
• Joint Service Commendation Award
• Navy and Marine Corps Commendation Medal
• Navy Achievement Medal
Let's take a close look at "An End to 'Don't Ask'," National Review Online, Dec 2010
Thousands of years of cultural development have gone into keeping men from having sex with everything in sight — and all of the bulwarks notwithstanding, men still love to have sex. We all know this. Which brings me to the relevance of this fact to the issue at hand: The military cannot tolerate sex in combat. The military also cannot tolerate the tensions that surround sexual relationships or potential ones.
As a testament to this, look at the current state of gender in combat. Today, most of the 14,000 soldiers in combat arms and Marines who responded to this survey do not even have women in their units — 70 percent in the Marine Corps, and 58 percent in the Army.
In and out of battle, the military still struggles mightily with sex in the ranks. As a staff judge advocate (the legal adviser to the commanding officer) in the Navy, I spent a majority of my time dealing with issues that involve sex and relationships; I personally reviewed hundreds of these situations. It was all incredibly disheartening. There are sexual assaults, sexual discrimination, and even prostitution rings. Some of the allegations are false, but they still drain countless resources and personnel hours.
NO SHIT, SHERLOCK!
Needless to say FAUX has an answer to that problem at the ready.
While the great majority of our troops do the right thing in this arena, a small minority can monopolize all the personnel time in a unit. The military is a microcosm of society, and human nature is on full display. We do the best we can with the imperfections God gave us. Adding a new layer of sexual and social relations — which I presume, perhaps unfairly, is what permitting homosexuals to serve openly is all about — would make fighting wars harder. There really is no question about that.
Hogging the weights at the gym no doubt
Homosexuals are, de facto, allowed to be in the military right now. They can serve their country. They do so all around the world. Under "don't ask, don't tell," however, they do not force the military to deal with an added layer of relationships. Allowing homosexuals to "live out" their sexuality and their relationships in the military would cause many problems. Along with more sex comes more assaults, more sexual tension, and more of everything we already battle on a daily basis. Politicians must be able to step up and discuss this without fear of being slammed as bigots.
Such sensitive darlings those bigots.
So, I offer another compromise to add to the "don't ask, don't tell" compromise: Allow openly gay men and women to serve in all military jobs and positions that do not require living in close quarters.
Because we all know what THAT would mean!
(Hubba-Hubba!)
Off-limits areas that most immediately come to mind are ship-deployable Navy units, combat-arms designators in the U.S. Army, special operations for all services, and the U.S. Marine Corps. This leaves giant swaths of military-service opportunities for openly gay Americans, including almost all of the Air Force, most hospital positions, and administrative jobs in the various services. Judging by my own observation, gays tend to serve disproportionately in medical positions already. The military is a complex beast, however, so it should work out the details itself.
LOVE THAT BEAST!
Unfortunately, I do not think a compromise could actually emerge out of this process. Political momentum flows one way or the other all the time, but in many instances, true leaders are conspicuously absent. In this case, it appears that one lone veteran in the U.S. Senate, John McCain, is prepared to be just that in seeking to ensure that the conclusion reached is based on facts.
NOT GRANDPA AGAIN!!!!!!
Admittedly the "Mainstream Media's" favorite zombie was fetching in his youth
(I've already discussed his misadventures)
McCain's courage is commendable, but he should not have to stand alone. Other politicians must step up and really talk about the core of this issue. At the very least, Congress should heed the advice given by three of the military's four service heads and postpone repeal. Gen. James F. Amos, the commandant of the Marine Corps, testified on Friday before a Senate panel that "if the law is changed, successfully implementing repeal and assimilating openly homosexual Marines into the tightly woven fabric of our combat units has a strong potential for disruption at the small-unit level."
We owe it to our warriors to take our time, ask the hard questions, and make sure we get this right.
Well they got it right. The ban was repealed. As for you and your "Birth Father" Miss Ross will sing us out.