A "relatively unflappable" Cardinal Roger Mahony answered questions under oath for more than 3 1/2 hours Saturday about his handling of clergy sex abuse cases, according to the lawyer who questioned the former archbishop.
"He remained calm and seemingly collected at all times," said attorney Anthony De Marco, who represents a man suing the Los Angeles Archdiocese over abuse he claims he suffered at the hands of a priest who visited his parish in 1987.
Mahony has been deposed many times in the past, but Saturday's session was the first time he had been asked about recently released internal church records that show he shielded abusers from law enforcement.
–which is why the old creep is so unflappable.
De Marco declined to detail the questions he asked or the answers the cardinal provided, citing a judge's protective order.
The deposition occurred just before Mahony was to board a plane for Italy to vote in the conclave that will elect the next pope. In a Twitter post Friday, Mahony wrote that it was "just a few short hours before my departure for Rome."
And we know what that means — right Tony?
Church officials did not return requests for comment.
The case, set for trial in April, concerns a Mexican priest, Nicholas Aguilar Rivera. Authorities believe he molested at least 26 children during a nine-month stay in Los Angeles.
He must have been aiming for a Guinness World Record
Recently released church files show Aguilar Rivera fled to Mexico after a top Mahony aide, Thomas Curry, warned him that parents were likely to go the police and that he was in "a good deal of danger." Aguilar Rivera remains a fugitive in Mexico.
The archdiocese had agreed Mahony could be questioned for four hours about the Aguilar Rivera case and 25 other priests accused in the same period. De Marco said he did not get to ask everything he wanted and would seek additional time after the cardinal returned from the Vatican.
Past depositions of Mahony have eventually become public, and De Marco said he would follow court procedures to seek the release of a transcript of Saturday's deposition.
Sending pedophile priests to Mexico has been a Mahony specialty. Rather interesting considering all the hysteria about "illegals" crossing the border to live and work here — when the truth of the matter is the Meixan people have a lot more to fear from the child rapiss the U.S. church sends there.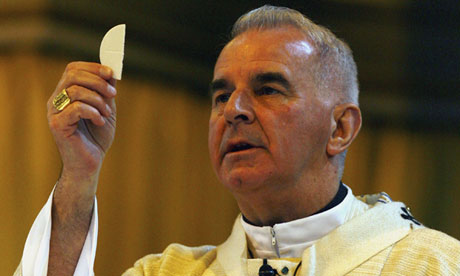 While the Catholic Church fiercely denies that any form of gay blackmail brought down Pope Benedict XVI, another leading religious figure is calling it quits after reports of same-sex "inappropriate acts." Cardinal Keith O'Brien, who leads the church in Britain, stepped down today as archbishop of Edinburgh and St. Andrews following accusations from three working priests and one ex-priest that he made illicit advances on them over the years. As such, O'Brien will no longer be invited to Rome to select a new pope.
Today Benedict announced that the conclave to choose his replacement will be allowed to start early, skipping the standard fifteen-day wait, if all the eligible cardinals have arrived. They'll be at least one man short.
In a statement, O'Brien insisted that he's been meaning to resign for a while, but Benedict just happened to decide that today was a good day for it to take effect. "Looking back over my years of ministry: For any good I have been able to do, I thank God. For any failures, I apologize to all whom I have offended," O'Brien said, adding, "I do not wish media attention in Rome to be focused on me — but rather on Pope Benedict XVI and on his successor."
The unwanted attention comes after Britain's Observer reported on Sunday that at least four men each had their own stories about an "inappropriate approach" from O'Brien or "unwanted attention" during some late-night drinking. In public, the cardinal has been known to call gay marriage a "grotesque subversion of a universally accepted human right" and compare it to reintroducing slavery. "What if a man likes little girls? Can he adopt a little girl and then just have a little girl at home?" he asked. "We are working towards the destruction of any sort of moral standards."
Interestingly O'Brien had no interest in little girls OR little boys — only adult fellow priests They can of course be quite fetching in their cassocks.
As for gay marriage while it's scarcely a "grotesque subversion," this week's New York Magazine shows
IT AIN'T ALL THAT!
Looks like everyone's headed to Mexico. Right Burt?