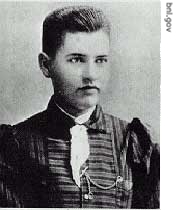 The World's Worse Newspaper invariably strives to have The Last World on everything. It's latest victim Willa Cather
For decades Willa Cather has been a peculiar enigma in 20th-century American literature: beloved by ordinary readers for vivid evocations of frontier life in novels like "O Pioneers!" and "My Antonia," but walled off from closer personal scrutiny by some of the tightest archival restrictions this side of J. D. Salinger.
YIKES!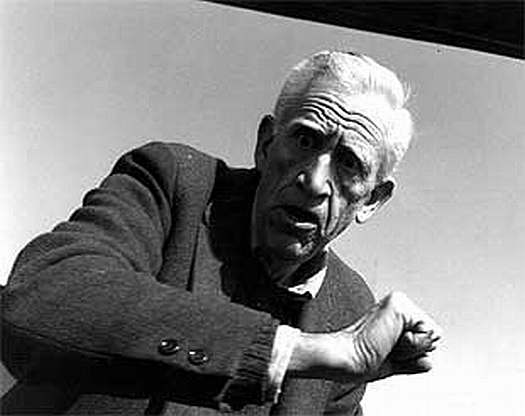 Cather was believed to have destroyed most of her letters and sternly ordered that her surviving correspondence never be published or quoted from, a wish her executors adhered to unbendingly, even as it fueled sometimes rancorous debate about her sexuality.
The Heterosexual Dictatorship invariably instigates "rancorous debate" about the screamingly obvious.
But next month, nearly seven decades after Cather's death in 1947, the doors of her interior life will be thrown open with the publication of "The Selected Letters of Willa Cather," an anthology of 566 of the roughly 3,000 letters that turned out to have survived, scattered in some 75 archives.
WOW. Imagine what Wally would have done had the internet been invented.
For scholars it's a major literary event, a chance at last to flesh out the understanding of a writer often seen as a remote bluestocking in big skirts and old-fashioned hats.
Doncha just LOVE this one?
Cather, the letters reveal, was a powerfully engaged literary businesswoman who corresponded with H. L. Mencken, F. Scott Fitzgerald and other notables of the day — and once playfully took those skirts off, as a charming youthful letter recounts, to clamber down a windmill in a thunderstorm.
The letters do not yield steamy intimate detail. But they do make clear that Cather's primary emotional attachments were to women, while also laying to rest what the volume's editors, in interviews, called a persistent urban legend: that of the fanatically secretive author eager to erase any record of shameful desire.
"There's really no evidence for the idea that she wanted all her letters destroyed," said Andrew Jewell, an associate professor at the University of Nebraska at Lincoln, who is an editor, with Janis Stout, of the new collection, published by Alfred A. Knopf. "It's just one of those pieces of gossip that has taken hold in published scholarship."
What praytell, constitutes "really no evidence" if its taken this long for these letters to surface?
Cather did want to be known solely by her books, and took obsessive care over their presentation: quibbling with publishers over margin widths, forbidding excerpts for anthologies and banning movie adaptations. ("My decision about dramatization," she wrote after a disappointing 1934 adaptation of "A Lost Lady," "is absolute and final.") Edith Lewis, her companion of nearly four decades and first executor, even stood firm against paperback editions until the 1960s.
Haven't seen it — though it's bound to turn up on TCM one day soon, I expect. Alfred E. Green is no auteur, but Barbara Stanwyck never gave an indifferent performance, and it's hard to imagine Cather not liking her.
Ms. Stout and Mr. Jewell, in their preface, acknowledge that publication of the letters "flagrantly" violates Cather's wishes, expressed in a will that partially expired in 2011 with the death of her nephew and second executor, Charles Cather. But publication, they argue, advances the deeper purpose of Cather's restrictions: cementing her status as a major literary artist.
"These lively, illuminating letters will do nothing to damage her reputation," they declare. Instead they reveal her as "a complicated, funny, brilliant, flinty, sensitive, sometimes confounding human being."
See? She was just a regular gal.
In overturning Cather's wishes the editors have not just time but critical mass on their side. Twenty years ago a few hundred of her letters were known to have survived. By 2002, when Ms. Stout, then a professor at Texas A&M University, published a guide to all known letters, she had tracked down more than 1,800.
That book, expanded online with Mr. Jewell's help, flushed out more correspondence, including caches from Cather family members who had kept their distance from scholars.
"It may be that they didn't understand how valuable these letters would be," Ms. Stout said, noting in particular a rich trove of some 350 family letters donated to the University of Nebraska in 2007 by descendants of Roscoe Cather, Willa's beloved brother.
That's Roscoe on the left
Ms. Stout and Mr. Jewell, sensing a possible change in the legal climate, began drawing up a book proposal about five years ago. After Charles Cather's death in 2011, the copyrights passed to the Willa Cather Trust, a partnership of the Cather family, the University of Nebraska Foundation, and the Willa Cather Foundation, an educational organization in her hometown, Red Cloud, Neb.
The ban on quotation and publication of the letters was quickly dropped, along with the ban on film adaptations.
(with NPH!)
"I think it's quite elegant," Guy Reynolds, an English professor at the University of Nebraska and a board member of the Cather Foundation, said of the arrangement. Most royalties will "support public access to Cather's material."
The lifting of the letters ban, scholars say, will also be a huge boon to Cather scholarship, which has been hindered by an inability to quote even a single word of what she said about her private life, let alone agree on what she actually meant.
Again the obfuscation. Anything redolent of strange twilight urges must be discounted or the Heterosexual Dictatorship SPANK!
In the 1980s and '90s that difficulty helped fuel intense polemics over Cather's sexuality, as feminist and queer theory scholars began seeking disguised erotic turmoil under Cather's placid-seeming literary surfaces, to the dismay of more traditionally minded critics.
In a 1995 article in The New Yorker, Joan Acocella blasted new-style Cather scholars for their obsession with psychosexual subtext, declaring it was time "for the professional critics to give up and leave her books to those who care about them — her readers."
Translation: "DYKES KEEP OUT!!!!!!"
It was a dim view shared by Charles Cather. "He was very hostile to scholarship, and personally aggrieved toward me," said Sharon O'Brien, the author of an influential 1987 biography that dug deep into Cather's sexuality and conflicted relationship with her mother. "I couldn't get anywhere near him."
Indeed, he's quite off-putting.
Cather herself railed against critics who had been "violently inoculated with Freud." But today her lesbianism is widely accepted by scholars and barely raises a ripple among the kind of small-town Nebraskans she often wrote about.
"I teach Cather all the time," Mr. Reynolds, of the University of Nebraska, said. "It's not as if there's an uproar. People just take it in stride."
Indeed. We've seen the latest polls on Marriage Equality.
Ms. Stout said that Cather did destroy her letters to Isabelle McClung, with whom she shared a bedroom for five years in her 20s, and who is widely acknowledged as the love of her life.
AUTOGRAPHED!
But newly available letters from the late 1930s, Ms. Stout argues, suggest that Cather's burning of the McClung correspondence (which McClung's husband returned to Cather following McClung's death in 1938) had less to do with any sexual secrecy than with Cather's overwhelming depression in those years, which may have also influenced the privacy provisions in her will.
"We knew she was depressed, but I didn't know how depressed until I read those letters," Ms. Stout said. The burning of the McClung letters, she speculated, was "a final act of renunciation."
As for Edith Lewis, only one full letter to her survives, though Mr. Jewell holds out faint hope that more might surface, citing a "pretty reliable" story about a nurse who tried to sell some things she had taken during Lewis's final illness.
Edith was lovely.
Other new material, including a joint notebook from a 1925 trip to New Mexico (inspiration for "Death Comes for the Archbishop"), donated by Charles Cather, promises to provide insight into Cather's collaborative relationship with Lewis, an advertising copywriter whom scholars have sometimes depicted as merely Cather's secretary cum doormat.
Mr. Reynolds called Cather's late-life obsession with privacy an "enduring mystery" but speculated that it reflected the ambivalence of a literary celebrity who was born in the age of Twain and lived almost into the age of Mailer and Pynchon.
Quite a contrast there. One's a Publisexual, the other a literary recluse.
Cather became "quite annoyed at the state of publicity surrounding her in the 1930s," when she appeared on the cover of Time, he said.
But now Cather "no longer belongs entirely to herself," Ms. Stout added. "She belongs to everyone."
But especially the LGBT.
I have always been fascinated by the promence given to her 1906 story Paul's Case in High School english classes. The tale of "sensitive" (read QUEER) youth who slides from alienation to larceny and finally suicde, I've always felt it was made part of the canon by queer teachers — wanting to give queer students something.
Here are a few salient passages:
His eyes were remarkable for a certain hysterical brilliancy, and he continually used them in a conscious, theatrical sort of way, peculiarly offensive in a boy.
IOW he was quite like Cather admirer Truman Persons
His teachers felt this afternoon that his whole attitude was symbolized by his shrug and his flippantly red carnation flower, and they fell upon him without mercy, his English teacher leading the pack.
Typical.
As for Paul, he ran down the hill whistling the "Soldiers' Chorus" from Faust, looking wildly behind him now and then to see whether some of his teachers were not there to writhe under his lightheartedness.
His greatest enjoyment was working as a theater usher.
When Paul reached the ushers' dressing room half a dozen boys were there already, and he began excitedly to tumble into his uniform. It was one of the few that at all approached fitting, and Paul thought it very becoming- though he knew that the tight, straight coat accentuated his narrow chest, about which he was exceedingly sensitive. He was always considerably excited while be dressed, twanging all over to the tuning of the strings and the preliminary flourishes of the horns in the music room; but tonight he seemed quite beside himself, and he teased and plagued the boys until, telling him that he was crazy, they put him down on the floor and sat on him.
Hard-ons bulging.
But Paul escapes — big time.
Not once, but a hundred times, Paul had planned this entry into New York. He had gone over every detail of it with Charley Edwards, and in his scrapbook at home there were pages of description about New York hotels, cut from the Sunday papers. When he was shown to his sitting room on the eighth floor he saw at a glance that everything was as it should be; there was but one detail in his mental picture that the place did not realize, so he rang for the bellboy and sent him down for flowers. He moved about nervously until the boy returned, putting away his new linen and fingering it delightedly as he did so. When the flowers came he put them hastily into water, and then tumbled into a hot bath. Presently he came out of his white bathroom, resplendent in his new silk underwear, and playing with the tassels of his red robe. The snow was whirling so fiercely outside his windows that he could scarcely see across the street, but within the air was deliciously soft and fragrant. He put the violets and jonquils on the taboret beside the couch, and threw himself down, with a long sigh, covering himself with a Roman blanket. He was thoroughly tired; he had been in such haste, he had stood up to such a strain, covered so much ground in the last twenty-four hours, that he wanted to think how it had all come about. Lulled by the sound of the wind, the warm air, and the cool fragrance of the flowers, he sank into deep, drowsy retrospection.
And out this comes —
he had been sent to the bank with Denny & Carson's deposit, as usual–but this time he was instructed to leave the book to be balanced. There was above two thousand dollars in checks, and nearly a thousand in the bank notes which he had taken from the book and quietly transferred to his pocket. At the bank he had made out a new deposit slip. His nerves had been steady enough to permit of his returning to the office, where he had finished his work and asked for a full day's holiday tomorrow, Saturday, giving a perfectly reasonable pretext. The bankbook, be knew, would not be returned before Monday or Tuesday, and his father would be out of town for the next week. From the time he slipped the bank notes into his pocket until he boarded the night train for New York, he had not known a moment's hesitation. It was not the first time Paul had steered through treacherous waters.
Ah Ha!
Paul breakfasted late, and in the afternoon he fell in with a wild San Francisco boy, a freshman at Yale, who said he had run down for a "little flyer" over Sunday. The young man offered to show Paul the night side of the town, and the two boys went out together after dinner, not returning to the hotel until seven o'clock the next morning. They had started out in the confiding warmth of a champagne friendship, but their parting in the elevator was singularly cool. The freshman pulled himself together to make his train, and Paul went to bed. He awoke at two o'clock in the afternoon, very thirsty and dizzy, and rang for icewater, coffee, and the Pittsburgh papers
Can we say "structuring absence" boys and girls? Clearly Paul and the San Francisco boy got busy in the wee smalls. But Wally won't go there. He has An Appointment in Sammara to keep — with a railroad train. Very Anna Karenin sans Vronsky.
He felt something strike his chest, and that his body was being thrown swiftly through the air, on and on, immeasurably far and fast, while his limbs were gently relaxed. Then, because the picture-making mechanism was crushed, the disturbing visions flashed into black, and Paul dropped back into the immense design of things.
Oh how I treasure that last line!
Here are a few takes on the stry from an on-line literary site.
I have read and taught "Paul's Case" many times.

It seems to me that one part of Paul's "case" is that he is gender-variant. There are NUMEROUS indications of this both in Paul's actions and in the wording Cather often uses when describing him. For instance, on the first page alone, she uses "hysterical" twice and "peculiarly offensive in a boy." Hysterical comes from the Greek "hyster," meaning womb. Could anything be MORE feminine?!

Paul does things which are more "typically" feminine than masculine– looks at women only for their clothing, goes shopping the first thing upon his arrival in NYC, uses violet water (which he hides at home, indicating he knows it's not "right"), etc., etc. To miss these and as many more such details is inexplicable in any reader, in my opinion.

As in real life, though, Paul's case and ultimate suicide are determined not just by gender non-conformity but also by the rampant capitalism and fairly rigid class structure of his time, not to mention family issues. Paul also exhibits elements of narcissistic disorder and ADHD, both of which could make school frustrating in the extreme for him. But I cannot see how any of these other factors are as prominent as is his being gender-variant (which is often but not always indicative of homosexuality, as recent studies have shown).

Paul may also be representative of the American who wants to "reinvent" himself — and perhaps his life thus far has not prepared him to do it. But I still think the real hitch, even here, is that he acts — due to his very nature — outside the bounds of what society considers ok for males.

Remember, he seems to always be looking around him and to see if people are watching him and trying to notice something. What could be more typical of the feminine boy (or masculine girl) in a society where gender-variance is considered a reason for people to kill you?! The very way he moves his eyes is considered "peculiarly offensive in a boy"– I don't think any valid reading of the work can ignore that
Here's another view
1. For me, the sexuality issue jumped right off the page
I taught "Paul's Case" to an advanced ESL class last year. I was teaching out of school-based curriculum that insisted on a particular book of stories which contained a somewhat modified version of "Paul's Case" for English language learners. When I first read it to get my lesson plans together, the idea that Paul was gay seemed to leap right off the page and was, for me as a reader, quite central to the story.

I agree with some of the other posters that his drive to escape his bourgeois life and flee to New York to a world of culture, beauty and freedom is inextricably linked to his non-standard sexual identity. The protagonist's flamboyant style of dress, his penchant for opera and many other traits Cather gives him point toward some kind of alternative sexuality. While it's true that dressing flamboyantly and liking opera do not make a person gay, I believe Cather's use of these quirks in such a short, concentrated story are her way of indicating that Paul is deeply different from the people around him on some level; they don't accept him and he doesn't accept them either. Whether this is a case of a homosexual who is unable to "pass" for straight or someone who is gay and doesn't even know it, or someone who is simply too unusual for his surroundings, we may never know. Perhaps it was an ingenious move on Cather's part to give every reader something to identify with in Paul.

If, like me, you believe Cather has written Paul as a gay character, it gives the story a realistic edge. Paul's flight traces quite literally a centuries-old (at least two centuries and arguably closer to three) journey of many American gays. I've never explored Willa Cather's sexuality, but something compelled her to write about the difficulties of someone whose sexuality at best makes others nervous and uncomfortable and at worst makes the person who doesn't fit a particular societal mold wish they could escape society permanently.

The debate still rages about whether society's treatment of gays puts them at higher risk for suicide attempts than the general population, especially during their teen years, but I am inclined to believe this is true, given the cruel treatment that gays and young people who manifest non-standard gender traits receive in schools even today, in a supposedly more "tolerant" era than that of "Paul's Case."

I decided not to bring it up myself and to leave it to my students to delve into this if they picked up on it, which they did. The class debate is beyond the scope of this post, but one student did point out that she thought Paul was gay, most agreed, while a few, like some on this board, disagreed and thought she was making a mountain out of a mole hill. It did give the class reading of the story a definite arc that some of the more flat readings of the semester didn't have, making it a more memorable reading than most from that textbook.
And here's some good news for today's Pauls from (of all people) Chris Christie
New Jersey Gov. Chris Christie's spokesman is clarifying that Christie does not believe in gay conversion therapy after the governor earlier in the week declined to take a stance on the controversial practice.
"Governor Christie does not believe in conversion therapy," spokesman Kevin Roberts said in a statement, according to The Star-Ledger. "There is no mistaking his point of view on this when you look at his own prior statements where he makes clear that people's sexual orientation is determined at birth."
Christie, a potential 2016 GOP presidential candidate, still has not taken a position about whether he'd sign a bill outlawing gay conversion therapy.
Earlier this week, Jersey's state Senate passed a controversial bill that would make it illegal for counselors to practice so-called gay conversion therapy — a practice that tries to make to make a homosexual person become heterosexual.
"I'm of two minds just on this stuff in general. No. 1, I think there should be lots of deference given to parents on raising their children," Christie said at a news conference on Wednesday. "I don't — this is a general philosophy, not to his bill — generally, philosophically, on bills that restrict parents' ability to make decisions on how to care for their children, I'm generally a skeptic of those bills. Now there can always be exceptions to those rules, and this bill may be one of them."
His remarks on Wednesday garnered criticism from his Democratic gubernatorial opponent Barbara Buono.
"The governor said he doesn't know much about gay conversion therapy. I don't know how much more you need to know," she said on on a conference call, according to The Star-Ledger. "I couldn't believe the stunning level of ignorance that that statement showed."
Well now he's clarified the matter
Sing us out boys!