That's what the Los Angeles Times is doing in this editorial
The Boy Scouts' long-standing refusal to admit gay members is deplorable and offensive. But it's also legal. Just because we — or California legislators — might disagree with the discriminatory path the Boy Scouts has taken doesn't mean the organization should be singled out from other nonprofits to lose its tax-exempt status.
In light of the tsunami of pedophilie scandals in which the Scouts criminall embroiled taxes are the least of their worries.
A bill that passed a state Senate committee this week would do just that. Under SB 323,, carried by Sen. Ricardo Lara (D-Bell Gardens), the Boy Scouts of America (though unnamed in the bill) would have to pay state sales taxes as well as taxes on any money it raised in California — such as the proceeds from hawking caramel corn, Christmas trees or anything else — unless it admitted boys who are gay or transgender.
The aims of the bill are understandable and even laudable. But the Scouts' membership policy has been upheld by the U.S. Supreme Court, which in 2000 ruled 5 to 4 that the ban on gay members is protected under the Constitution because the group's opposition to homosexuality is part of its "expressive message."
Is it now!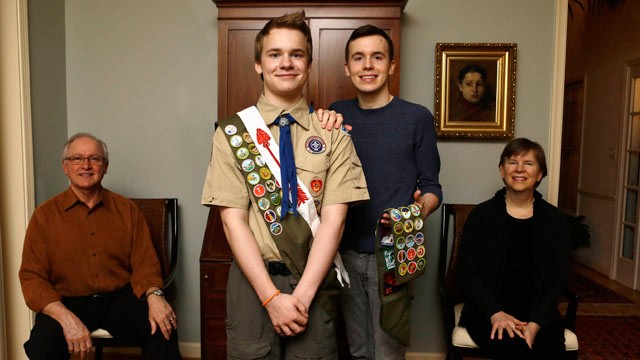 Tax-exempt status is not conferred on groups for having policies beloved by lawmakers or even a majority of a state's residents. It is designed for nonprofits that provide a public benefit and that meet the requirements of reinvesting income into their programs rather than taking profits. Though nonprofits are not supposed to intervene in or take positions on political campaigns for public office, there is no requirement that they be non-controversial or meet any political litmus test.
But the Scouts from itsinception has had a political litmus test
"Robert Stephenson Smyth Baden-Powell, 1st Baron Baden-Powell, OM, GCMG, GCVO, KCB (pron.: /ˈbeɪdən ˈpoʊ.əl/; 22 February 1857 – 8 January 1941), also known as B-P or Lord Baden-Powell, was a lieutenant-general in the British Army, writer, founder of the Scout Movement and first Chief Scout of The Boy Scouts Association.
Tim Jeal, who wrote the biography Baden-Powell, argued that Baden-Powell's distrust of communism led to his implicit support, through naïveté, of fascism. In 1939 Baden-Powell noted in his diary: "Lay up all day. Read Mein Kampf. A wonderful book, with good ideas on education, health, propaganda, organisation etc. – and ideals which Hitler does not practise himself." Baden-Powell admired Benito Mussolini early in the Italian fascist leader's career.
Some very early Scouting "Thanks" badges had a swastika symbol on them. According to biographer Michael Rosenthal, Baden-Powell used the swastika because he was a Nazi sympathiser. Jeal, however, argues that Baden-Powell was ignorant of the symbol's growing association with Nazism and that he used the symbol for its centuries-old meaning of "good luck" in India. Also, Baden-Powell was named by the Nazis in "The Black Book of people to be arrested during the conquest of Great Britain. Scouting was regarded as a dangerous spy organisation by the Nazis. Finally, when Nazi use of the swastika became well-known, the Scouts stopped using it."
As you can see, Adolph was the perfect Boy Scout.
The term "public benefit" is usually defined broadly and spans many groups that are vehemently disliked by segments of the population. The American Federation for Equal Rights, a group that advocates for gay rights, is tax exempt, even though there are people who find its work abhorrent and even immoral. So is the National Organization for Marriage, a group that works vehemently against same-sex marriage. Why, then, is California singling out the Boy Scouts' "expressive message" as unworthy of a tax exemption?
Because a law was proposed and voted on by democratic process, WELL DUH! Should other laws be proposed and voted on to encompass other offenders of this kind? Of course!
For that matter, why not target the Boy Scouts for discriminating against girls and the Girl Scouts for not allowing boys?
Baden-Powell created the Boy Scouts in 1907, shortly after returning to England from a tour of duty as a cavalry officer in South Africa. During the Boer War he successfully commanded a vastly outnumbered force of 1,250 men during the siege of Mafeking, and he went home a national hero. Within just a few years, the Scouts had spread throughout the British Empire, Europe, and the United States, and almost from the beginning there were scoutmasters who loved their little charges not wisely but too well. One naughty leader after another trailed sadly through the courtrooms, to the delight of the dirty London tabloids.

Although Baden-Powell himself never landed in court, he was certainly a strange man. He was obsessed with boys and "boyology." The index of Tim Jeal's excellent biography Baden-Powell speaks of his "aesthetic and sexual interest in men," "pre-marital celibacy," "dreams of young men," and "anxieties over sexuality." He got married, at 55, to (as Jeal put it) "a sporting girl whose interest in outdoor comradeship seemed at least as great as her desire for sexual fulfillment," and he even managed to beget three children. But thereafter he always slept out on his balcony (and this in the English climate) rather than in the marriage bed.
"B-P," as he was known throughout the Scout movement, studiously recorded his dreams, which were often about young men. In one, he recalled, a soldier snatched a whip away from him and asked whether he had ever been "disciplined." And in his 1908 manual Scouting for Boys, which has a fair claim as one of the most influential books of the 20th century, he focuses keenly on lust (though he does not mention homosexuality outright). Baden-Powell considered sexual desire a transitory phase in adolescence, and he was obsessed with self-abuse. He recommends that a young man beset by impure thoughts should drive them way by plunging his "racial organ" into icy water.
How vivid.
Getting back to the LAT —
There are legitimate questions about whether any nonprofit group should be exempt from taxes and thus subsidized by the government and its taxpayers. That's especially true when the old concept of a grass-roots charity that gets by on a shoestring budget gives way to sophisticated organizations that pay their executives handsome salaries, spend lavishly on items not directly tied to their missions and test the limits of the rules on political campaigning.
But that's a separate matter. We yearn for the day when the closed-minded leaders of the Boy Scouts join the 21st century, but we also worry about the implications of SB 323. If legislators can go after the Scouts for engaging in legal (though offensive) behavior, what group will they go after next?
How about the Catholic Church?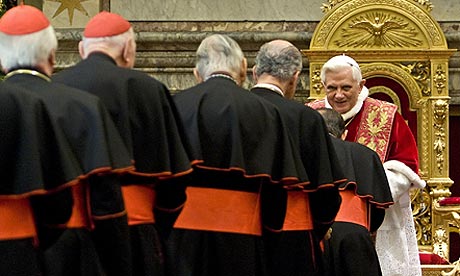 Tom Lehrer
will of course sing us out.