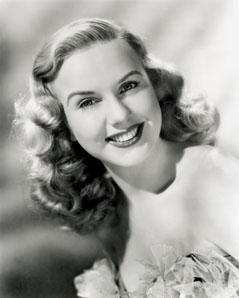 As the ever-estimable Dr. Chilledair has noted, Deanna Durbin has bought the farm
Deanna Durbin, who as a plucky child movie star with a sweet soprano voice charmed American audiences during the Depression and saved Universal Pictures from bankruptcy before she vanished from public view 64 years ago, has died, a fan club announced on Tuesday. She was 91.
In a newsletter, the Deanna Durbin Society said Ms. Durbin died "a few days ago," quoting her son, Peter H. David, who thanked her admirers for respecting her privacy. No other details were given.
Ms. Durbin had remained determinedly out of public view since 1949, when she retired to a village in France with her third husband.
From 1936 to 1942, Ms. Durbin was everyone's intrepid kid sister or spunky daughter, a wholesome, radiant, can-do girl who in a series of wildly popular films was always fixing the problems of unhappy adults.
while working for the unhappy adults who ran film studios — treating their child stars like indentured servants and/or house pets.
In 1946, Ms. Durbin's salary of $323,477 from Universal made her the second-highest-paid woman in America, just $5,000 behind Bette Davis.
Her own problems began when she outgrew the role that had brought her fame. Critics responded negatively to her attempts to be an adult on screen, as a prostitute in love with a killer in Robert Siodmak's bleak film noir "Christmas Holiday" (1944) and as a debutante mixed up in a murder plot in "Lady on a Train" (1945.)
Needless to say her best work. Neither film was a box office flop, btw.
Ms. Durbin, who gave almost no interviews after she left Hollywood, did send reporters a letter in 1958 that read in part: "I was a typical 13-year-old American girl. The character I was forced into had little or nothing in common with myself — or with other youth of my generation, for that matter. I could never believe that my contemporaries were my fans. They may have been impressed with my 'success.' but my fans were the parents, many of whom could not cope with their own youngsters. They sort of adopted me as their 'perfect' daughter."
Perfection can be a real drag.
Deanna's fans ranged from
to
Her attitude towards Hollywood is remindful of
When asked about her career in her later years, her husband Lionel Krisel said that Virginia "would always change the subject as quickly as possible without being rude. She never watched her old movies or replied to requests for interviews. Although she was never one to criticize, I think our boys got the impression that their mother didn't think very much of the motion picture industry".
And now to sing us out — who else?