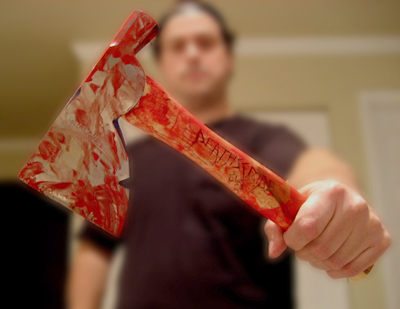 Surely the facts are yet to be faced.
Caleb Lawrence McGillvary — better known as viral video hero "Kai, the Hatchet-Wielding Hitchhiker" — has been arrested for the murder of Joseph Galfy Jr., a 73-year-old attorney who was discovered beaten to death in his Clark, New Jersey home on Monday.
The New Jersey police issued a warrant for Kai on Thursday afternoon, and CNN reports that the cops found him in a Philadelphia Greyhound bus terminal this evening. He was taken to an Elizabeth, New Jersey jail and his bail has been set at $3 million.
Here's the video that "went viral"
If sanity, rather than "novelty" ruled the media a number of serious questions would follow this bit of folderol. What exactly went on in that car that caused it to crash? Are we to take this obviously deranged hitchhiker's word for it about the driver's declaration that he was Jesus Christ? What's the driver's condition in the wake of this hatchet attack?
Clearly no one was interested. They were too busy getting this "colorful character" onto Jimmy Kimmel.
Will Jimmy have Kyle on the show again? Maybe he can get Jodi Arias to interview him.
The motive for the killing isn't entirely clear, but investigators say the two met in Times Square on Saturday, and Galfy eventually brought Kai back to his house, where they spent the night.
A picture begins to emerge.
On Sunday morning, Galfy dropped Kai off at a train station so he could visit Asbury Park, but he returned to Galfy's place that evening following a series of text messages. "It's more like 'Come pick me up' and 'I'll be there at this time,'" explained Union County prosecutor Theodore J. Romankow. "But not anything of a personal nature." However, the authorities say the two had some kind of "sexual encounter." A Tuesday post by a Facebook user who seems to be Kai indicates he may have been raped:
Oh Prunella!
In a statement thanking law enforcement and the public for helping to find Kai, Romankow said, "I believe that everyone is a little safer with this person off the streets." Regardless of what exactly happened, the episode certainly does cast his original 15 minutes of fame — which he earned when he saved a woman from a crazy racist by bludgeoning her attacker in the head with a hatchet — in a different light.
I sense a far more familiar light. Somewhere between Andrew Cunanan
and Paul Thek
But neither "Tabloid" sensationalism nor "High Art" has quite the cache of show biz these days. Right kids?