Can the "Mainstream Media" walk and chew gum at the same time?
President Obama is even less likely to go through with a visit to Moscow this fall after Russia's decision on Thursday to grant Edward J. Snowden temporary asylum. For Mr. Obama, though, the Snowden affair is only one of myriad reasons to beg off the scheduled meeting with President Vladimir V. Putin.
The dispute over Mr. Snowden, the fugitive intelligence contractor, is less a singular sore point between the United States and Russia than a symptom of a relationship that has soured across the board. Even without it, administration officials and analysts said, it was not clear what Mr. Obama and Mr. Putin would talk about — let alone agree on.
From the Syrian civil war and Iran's new president to missile defense and nuclear arms reductions, the United States and Russia are miles apart on virtually every major issue they discuss.
Here's Snowjob in his softcore days.
Very James Deen n'est ce pas?
Now here's a more recent shot of him with his (pathetic) groupies.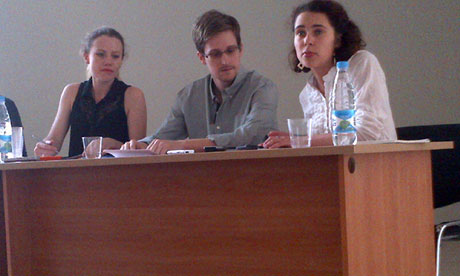 As for those "Major Issues," well here's one Obama and Putin surely WON'T discuss
MOSCOW (AP) — Russia will enforce a new law cracking down on gay rights activism when it hosts international athletes and fans during the 2014 Olympics in Sochi, the country's sports minister said Thursday, appearing to contradict assurances to the contrary from the International Olympic Committee.
Russia's contentious law was signed by President Vladimir Putin in late June, imposing fines on individuals accused of spreading "propaganda of nontraditional sexual relations" to minors, and even proposing penalties for those who express these views online or in the news media. Gay pride rallies also are banned.
"An athlete of nontraditional sexual orientation isn't banned from coming to Sochi," Vitaly Mutko said in an interview with R-Sport, the sports newswire of state news agency RIA Novosti. "But if he goes out into the streets and starts to propagandize, then of course he will be held accountable."
Mutko emphasized that the law wasn't designed to punish anyone for being gay or lesbian. But like the Russian lawmakers who authored the bill, Mutko said athletes would be punished only for propaganda, a word that remains ambiguous under the new law.
"The corresponding law doesn't forbid non-traditional orientation, but other things: propaganda, involvement of minors and the youth."
The law specifies punishment for foreign citizens, to include fines of up to 100,000 rubles ($3,000), time in prison for up to 15 days, deportation and denial of reentry into Russia. Four Dutch citizens working on a documentary film in the northern Russian town of Murmansk were the first foreigners to be detained under the new law, although their case did not make it to court, according to RIA Novosti.
While activists and organizations supportive of gay rights have called for a ban on Russian-made products like Stolichnaya vodka in bars across North America, they have yet to find a unified response to the Sochi games.
Instead of a boycott of the Olympics, athletes have made individual gestures and called for gestures of protest, such as a pride parade, to be held during the games.
The IOC said last week that it had received assurances "from the highest level of government in Russia that the legislation will not affect those attending or taking part in the games." It pledged to ensure there would be no discrimination against athletes, officials, spectators and the media in Sochi.
Well this is a fine state of affairs for Snowjob's manager Glennzilla

who as we all know is gayer than IKEA on Superbowl Sunday
Needless to say Glenzilla's regard for other LGBT's is . . .relative
In the past he's bitched and moaned about the fact that his boyfriend can't come to the U.S. But thanks to recent decisions by the Supremes to rescind DOMA that's all over. Were he to join Snowjob in Russia however he'd be subject to torture and execution.
What's a Situational Faggot to do?
GLennzilla? I'm sure he couldn't care less.
Sing us out Lads!