Visit NBCNews.com for breaking news, world news, and news about the economy
Well whaddya think?
Versus
Rather remindful of –
No getting away from it, Frank and Mia were quite a combustible couple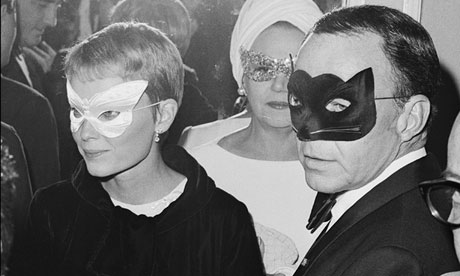 He had the divorce papers served when she was making this film (which is quite revealing of her character IMO)
According to Losey having those papers handed to her made Mia quite upset. And Robert Mitchum (a gentleman in spite of himself) was most helpful in calming her down.
But apparently that wasn't "The End" for the Saloon Singer and the Hollywood Hippie.
Even if Woody Allen isn't actually Ronan Farrow's father, the 25-year-old attorney has inherited some of the director's peerless wit. NYC-based attorney Ronan blasted into national headlines on Wednesday morning — thanks to his famous mother, Mia Farrow, who hinted to Vanity Fair that ex Frank Sinatra, not Allen, is "possibly" Ronan's father.
"Listen, we're all *possibly* Frank Sinatra's son," Ronan tweeted Wednesday morning. According to Vanity Fair, Ronan and Oscar winner Allen, now 77, have been estranged ever since Allen left his mom in 1992 and took up with Soon-Yi Previn, Ronan's adopted sister.
Indeed, the wunderkind — whose Twitter account has garnered something of a cult following — joked on the microblogging site on Father's Day 2012: "Happy father's day. Or as they call it in my family, happy brother-in-law's day."
Ronan didn't address the paternity question to Vanity Fair, focusing instead on growing up with Mia and many adopted brothers and sisters. "I am so proud of my family . . .I grew up across the table from [brother] Moses, who has cerebral palsy, and next to my sister Quincy, born of a drug-addicted inner-city mother, and Minh, who is blind." (Rosemary's Baby actress Farrow, 68, has four biological children and 11 adopted children overall.)
Very Roman Polanski
As for The Woodman's priorities –
Because. . .
The Chairman of the Board will, needless to say, sing us out.