Fat Tony sat down for a chat with Jennifer Senior of New York Magazine
You've described yourself as a fainthearted originalist. But really, how fainthearted?
I described myself as that a long time ago. I repudiate that.

So you're a stouthearted one.
I try to be. I try to be an honest originalist! I will take the bitter with the sweet! What I used "fainthearted" in reference to was—

Flogging, right?

Flogging. And what I would say now is, yes, if a state enacted a law permitting flogging, it is immensely stupid, but it is not unconstitutional. A lot of stuff that's stupid is not unconstitutional. I gave a talk once where I said they ought to pass out to all federal judges a stamp, and the stamp says—Whack! [Pounds his fist.]—STUPID BUT ¬CONSTITUTIONAL. Whack! [Pounds again.] STUPID BUT -CONSTITUTIONAL! Whack! ¬STUPID BUT ¬CONSTITUTIONAL … [Laughs.] And then somebody sent me one.
Give it a WHACK, Lou.
Over to you Roman
As one might expect Scalia reads the news selectively
I usually skim them. We just get The Wall Street Journal and the Washington Times. We used to get the Washington Post, but it just … went too far for me. I couldn't handle it anymore.

What tipped you over the edge?

It was the treatment of almost any conservative issue. It was slanted and often nasty. And, you know, why should I get upset every morning? I don't think I'm the only one. I think they lost subscriptions partly because they became so shrilly, shrilly liberal.
When they call you "Shrill" it means you're winning.
So no New York Times, either?

No New York Times, no Post.

And do you look at anything online?

I get most of my news, probably, driving back and forth to work, on the radio.

Not NPR?

Sometimes NPR. But not usually.

Talk guys?

Talk guys, usually.

Do you have a favorite?

You know who my favorite is? My good friend Bill Bennett. He's off the air by the time I'm driving in, but I listen to him sometimes when I'm shaving. He has a wonderful talk show. It's very thoughtful. He has good callers. I think they keep off stupid people.
Bill Bennett

is the Right's most noted masochist
I hate to rush to judgment but I sense a theme ememrging here. And where there's a theme there's a Theme Song
What do you make of the new pope?

He's the Vicar of Christ. He's the chief. I don't run down the pope.
Stay close to the curb Your Holiness!
I'm not inviting you to run down the pope. But what do you think of his recent comments, that the church ought to focus less on divisive issues and more on helping the poor?

I think he's absolutely right. I think the church ought to be more evangelistic.

But he also wanted to steer its emphasis away from homosexuality and abortion.

Yeah. But he hasn't backed off the view of the church on those issues. He's just saying, "Don't spend all our time talking about that stuff. Talk about Jesus Christ and evangelize." I think there's no indication whatever that he's changing doctrinally.
I spent my junior year in Switzerland. On the way back home, I spent some time in England, and I remember going to Hyde Park Corner. And there was a Roman Catholic priest in his collar, standing on a soapbox, preaching the Catholic faith and being heckled by a group. And I thought, My goodness. I thought that was admirable. I have often bemoaned the fact that the Catholic church has sort of lost that evangelistic spirit. And if this pope brings it back, all the better.

The one thing I did think, as he said those somewhat welcoming things to gay men and women, is, Huh, this really does show how much our world has changed. I was wondering what kind of personal exposure you might have had to this sea change.

I have friends that I know, or very much suspect, are homosexual. Everybody does.

Have any of them come out to you?

No. No. Not that I know of.
Oh what a quaint world Tony lives in!
Check out this family picture.
I'm betting on the dude on the right with the powder blue tie.
Not pictured — the son who's a "Conservative" Priest
And we all know about THEM, don't we?
Has your personal attitude softened some?

Toward what?

Homosexuality.

I don't think I've softened. I don't know what you mean by softened.
If you talk to your grandchildren, they have different opinions from you about this, right?

I don't know about my grandchildren. I know about my children. I don't think they and I differ very much. But I'm not a hater of homosexuals at all.
Of course not. Because to Fat Tony's way of thinking that would mean THIS
or THIS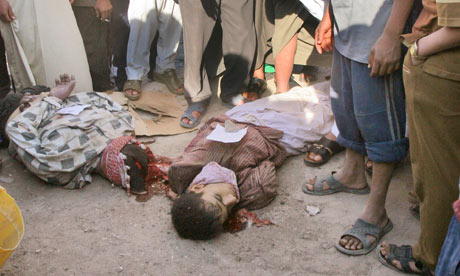 I still think it's Catholic teaching that it's wrong. Okay? But I don't hate the people that engage in it. In my legal opinions, all I've said is that I don't think the Constitution requires the people to adopt one view or the other.
Translation: "Equal Rights For Homophobes!"
There was something different about your DOMA opinion, I thought. It was really pungent, yes, but you seemed more focused on your colleagues' jurisprudence. You didn't talk about a gay lobby, or about the fact that people have the right to determine what they consider moral. In Lawrence v. Texas, you said Americans were within their rights in "protecting themselves and their families from a lifestyle that they believe to be immoral and destructive."

I would write that again. But that's not saying that I personally think it's destructive. Americans have a right to feel that way. They have a democratic right to do that, and if it is to change, it should change democratically, and not at the ukase of a Supreme Court.

The what?

U-K-A-S-E. Yeah. I think that's how you say it. It's a mandate. A decree.

Whatever you think of the opinion, Justice ¬Kennedy is now the Thurgood Marshall of gay rights.

[Nods.]

I don't know how, by your lights, that's going to be regarded in 50 years.

I don't know either. And, frankly, I don't care. Maybe the world is spinning toward a wider acceptance of homosexual rights, and here's Scalia, standing athwart it. At least standing athwart it as a constitutional entitlement. But I have never been custodian of my legacy. When I'm dead and gone, I'll either be sublimely happy or terribly unhappy.
He's happy to athwart !
[Leans in, stage-whispers.]

I even believe in the Devil.

You do?

Of course! Yeah, he's a real person. Hey, c'mon, that's standard Catholic doctrine! Every Catholic believes that.
Every Catholic believes this? There's a wide variety of Catholics out there …

If you are faithful to Catholic dogma, that is certainly a large part of it.

Have you seen evidence of the Devil lately?

You know, it is curious. In the Gospels, the Devil is doing all sorts of things. He's making pigs run off cliffs, he's possessing people and whatnot. And that doesn't happen very much anymore.

No.

It's because he's smart.
He?
So what's he doing now?

What he's doing now is getting people not to believe in him or in God. He's much more successful that way.

That has really painful implications for atheists. Are you sure that's the ¬Devil's work?

I didn't say atheists are the Devil's work.

Well, you're saying the Devil is ¬persuading people to not believe in God. Couldn't there be other reasons to not believe?

Well, there certainly can be other reasons. But it certainly favors the Devil's desires. I mean, c'mon, that's the explanation for why there's not demonic possession all over the place. That always puzzled me. What happened to the Devil, you know? He used to be all over the place. He used to be all over the New Testament.

Right.
What happened to him?

He just got wilier.
He got wilier.

Isn't it terribly frightening to believe in the Devil?
You're looking at me as though I'm weird. My God! Are you so out of touch with most of America, most of which believes in the Devil? I mean, Jesus Christ believed in the Devil! It's in the Gospels! You travel in circles that are so, so removed from mainstream America that you are appalled that anybody would believe in the Devil! Most of mankind has believed in the Devil, for all of history. Many more intelligent people than you or me have believed in the Devil.
I hope you weren't sensing contempt from me. It wasn't your belief that surprised me so much as how boldly you expressed it.

I was offended by that. I really was.

I'm sorry to have offended you!
FUCK YOU AND THE HORSE YOU RODE IN ON TONY!!!!!!!
Did you watch The Sopranos? Mad Men?

I watched The Sopranos, I saw a couple of episodes of Mad Men. I loved Seinfeld. In fact, I got some CDs of Seinfeld. ¬Seinfeld was hilarious. Oh, boy. The Nazi soup kitchen? No soup for you!
The stylistic similarity is unmistakable.
Who was or is your favorite sparring partner on the bench? The person who makes or made your ideas and opinions better?

Probably John Paul Stevens. There are some justices who adopt a magisterial approach to a dissent. Rehnquist used to do it. [He turns his nose up theatrically, flutters his hand in dismissal.] Just, Don't even respond to the dissent. This is the opinion of the Court, and the hell with you. I am not like that.
No, that's you precisely.
I think you should give the dissenter the respect to respond to the points that he makes. And so did John Stevens. So he and I used to go back and forth almost endlessly.

Fifty years from now, which decisions in your tenure do you think will be heroic?

Heroic?

Heroic.

Oh, my goodness. I have no idea. You know, for all I know, 50 years from now I may be the Justice Sutherland of the late-twentieth and early-21st century, who's regarded as: "He was on the losing side of everything, an old fogey, the old view." And I don't care.
Do you think you're headed in that direction?strong>

I have no idea. There are those who think I am, I'm sure. I can see that happening, just as some of the justices in the early years of the New Deal are now painted as old fogies. It can happen.

Wow, it's amazing your mind even went there. I ask about a triumph, and you give me another answer entirely, about the possibility of failure. I was expecting you to end on a high note. Do you want to try another stab at a heroic decision?

Heroic is probably the wrong word. I mean the most heroic opinion—maybe the only heroic opinion I ever issued— was my statement refusing to recuse.
From the case involving Vice-¬President Cheney, with whom you'd gone hunting?
I thought that took some guts. Most of my opinions don't take guts. They take smarts. But not courage. And I was proud of that. I did the right thing and it let me in for a lot of criticism and it was the right thing to do and I was proud of that. So that's the only heroic thing I've done.
Yes there's nothing more heroic than a kiss-ass.
As for The Devil — take it away boys!